Geological Maps - What They Are Where You Can Get Free 1:250000 and 1:100000 Digital Maps
Geological Maps A brief Overview
Geological maps are special-purpose maps made to show geological features.
Rock units or geologic strata are shown by color or symbols to indicate where they are exposed at the surface.
Bedding planes and structural features such as faults, folds, foliations, and lineations are shown with strike and dip or trend and plunge symbols which give these features' three-dimensional orientations.
GEOLOGY is the science and study of the physical matter that constitutes the Earth.
The field of geology encompasses the study of the composition, structure, properties, and history of the planet's physical material, and the processes by which it is formed, moved, and changed.
Definition provided by Wikepedia - Definition
Index to Page (Left click on a heading to go straight to the Section you are interested in)
Access to Free 1:2500000 Maps.
Access to Free 1:100000 Map Index Of West Australia
Standard Colours and Symbols Used In Australia For Maps
Colours of rocks - Although there is a data standard for rock and strata based on type of rock and geological age of the rock, due to the complexity of mapping needs it is essential you refer to each Map Key or Legend to understand the type of rock and its geological age in the area you want to prospect.
Download the Standard Mapping Colours from this site if you are interested in them.
Note this page has changed from the orignal link on this site and on the Geoscience website although it provides a link it does not lead to a standard Colour Chart as at 4/12/2010.
I have provided the link in the hope that this is a temporary problem.
However, on the same page you can download a free electronic publication Symbols Used on Geological Maps which is the standard symbols that are used and a valuable reference for your own use in understanding geological maps.
---
Here is Where Can You Get FREE Online 1:250000 Maps.
Link to the Geoscience portal Free Online Maps
Here is how you can use the Geoscience site to to access the Free 1:250000 Maps.
1. Open this site to access the maps:Free Online 1:250000 Maps
Step 1
When you have opened the website then left click on the menu "Geology - 1:250000 Maps"
Step 2
You then select the Layer you want on the right hand side menu "Geology - 1:250000 Maps" and "Geological Regions"
You can then enter a 1:250000 map name that you want to access or fill the "+" zoom radio button at the top of the page and continually left click the index map until the map names are shown.
Step 3
The final step to display the map is to click on the "i" button and then the name of the map and the size of the image you want to display.
Step 4
Your map is now available for you to download, print or copy and paste sections that you are interested in into other documents
---
If you would like a more in depth free booklet on understanding Geology and Maps then you can use this link to download a free digital copy of the booklet An Introduction to Geological Maps by G B Lewis.

Just scroll down the page to see the free download link. Dont worry about the price on that page, that is for a hard copy of the book.
---
Here is Where Can You Get FREE Online 1:100000 Geological Maps.
Access the Department of Mines and Petroleum to link to Geological documents at their Geoscience publications link.
Here is how you can use the site to to download digital 1:100000 Geological Maps.
1. Open this site to access Geoscience publications including:1:100000 Maps
Step 1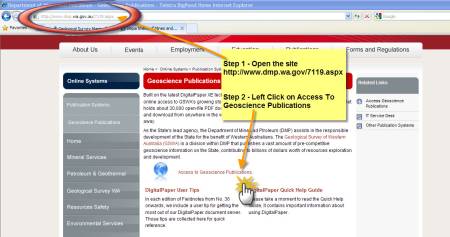 When you have opened the website then left click on "Access to Geoscience Publications"
Step 2
Highlight the Map name you want and left click "Search". .
Step 3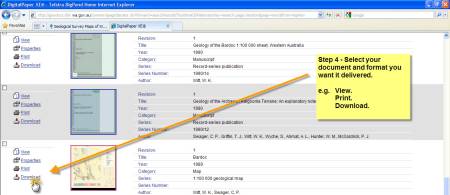 Now you can select the document you want by searching through the thumbprints of the documents available.
You can also select the options you want to use with the document such as "View", "Download" or "Print"
Step 4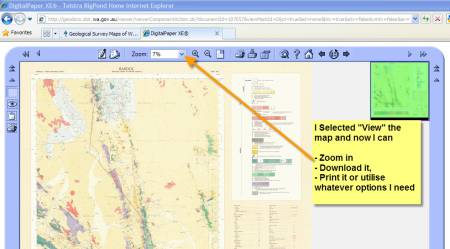 This screen shows the map downloaded - in this case the 1:100000 Map for Bardoc.
---
Geological 1:100000 Map Index for Western Australia
Sometimes you find it hard to work out just what Geological Map you need, here is a link to the 1:100000 map index that you can download and print or save to your computer for reference.
Free Monthly Newsletter
Sign up for the egold newsletter which Udo and I will send out monthly. Each month we will feature information on one of WA Goldfields including places to detect, maps and gold leases information


Return to Gold Prospecting home Page from Geological Maps page.