Gold Mine Finder FAQ
The Gold Mine Finder database is a powerful tool here is some gold mine finder FAQ that will help you use it to your best advantage and provides progress of development of the software and database.
... After all, You want the edge over other prospectors, heh heh heh.
Note that most of the questions will be answered in the VERY comprehensive manual which is found here if you cannot find them in the gold mine finder FAQ;
Here is the Link How to Find Old Gold Mines Using the Software
PLEASE NOTE - The reference ebook will take a few minutes to load because it includes a lot of Graphics - Please be patient.
You will need a PDF reader to read the Ebook, if you cannot open it the downloaded PDF file then you can download Adobe Reader by left clicking on the icon below.

Here is a list of the table of Contents.
Have a look at the table of contents of the Ebook that Explains the Software:
Chapter 1 - Introduction to the software. 
Chapter 2 - How to Access the Standalone CD Version of Goldmine Finder and Use it on your Computer. 
Chapter 3 - Goldmine Finder Explained in Pictures. 
Chapter 4 - Datafields and Explanations. 
Chapter 5 - How to Search for Old Gold Mines. 
Chapter 6 - How to Export GPS points to Oziexplorer. 
Chapter 7 - How to Export GPS points to (Free) Google Earth. 
Chapter 8 - The Easy Way to Apply for A Section 20a Permit. 
Chapter 9 - FAQ. 
There is even an easy free bonus chapter on the Easy Way To Apply for A Section 20a permit
How to Buy Goldmine Finder Software and Database CD Version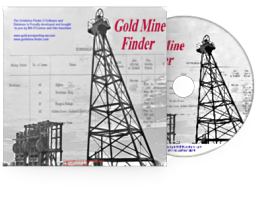 Goldmine Finder Software and Data for over 34000 mines in WA
For only , $45.00, or Sent Express Post Australia $53.00 or Overseas Air Mail $55.00.
NOTE - The software is not written for a MAC/APPLE/LINUX Computer, Sorry.

Why A CD Version of The Goldmine Finder Software
Our business aim is to provide simple, easy to use products that massively over deliver value to our website users.
The initial download process of the Goldmine Finder using Microsoft "Click Once" technology had some driver and operating system issues that meant a minor number of people had download problems.
That BROKE one of our rules for simplicity so we created the Goldmine Finder CD version which enables you to upload the software and data to your PC.
The CD version has all the required programmes to run it, so the issues of having the wrong or outdated programmes like Microsoft .NET Framework 4 Client Profile (x86 and x64) will be overcome.
More importantly, you will still have the ability to find old gold mine locations easily.
Goldmine Finder Membership Site - Only for those who originally purchased and used the download version
...using the email address and password provided to you in the original purchase email or you new password if you changed it.
After login to the Members Area
The top Menu Selection for Downloading the file with the new Mastermines Data.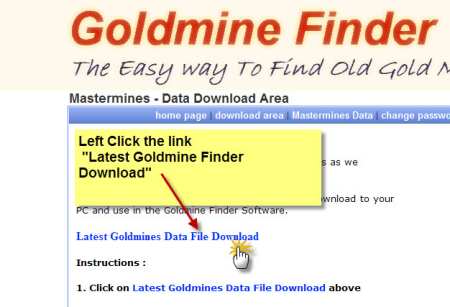 After You Get to the Mastermines Data Download Page
This page includes Detailed instructions on downloading your new Mastermines data for the Goldmine Finder just follow the pictures or download the PDF Instructions.
Prefer a PDF or Written instruction? Download the written instructions MasterMines Data - How To Download
NOTE: The above section relates to those people who have downloaded the Goldmine Finder from the website not those who have purchased the new CD Version.

Instructions to Show How To Upload the NEW CD Version to Your PC
Here is the PDF version of Chapter 2 of the manual which shows you how to do that;
How to Access the Standalone CD Version of Goldmine Finder and Use it on your Computer
Here is a video version of the instructions showing you how to load it to your PC.
Will You Support Downloadable Version of Goldmine Finder
Our vision for Goldmine Finder was always to provide a standalone programme so people can take it to the field prospecting with them and not have to log into the Internet to get the information. The Goldmine Finder CD version does this so we will not be continuing to develop the Goldmine Finder downloadable version,
Why the Extra Cost for the CD Version
The additional costs are to cover cost of CD printing and Packaging, packaging for the post and postage within Australia.
Can We Use the Programme on More than One PC
You are licensed to use the programme on two PCs, this enables you to use it on your home PC and a Laptop that you take prospecting with you.
Apart from Google Earth and Oziexplorer Can We Use the Goldmine Finder Data in TrackRanger?
Advantech Design make a GPS map tracking and location system, called TrackRanger and they have been asked by some of their clients whether you can download the Goldmine GPS Locality data to Trackranger software.
Trevor Powell of Advantech contacted us and shown us how that can be done - see this page for instructions how to import the Goldmine Finder GPS points to TrackRanger GPS Software .
Questions Not Answered in Gold Mine Finder FAQ About Goldmine Finder or How to Use It?
If you have any questions or queries about gold mine finder FAQ please ask them in the form below and we will get back to you quickly with an answer.
If you need to ask a question about something you can bet there is many others that have the same question. 
Return to Gold Prospecting home Page from gold mine finder FAQ page.