G'day


Gold Nuggets already Being found in WA
Table Of Contents
Some Gold Nuggets Already Found.
Weather – Be Careful It's Still Hot Out There.
---
Return to Table of Contents
Some Choice Gold Nuggets Already Found in WA
Gidday Everyone,

Just though you might lke to know that people are out there already looking for Gold Nuggets.

We have our first seminar the Easter Weekend and really looking forward to it.

Udo has probably got a few misgivings as his house got smashed by a freak storm today in Cue as did a few other places like the old Post Office building, plus there was plenty of thunder, lightning and rain.

Here is a few pics of gold found by one of our 2013 Metal Detectorista graduates. (I might have to get him to start teaching at the Seminar I think)

I cant tell you where he got the gold - it was North of Kalgoorlie -but he got it in the last few days…awesome effort.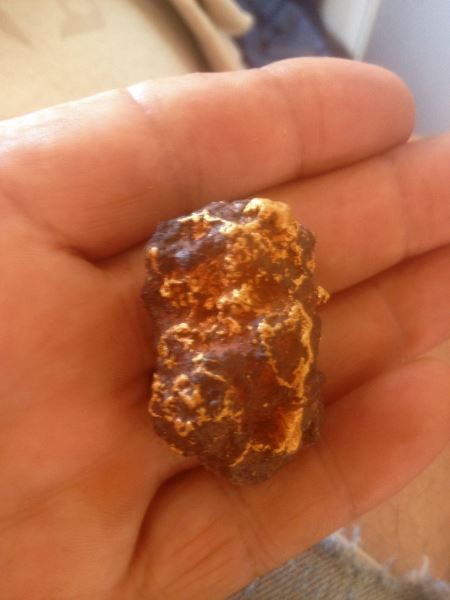 65 gram gold nugget found March 2016 WA
11.5 ounce gold nuggets Speci March 2016WA
---
Return to Table of Contents
Udo's House Smashed in a Storm at Cue today - 16th March 2016.
There was a freak storm at Cue Wednesday 16 March and Udo's house got smashed .
He lost half his carport and the front verandah, a few other places also copped it like the old Post office building in Cue.
I haven't checked my place in Cue yet, God willing it's all ok.
Luckily the BBQs didn't get washed away so we can still get stuck into some BBQ tucker and fellowship at the first seminar at the Easter weekend – it's only 10 days away to our first seminar, incredible.
For those coming to Cue the Caravan Park is ok and the pub is still standing so thats good.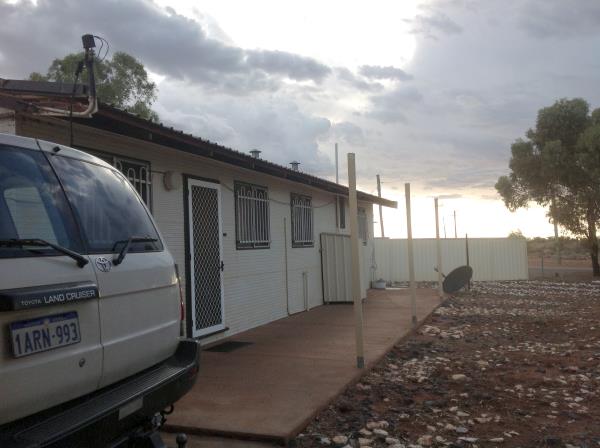 ---
Return to Table of Contents
Weather in Cue
Just be aware that although it is getting close to prospecting season the weather out here is still pretty hot in most places in WA. You need to take extreme care and precautions if you are venturing out this time of the year.
You can google the average temperatures at most places in WA just go to Google and type in "weather averages and the town" for example "weather averages Kalgoorlie." You should be able to get a page from weatherzone (or Bureau of Meteorology - BOM) like this
Or for Cue Weather Temperatures and Rainfall Average CUE WA.
Here is a screenshot: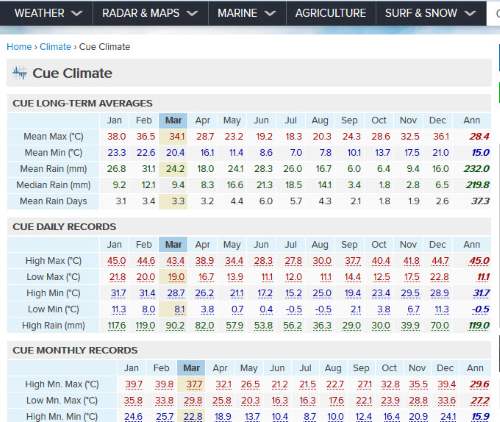 or the BOM Page if you would like to compare the two styles of presentation;
Weather Temperatures and Rainfall Averages CUE WA.
---
Return to Table of Contents
Department Of Mines Has Another Geoviewer Training Date.
The Department of Mines in WA has announced a new date for the GeoViewer training,
here is the page that relates to Geoviewer training run by the DMP. Geoviewer Training DMP Perth WA.
That page however does not show the new date of 21 March in Perth, the DMP page above tells you how to get access to the training.
For prospectors the training is in the morning – be aware that it is relatively high level and rapid fire, interactive training so you need to know:
How to use a computer,
folder and file structures,
How to use explorer and browser.
Another Great Service from DMP the E Newsletters Published by Geological Survey Division.
Another great source of information from the DMP Geological Survey division is the free electronic Newsletters they send out.
Go the page below and sign up that way you will miss no information about training and the other info tht the Geological Survey Department of the DMP put our regularly;
BOM – Geoviewer Training DMP Perth WA.
---
It's getting closer to gold hunting season so see you out there soon, (and if we dont - Then we're probably still fixing Udo's Place!) but,
...may you find plenty of gold nuggets in 2016
Regards
Udo and Bill
Nobody gets ALL the gold. There's still plenty left for you.
ps – Just make sure you search for the gold Legally so you don't have to look over your shoulders all the time!!
---