G'day


Minelab GPX 4500 Re Released
Table Of Contents
APLA Open Day Location - Gold Prospecting WA Information
GoldTracker – Update in Beta Stage
---
Return to Table of Contents
---
APLA Open Day Location - Gold Prospecting WA Information
Gidday All

This newsletter was due to be sent earlier when I got back from Bali, unfortunately I have been stuck over here for four extra days (so far) due to the volcano eruption in Lombok and flights being cancelled.

I dont have my own PC over here so I am limited to what I can do but I thought I would get out a quick newsletter to you all about the APLA open Day which is on in Perth Next Saturday 14 November.

If you are in Perth you might like to attend, it's free and their will be a lot of information provided, Even a talk by Yours truly about the 4 things you need to know to find gold in WA - IF I CAN BACK TO PERTH THAT IS!

Side Note.

(Disclaimer - I am also a member of APLA and the APLA Webmaster and Treasurer - I dont get any incentives in any form by advising you of APLA information, but I believe every prospector should be a member to protect their prospecting rights in WA - just so you know!)

There will be a raffle on the day with lots of prizes and A Minelab 5000 is to be raffled off - tickets will be sold on the day but the draw of the Minelab 5000 will be in December.

There will also be a number of speakers on Geology, GeoMap and Tengraph Online, dollying and panning of gold and other displays so its usually a very educational event to attend.

Maybe a good Chance to Win Yourself a NEW DETECTOR for Christmas!

Date Saturday 14/11/2015
Duration 10am to 3pm
Location Duncraig Community Hall Cnr Marmion Ave and Warwick Rd Warwick WA


Here is the APLA Information:

Free Open Day with APLA Members to Learn About Gold Prospecting and Metal Detecting in WA
Everyone is Welcome
Activities at the APLA Open Day Include:
Displays of the Latest Metal Detectors from Minelab.
Presentations to show you what you need to know to target and find gold nuggets Legally in WA.
Learn how to get FREE Geomap Software, Topographical Maps and Geological Maps to target gold.
Minelab 5000 Raffle with limited tickets to be drawn in December 2015.
BIG equipment raffle on the day.
Learn how to dolly and pan gold from actual gold bearing rock samples.
Sausage Sizzle.
More Information is available on this page;
Amalgamated Prospectors and Leaseholders Association WA - Open Day.
Or on the Amalgamated Prospectors and Leaseholders Association WA Website link.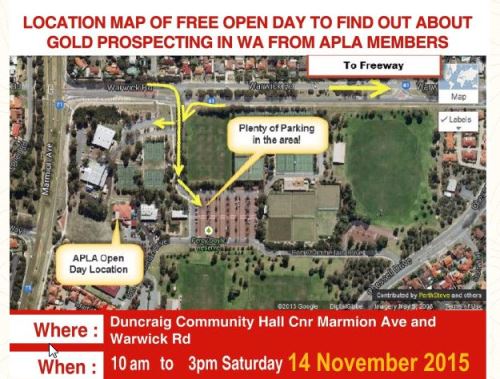 ---
Minelab GPZ7000 Update
If you have a Minelab 7000 then you would know that there has been an upgrade to the software which is downloadable from the Minelab site.
Udo will be bringing the Minelab 7000 we use for training seminars (and finding gold of course!) down to my home in Perth next week and we will upload the software and create a video showing you how to do that - links in the next newsletter.
Right Now he is using the Detector at his Mining Lease and also trying the new detector coils with the 5000 to see how they operate (from Coiltek and shortly the new nuggetfinder 12"round mono that we have heard some really good review about.)
More on that in a few weeks.
Also on the Minelab GPZ7000 there is some customer reviews on this page:

Just scroll to the bottom to get the review and in particular the review on detecting in Hot Ground that has a lot or Iron (Magnetite) in it.
I have had the same experience as the writer of that review in that in the heavy, iron, magnetitite ground around Mainland and other areas of Cue then I dont find much small gold, plenty of the larger small nuggets of 1 + grams or more, but few very small nuggets.
It's almost as if the machine does not see them, possibly because of the highly magnetic and ferrous Magnetite.
Salty ground- forget it with the 7000.
I am hoping the new algorithm in the 7000 will overcome these two issues, time and testing will tell.
---
Return to Table of Contents
GoldTracker Update.

Exciting Developments Being planned to the HOT SPOTS Information and GOLDTRACKER Software
Programming is rapidly being completed on the new Goldtracker Website and it is due to be provided for Beta Testing in the next few weeks.
GoldTracker will be sending out a newsletter to explain the changes very shortly after Beta testing of the website - I am really looking forward to that.
This is only going to enhance an already wonderful tool to assess gold potential in WA – why do all the research if you can avoid it?
You can have a look at GoldTracker here:
GoldTracker - Gold Nugget potential identification software program."
I am not sure but think Kurk the Website wizard at Goldtracker may be giving an update on Goldtracker at the APLA Open Day as well - he will be talking on Geomap as well.
Side Note.
(Disclaimer - I am involved in the Goldtracker product development and business because I know it is the most simple and advanced product to target potential Gold locations in WA - just so you know... Bill )
---
Return to Table of Contents
Regards
Udo and Bill
Nobody gets ALL the gold. There's still plenty left for you.
ps – Sorry about the shortness of the newsletter, I just dont have access to my own PC and information here in Bali.
I guess I'll just have to go and have another swim in the pool.