G'day


Corona Virus Update
---
A Personal Story About this Disease
a Checklist to Help your Through the Covid Maze
What are We doing About Covid?
Our Online Training Cost Massively Decreased.
New Geology Product to be Released Shortly
p.s. - Just How Far Do Germs Spread?
---
---
Corona Virus Gold Prospecting Information
Gidday Everyone.

Gee, what a difference a few weeks makes in the world and to our own lives.

Three weeks ago we were planning our seminars for 2020 had them fully booked, created training books and bought the supplies and material for the Seminars.

Then on 18 March 2020 we decided to cancel the seminars prior to sending out the first invoices to give those who had booked some certainty in what was going to happen.

An excerpt from the email:

"I am sitting here today contemplating sending out our the first deposit invoices for our Gold Prospecting Seminars in 2020.

As information about the Covid 19 virus becomes clearer day by day we believe we will have to cancel our seminars eventually under direction by the Government.

The main concern for us was that of you being exposed and suffering this disease yourself during travels and association with other travellers.

Udo, Sue and I have discussed all of these things and decided to cancel our seminars in 2020 for everyones benefit.

Many of our seminar participants are are in a demographic 60 to 70 and over 70 that has the highest death rate with the virus so it will be of concern for them as well.

There are insufficient medical facilites in Cue or nearby towns to assist those who get the virus.

We humbly apologise if this is something you have been really looking forward to and planning for but believeit is in the best interest of you our clients, the community in general and us."

Since then, of course, travel to the regions has been stopped and many caravan parks in the goldfields closed.

In fact you will be stopped by police in the Regions of WA now and sent back home it you try to travel there.
---
Covid 19 - A Personal Story
Here is a Personal Story

Please take the virus seriously and Isolate.

A week ago a friend of ours rang and said she had a strange experience.

Our friend went to her hairdresser on Friday 21 March who told her her mother was a nurse and had been in contact with a person who had the virus.

The nurse was told to go home and isolate which she did. The hairdresser however lived at home and did not also isolate.

Since then our friend and husband have fallen ill, Both have been diagnosed with Corona Virus.

Only time will now decide the result. BUT that is how virulent this disease can be.

PLEASE TAKE IT SERIOUSLY, USE THE CHECKLIST BELOW, EXPLORE THE INFORMATION AND STAY SAFE
---
Corona Virus Checklist to Help You Through the Clutter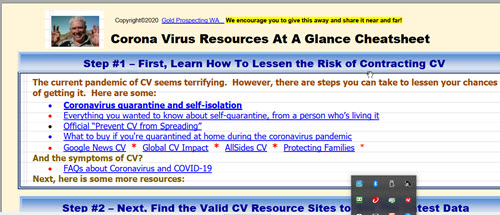 There is a lot of misinformation, fake news and scams out there so be aware of that and keep yourself up to date.

We have created a checklist with links to sites that might help you and others and some light hearted websites that might help to amuse you.

It is in PDF format, please download it and feel free to send it to anyone you think it might help. Covid Virus Checklist Download
---
What are We Doing About Responding to the Virus
Upfront Training and Face to Face Training
We are not conducting any upfront training, classroom talks or seminars until the Government gives the all clear for this type of interaction.
One on One Personal GeoMap and Computer Training
We don't even get visits from our grandchildren at present so unfortunately we will not be doing one on one face to face training at our homes until the all clear is given.
Online Internet Training
For those who had their seminars cancelled we provided an option of access to the full GeoMap WA Training Online and Tengraph Web training online.
That included with a one off offer to setup their PC with one hour mentor training like we do in the seminars but online via Teamviewer.
I will extend that offer later to everyone if there is any interest in it.
---
Online Geomap and Tengraph Web Training
The Geomap and Tengraph Online Web Training is still available if you want to take advantage of it.

It is currently on special (The bundled offer of access to Geomap and Tengraph Web online training and thumbdrive posted to you Express Post) for $140.

But just so you can get a head start and use this time of isolation in preparation for the next time you go prospecting.

I have decreased even that price to a more accessible $80. That is a massive discount on the full price and you can get it at the link below. (Just Click on the Image and it will take you to the page)

NOT FOR OVERSEAS CLIENTS

Unfortunately due to cost and limitations of posting material this offer is not available to our overseas clients.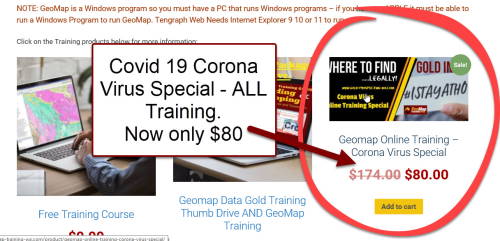 ---
Return to Table of Contents
Updating Our Website Training
Apart from fixing up our house and growing some vegies at home I will also be taking this opportunity to update our website material.

Including adding more free stuff for you to use, updating videos and adding more as time goes by.
---
New Products Coming up
Dr Bob Fagan will be releasing his Geology training "Understanding Geology" very shortly and I will send a newsletter out to you on that subject in the next two weeks.

It is quite exciting with a massive amount of information about Geology and the WA goldfields.

I will give you a critique of that product soon.
---
Gold Prospecting WA Facebook Page

---
...Dont forget to download the PDF Checklist of things to do during the Corona Virus Pandemic and we hope you CAN get out there and find gold in 2020.
Regards
Udo and Bill
Nobody gets ALL the gold. There's still plenty left for you.
---
p.s. So, How Far DO Germs Spread?
How Far Do Germs Spread a Video from Mythbusters
---