G'day


Testing the SDC2300 with a 14x9 Coiltek Coil
Table Of Contents
Testing the SDC2300 with a 14x9 Coiltek Coil
Gold Squad out There - Big drop in Section 40e's Lodged
APLA AGM in Leonora for Members
What Information do You want us to Provide to you?
---
Sorry - Some Navigation Link Errors in Issue #73
Gidday All,

I had to resend this issue I apologise, there was an issue with the links to the stories so this corrects that problem.

The Seminars have finished for 2019, thank you to all those who attended. We enjoyed your company and everyone learned a lot, but in particular the legal way to go prospecting in WA.

We have tested the Coiltek 14x9' Mono coil on the Minelab SDC2300.

There has been some positive and negative feedback about the coils from others we have spoken to.
Testing the New Coiltek 14x9" Coil on SDC2300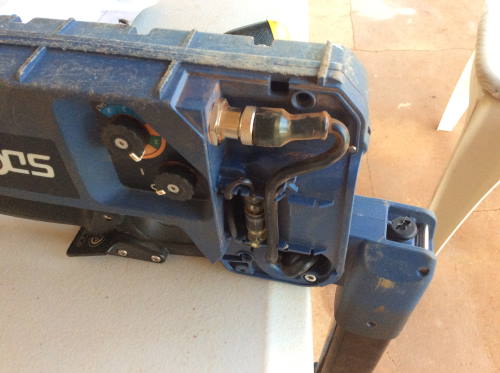 ---
Testing the 14x9 Coiltek Coil on the SDC2300
Note: we purchased this equipment ourselves. We do not get any benefits from manufacturers for any of our product reviews - we tell it like it is.
We did not buy the smaller Coiltek coils for a few reasons:
(1) It gets too expensive to buy and test everything.
(2) Why put sensitive small coils on the SDC2300 - it doesn't make sense.
We do not believe buying the coil is a good investment for people who have an SDC2300 for many reasons.
What we question about this is "Why would you want to lose the benefits of an SDC2300 by adding a larger coil to it?"
The benefits we see lost are:
The Minelab SDC2300 is a very compact and portable machine when folded. Adding a coil like this you lose that benefit.
The SDC2300 machine is dynamite on small gold close to the coil - that is what it's designed for! If you want more power (depth) then the Minelab 5000 is a better machine.
The new Coiltek coils are not as sensitive as the standard SDC2300 coil. Not the 14x9 that we tested.
There is a measure of difficulty fitting the new coils and you lose waterproofing.
The SDC2300 becomes heavier.
Warranty Issues.
See the page link for the full report and a video showing the testing on the Coiltek 14x9 coil on the Minelab SDC2300.
On that page you can also add your comments if you want to about your experience using the new coils on the SDC2300 Testing the Coiltek 14x9 Coil on the Minelab SDC2300 page
---
Drop in Section 40e Permits Issued.
There has been a massive decline in Section 40e Permits Issued since the increase in fees to $90 on July 1.

We hear permit applications are up to 80% down at some Mining Registrars.

Wow, that means that:
People are not going prospecting?
People are prospecting on Pending Leases or Vacant Crown Land only?
People are getting permission to metal detect on leases from Mining Leaseholders.
OR

People are Prospecting illegally?
Who knows? I have not been able to get out into the field since July so have not spoken to many people out there about this.
However, I urge you NOT to consider going prospecting where you are not allowed to go. There are heavy fines for illegal Prospecting and Mining, including confiscation of equipment.
We have also heard that the Gold Squad has been very active of late in various areas like Sandstone. Some people have been warned off or booked.
If you are legally prospecting and you know exactly where you are on the ground you have nothing to worry about.
Remember we have some free training on this and always talk to a Mining Registrar in the field if you are unsure.
Here is the link to our free training on the geomap training WA website.
There is also more in depth paid training options on that site.
It is a membership site so you need a login username and password to access it so you need to register.
You register by either buying a training product or selecting the free training on the site;
I have included the link to a video that will help that shows you how to access the free training. If the video below does not play in your browser please click on the link to access it.
Geomap Training WA - How to Access the Training.
Video - How to Sign up and Access the Training
APLA AGM for Members in Leonora 21 September
The Amalgamated Prospectors and Leaseholders Association (APLA) AGM is on in Leonora on 21 September this year for APLA members only and I will be talking there about "Where to Find Gold"
There are many speakers there as well like;
Jason Hosking from Minelab.
Tony Pilkington "Gold Talk Leonora" on Pegging leases.
How to set up small scale mining.
The DMIRS Gold Stealing Detecting Unit on what is happening in the field.
Kurk Brandstater on Geomap.
and of course Kurk and I will be helping people out with setting up Geomap on PCs if needed.
Here is a link to the page if you haven't seen it yet; APLA Agm For members Page.
---
What Information and Videos Do You Want us to build.
What Do You Need - Survey Form Page
Udo and I have reached a stage where we are both busy and involved in a lot of other family and business activities.
We want to make sure that we focus on what YOU want developed and built relating to Gold Prospecting in WA.
We have included the link to the page at the beginnig of this item and would appreciate it if you would tell us what information YOU want or need.
We can then focus our energies on building information to suit your needs.
Thanks a Lot.
---

---
We are Looking forward to your comments on what you would like us to develop for you in the future

See you out there prospecting and if we don't -

...may you find plenty of gold nuggets in 2019

Regards

Udo and Bill

Nobody gets ALL the gold. There's still plenty left for you.
---