G'day


How to Find Land Use Types on Tengraph Web
---
How to Find Native Title Land, A Class and Other Reserves on Tengraph Web.
How to Find "No Go" Land Using Tengraph Web
Link to Tengraph Web Video and Blog
Corona Virus Special ENDING 31 October.
Minelab Detectors Setting off EPRIBs and PLBs
Corona Virus WA Travel Update Pages.
---
---
How to Find Native Title Land, A Class and Other Reserves
Gidday All

This is a question asked a lot this year with Corona virus and more people travelling in WA.

Many people have decided to try metal detecting for gold for the first time.

"I am a beginner at gold prospecting. I am wondering if there is any information on where is the crown land you can use to gold prospecting. I cannot find any maps that show crown land . I am wanting to go metal detecting but cannot find any information. I have a Miners Right Certificate. Help"

We do have some free training on our Geomap Training WA website with videos on:
(1) Where to find gold in WA, and
(2) Where am I allowed to go Prospecting in WA,
(3) And how to use Tengraph Web and Geomap to ensure you are prospecting on land that you are allowed to go.
Video 2 answers the question broadly
"How to make sure you go prospecting Legally in WA - so you never have to worry about getting arrested or looking over your shoulder when you are out the bush prospecting – knowing this gives you real peace of mind."
It answers the following questions:
(1) What are the Rules and Laws for prospecting In West Australia?
(2) What land can you access to go metal detecting in WA?
(3) How to understand the rules and avoid "no-go" areas using Tengraph Web (a free Online Program).
How can you get access to 46% of prime gold nugget country in WA?
AND it shows you how to understand the rules and avoid "no-go" areas using GeoMap (an OFFLINE software program) and Tengraph Web an ONLINE program) to understand where you can go prospecting and EXACTLY where you are on the ground when you are in the bush.
However, I have created a blog page and video to show you how to find this land on Tengraph Web
---
How to Find "No Go" Land Using Tengraph Web
Back to our email question above about how to specifically find out more information about where:
Crown Land is.
Vacant Crown Land.
Unoccupied crown Land is.
Where are the A Class Reserves.
Where are other Reserves.
The land types in WA where you cannot go prospecting (for example freehold land).
Where is Native Title Land.
I have answered this with a blog post and video on this page (Click on the Graphic link below) and it will help you identify land uses in WA and answer those questions.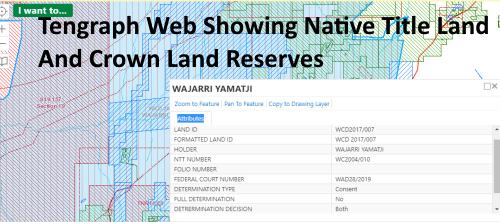 ---
---
Corona Virus Special ENDING 31 October 2020
Prospecting Season is drawing to a close with summer coming on here in West Australia.

With it our Corona Virus special must end on 31 October.

Just to remind you what the special includes:

You get full access to Geomap Gold Training Product and all the Online lessons about How to Use Gomap and Tengraph Web.
The GeoMap Gold Program;
Simple Online Lessons in Easy to Understand small Chunks.
Every lesson has a Video.
Every Lesson is also written with a PDF so you can print it out an follow along.
Advanced Lessons
Lessons in how to apply for a Section 40e Online
You get Full access to all the Tengraph Web training
You get the GeoMap Data Thumb Drive - posted Express in Australia.
- At a Covid Special price of $80 (Normally $174).
To recap the GeoMap Gold DataThumb Drive includes:
All the 1:250000 Geological and Topo maps for WA.
All the 1:100000 Geological Maps for WA.
All the Gold Mines of WA data.
The Mining Tenements data for WA.
An APP to Download and update Tenements with one click of your mouse.
The Covid Offer also Includes;-
Three "Done for You" Projects that cover the WHOLE of WA.
A Simple "Copy to C:" APP that enables you to copy all the files and folders to your PC Easily.
Go to this link to buy it if you are interested - Click on the Image below.
---
Problems with Minelab Detectors Setting off PLBs (Personal Locator Beacons)
This is not a good situation, a Letter from Minelab says that in some circumstances Minelab Detectors can trigger or set off EPIRBS or PLBS "Personal Locator Beacons".
"There have been some reports of customers having EPIRBs and PLBs activating when they have come into close contact with a metal detector coil when the detector is switched on.
We would like to reach out to you all so that you are aware of this so that you can also educate our customers with this information to help prevent any unnecessary activation of EPIRBs or PLBs.
Our engineering team have loaned detectors to Kinetic Technology International and they have researched the affects of the KTI PLB and our detector, the PLB was activated when it came within 10cm of the detector coil.
Although this distance is very close we would like to make sure than any customers using EPIRBs or PLBs are aware of this so that they can keep their location beacons well away from the detector coil to prevent any false activations. Please keep this in mind particularly when a target has been removed from the hole and you are finding it with a scoop (you are physically much closer to the coil when this takes place.)
KTI have suggested to use a metal tin to carry your EPRIB or PLB in to help prevent this from happening. A metal tin will work as a faraday cage (faraday cages will break the electromagnetic fields that your detector produces.)
We agree that this is a good suggestion as it can assist in greatly reducing the risk of a false activation.
If you have any questions regarding this please feel free to contact me.   Kind Regards,
Jason Hosking Technical Sales Representative
Minelab Electronics"
---
What is a Faraday Cage or Bag?
A better solution would be to purchase a Faraday cage or Bag to protect your PLB.

These are available in Australia and will screen your PLB from the Minelab electronics that could cause interference. Explanation of a Faraday Bag is provided on this page About Faraday Bags
---
Here are some links to the Updated Corona Virus Travel Updates pages. Corona Virus Latest Updates Page




---
WA Corona Virus Roadmap Controls from 18 May 2020
---
---
Gold Prospecting WA Facebook Page

---
... Remember you have until 31 October 2020 to purchase the Corona Special for Geomap and Tengraph Web Training with the information Thumbdrive..
Regards
Udo and Bill
Nobody gets ALL the gold. There's still plenty left for you.
---