G'day


Download Tenements APP and GOTO in Goldtracker App
---
Geomap Tenements Download Location Changing 17 June
DMIRS Changes and a NEW "Download Tenements" app Newsletter.
Blog Post on New Version to the Download Tenements app.
How to "Go To" a Gold Location In Goldtracker App.
---
Return to Table of Contents
---
Updated Tenements in Geomap Projects Are Essential!
Gidday From From Bill and Udo.
OK, This is where the Rubber hits the road - Your GeoMap tenements "one click" updater Vs3 dies on 17 June.
We got an email from Department of Mines (DMIRS) telling us that on 17 June the URL link for the Location of tenements is changing.
So, from 17 June if you are looking for Tenements downloads for your GeoMap projects then the URL link is changing to a new link.
Our last newsletter referred to this and the fact that we have built a new App for downloading tenements - for those tenements
ie
So this update will fix it BUT...

You MUST have the files and folders setup that we teach in Geomap Training, at our Gold Prospecting Seminars, and any of the free training we have done for APLA and others.
If you do not have that simplified Files and Folders setup on your PC this information will not be relevant to you.
Here is a view of part of the email received from DMIRS (Note the link is NOT clickable on this image!)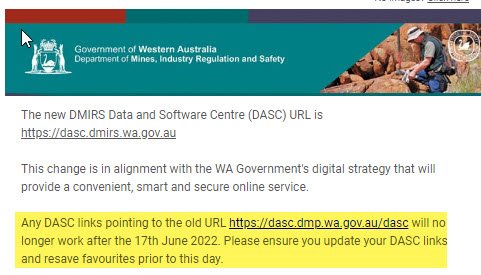 ---
DMIRS Changes and a NEW "Download Tenements" app Newsletter
We have also sent out advice to GeoMap Training WA clients about this change.
Newsletter to Geomap Training Clients About the Download Tenements Location changing on 17 June 2022. and how to Get the new VS4 "Download Tenements" one click app.
---
Update Tenements App Geomap Training Blog Post
In case you missed the blog post that explains how to get the new Download Tenements "ONE Click" app a link to it is provided again below.

GeoMap Training WA BLOG post on the Changes to DMIRS Tenement Data Location and VS4 of Download Tenements APP

Return to Table of Contents
---
Why We Use GeoMap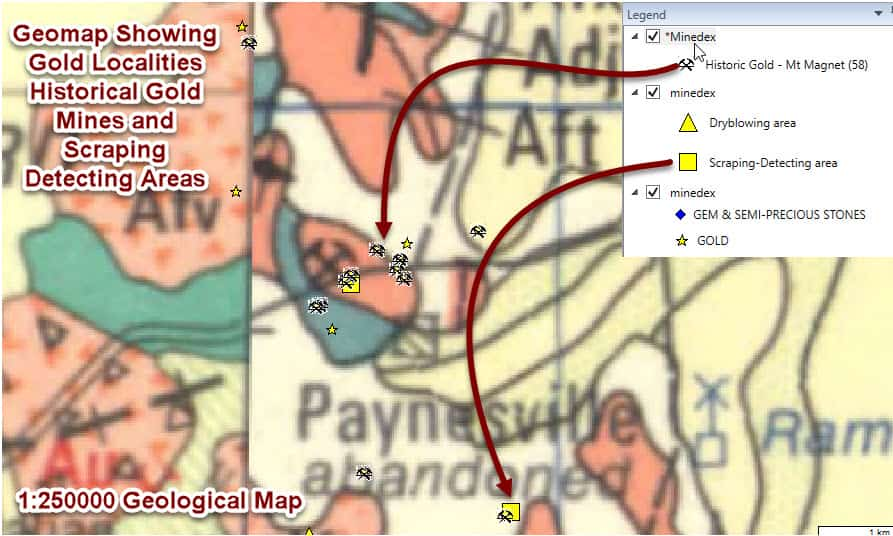 GeoMap is a very flexible offline tool that you use on your PC and it enables a lot of uses that No other App can currently provide such as;
Adding Layers of Geology and shapefiles from GeoView (GeoView is an Online tool) and creating your own special maps.
Adding Shapefiles for other information which is not otherwise available offline (A class reserves, Native title shapefiles and the like which is available ONLINE in Tengraph Web but not offline)
Creating your own graphics on field maps for use in the bush.
Saving tracks into an area that is quite remote so you can find it again later. Saving points.
Adding a variety of geological and other maps to use yourself.
The Flexibility of Adding your own shapefiles and points to use in the field. Very handy if someone else provides you some areas and GPS points,
Using it for more professional pursuits (for example we use it for setting up sampling grids at specific grid points on our leases then travelling to those points and taking the samples then later adding the sample results.)
As a backup for other tools like GPS in the field.
As a record of trips and printing of information on previous trips.
We use GeoMap for annual reports to DMIRS and as reporting to other people who are interested in our tenement information.
Saving specific projects for every trip so we know exactly where we have been in the past and what was found there.
For reporting finds on Section 40e Permits.
Outlining Allowed areas on Section 40e Permits.
Outlining prospecting locations that Leaseholders agreed to. Then reporting finds locations to Leaseholders.
GeoMap is a very Powerful software freely provided by the Department of Mines!
It is a very powerful and flexible tool for the field detectorist and gold prospector which is used extensively in the field.

Return to Table of Contents
---
How to "Go To" a Gold Location In Goldtracker App
Due to a question about how to "GO TO" a potential gold nugget location researched on the Goldtracker App here is a Video that shows you how to easily do that.
---
Goldtracker Or Geomap? We Use BOTH.
We Use Both!
Why we use GeoMap was described earlier - and, remember, it is Free.
However, The Goldtracker App provides a very economical way to View tenements, geology, goldmines, Fault lines and know exactly where you are on the ground - all on your mobile Android device.
Remember it is only $24.99 - that is a Once Off payment (cheap when you consider other charge annually for less information)
A Reminder this is what you get with the Goldtracker APP,
Tenements Updated Daily when you are in range.
1:500,000 Bedrock Geology and Cenozoic Geology.
Fault Lines in WA Included.
Gold Mines and other Mineral Information Included.
Find New Gold Locations Without the massive research time.
Know Exactly Where you are on the ground.
Different views of mapviews like Topo, satellite and street maps.
GPS location (if you have GPS capability in your phone or device).
Ability to create offline maps and use them in your phone when you are not connected to phone servic.
GOLDtracker App is used on your Mobile Phone (First Android then Apple IOS). Carry it with you all the time.
Sure, "In App" you need to buy the Scores for Potential to find gold in regions in WA but the basic app provides you pretty much all you need to help you to go prospecting legally in WA.
And, right now, it is a once only cost of $24.99 (not an Annual Fee!) that may change in the future.
But now, It is a once only cost if you buy the app now that is locked in and wont be charged again.
If you do not have the Goldtracker App on your Android Phone here is a link to the page that tells you how you can get Goldtracker App..
---
Gold Prospecting WA Facebook Page

---
Return to Table of Contents
...may you find plenty of gold nuggets in 2022
Regards
Bill and Udo
Still Plenty of Gold out there - just make sure you are going where you are allowed to go prospecting!
p.s. don't forget to like the Facebook page so you get updates on when the new IOS (Apple) version of the Goldtracker App will be released.
---