G'day


Gold Prospecting Training - APLA Open Day
Table Of Contents
APLA Open Day - Learn about Gold Prospecting WA
Gold Prospecting WA - Special Deals At the APLA Open Day
Online Tengraph Web and GeoMap training Special on the Day
---
Return to Table of Contents
---
---
APLA Open Day Nearly Here
Gidday All,

The APLA Open Day will again be held in Perth on Saturday 24 November 2018.

It's free and their will be a lot of information provided.

I will be presenting a talk on the day and although I haven't been provided with the final Agenda my talk will be an overview of the key things that you need to know to go prospecting in West Australia.
Where is the best place to Target Gold.
Where are you ALLOWED to target gold in WA.
How do you know exactly where you are on the Ground when you are prospecting in WA.
and, a brief overview of Tengraph and GeoMap - the tools you use to do these things.
Other Speakers will be talking about
Minelab Detectors.
GeoMap.
Royal Flying Doctor.
and Other subjects.
It is a great day for you to find out the things you need to know about prospecting in WA and ask APLA members and the presenters about APLA and Prospecting for Gold in WA.
Come along and learn about APLA and Prospecting in WA - its free to attend and everyone is welcome.
Here is a link to the APLA Open Day Page:
(Disclaimer - Udo and I am also a members of APLA and I am the APLA Webmaster - We believe every prospector should be a member of APLA to protect their prospecting rights in WA in the future - just so you know!)
Return to Table of Contents
---
---
Location of APLA Open Day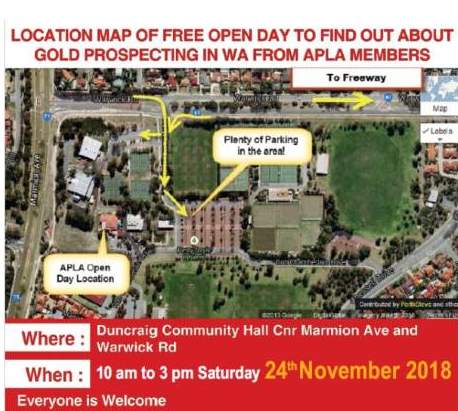 ---
Special Prices at the APLA Open Day
We at Gold Prospecting WA (and others such as Reeds Prospecting) will have stalls at the Open Day.
Udo and I will have some great specials if you want to get a Christmas gifts for someone at a good price.
For Example:
Our own designed protective Detector covers and Bags;
Minelab 5000 Protective Bags $100,
Minelab 7000 Protective Bags $120 (Extra Large $130),
Minelab SDC2300 protective covers $50,
Minelab 5000 control box covers with pocket. $25
Or, if you want access to the Online Tengraph Web and GeoMap Training AND the thumbdrive providing all the data and maps for WA....Read On...
---
EXTRA SPECIAL Online Tengraph Web and GeoMap Training Access

If you attend the APLA Open Day we will have the Online GeoMap and Tengraph Web Training Bundled product available for $80 a saving of $94 on the full price of $174.
So you can join APLA with the money you save on this deal!!
The training consists of a number of items:
Access to the Online lessons (Video and written format) for GeoMap and Tengraph Web. This does not have a time limit – you can do the training at your own pace.
A Thumbdrive which has ALL the information and programs to support to the online lessons.
The Thumbdrive Has a massive amount of data and Information on it, including:

The GeoMap Program (we use version 1.9.10 of GeoMap and it is included on the thumb drive to save you downloading it.

NOTE: If you have GeoMap on your PC already there is no need to remove it unless you have a later version and would like to go back to Version 1.9.10 BUT version 1.9.12 and 1.9.14 work Ok with the files and folder we have provided.

The Thumb Drive includes the Files and folders structure that we use in GeoMap which is stored on C:/ Drive on your PC Here are the Folder headings for the C:/GeoMapData/folders:
100kGeoMaps - Has all the freely downloadable 1:100k Geological Maps for WA.

100kTopomaps - No Maps included for topo but there if you want to add your own maps later.

250kGeoMaps - Has all the freely downloadable 1:250k Geological Maps for WA.

250kTopoMaps - Has all the freely downloadable 1:250k Topographical Maps for WA.

Data - This is data you save for use on GeoMap for example, GPS points where you have found gold, locality GPS points and so on.

Graticules - Has all the Graticular blocks for WA.

Minedex - Has the Minedex database of Mines, discoveries, outcrops, for all minerals of WA.

Projects - This will store the projects that you create with GeoMap (it has a Master project for every Zone in WA).

Tenements - Has the files you download relating to the Current Tenements that are also held in Tengraph Web – It is also where the Download Tenements APP stores Downloaded Tenements for your projects.

Tracks - This folder will store the tracks you create either by creating them based on a map or those you save while you are travelling to or from a location.
(ALSO NOTE : If you already have this files structure on your PC that you got from other Training such as the APLA training then you do NOT need to copy this information across with the exception of the MASTER projects in the Projects Folder if you want to use them)

If you do not have the GeoMap program on your PC or the files setup on C Drive then you can use the "Copy to C" process on the thumb drive to copy all the files to your Windows PC.
However, if you cant make the Open day don't forget the Free GeoMap Training the link is below;
GeoMap Training - Link to Training Including Free Training
---

---
See you at the APLA Open Day and if we don't -
...may you find plenty of gold nuggets in 2018
Regards
Udo and Bill
Nobody gets ALL the gold. There's still plenty left for you.
p.s. If you cant attend the Open Day dont Despair, we will have a special Price on our products for Christmas in the first week of December.
---