G'day


Gold Prospecting in WA 2021
---
---
Get Ready - Gold Prospecting Season Is Upon Us!
Gidday All

2021 is coming up and its time for you to think of how you can get some gold in WA.

2020 was a terrible year due to Corona Virus and travel to WA restricted so our Overseas and Eastern States friends could not get over here.

This year who Knows (?). There is a link to the current Covid rules in WA below.

BUT it is unlikely that travel from Overseas to WA will be happening soon - probably not for this 2021year at all.

Interstate may open up but remember that it could shut down anytime particularly before the WA election this year.

The Government in WA is using its tough approach to travel into WA because it is what the electorate favours so any excuse and they will close the WA borders....
---
Gold Prospecting Seminars 2021
We will be attempting to hold a few gold prospecting seminars in Cue this year.

I am just awaiting hire of hall confirmation but the first likely dates will be Mid to late April and Mid to Late May. We can only play it by ear.

Here is an excerpt of the information being sent out to the people on our waiting list for seminars.

"These people have been waiting since last year or had their seminars cancelled last year - after they have accepted or rejected the offer we will send a newsletter out to all our readers on places that are left and available.

"Unfortunately we are limited in the number of seminars we can run in 2021 due to other commitments and uncertainty about the Covid 19 virus.

You can look at the terms and Conditions document which describes the seminar information and what is involved.

Note :Terms and conditions will be published in the next newsletter.

We cannot accept bookings from Overseas Visitors due to travel restrictions and if you are from Eastern States it may be that you cannot travel to WA as well or you will have to isolate.

We simply do not know at this stage."
This is the basic process for those Seminar we CAN hold in 2021;
You select your preferred date.
We confirm it is available or offer options.
When the date is agreed a deposit invoice is sent to you which you can pay to hold your place – this is a partially non refundable deposit depending on cancellation terms See Terms and Condition relating to Covid 19 Cancellations.
For those who attend the seminars more information and maps about the seminars, such as places to detect, Locations for possible Section 40E Permits are sent to you about 4 weeks before the course.
The Seminars are held in Cue West Australia.
After training you can detect at places we have suggested or Exploration Leases you have applied a Section 40E Permit for. It's difficult to know exactly what we can recommend until closer to the time due to what locations will be available in Tengraph.
Please note the due to the worldwide impact of the corona virus it may be that the seminars will need to be cancelled. Make sure your travel insurance covers this.
Also note that the reason the part of the initial deposit is not refundable ($100) is because we have a significant amount of setup costs per head which we cannot recover (For example Public liability Insurance, Hire of Hall, Production of course materials and manuals, pre purchased Stationary and food supplies, other setup costs).
---
Minelab GPX6000 Coming Out Soon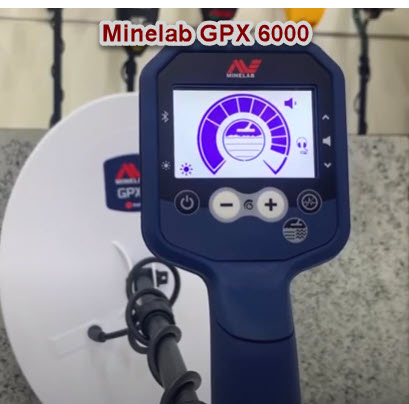 The Minelab GPX6000 coming out soon and there is plenty of information being provided overseas but not yet in Australia.
Settings in the Minelab GPX6000
We have not been blessed with any information from Minelab but it is circulating in other countries and other Blogs throughout the World.

Here are some links to various metal Detector blogs that will be of interest:

News Minelab gpx6000 Metal; Detector

Video Setting up the new Minelab GPX6000 Metal Detector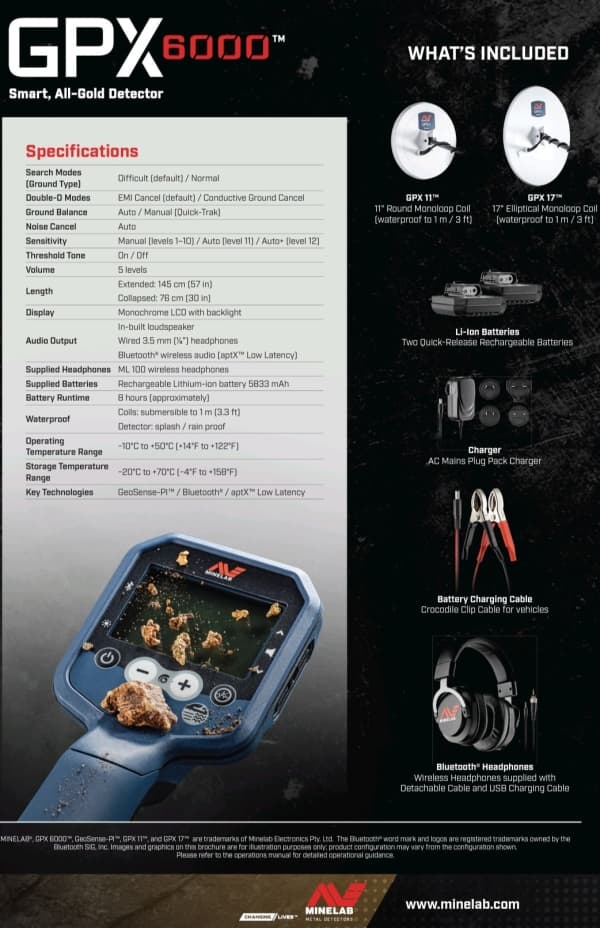 ---
Opportunity to Buy A Second Hand Detector
The Cost of the GPX6000 will be significant it appears between the 5000 and 7000.

Don't forget that when the GPX6000 comes out previous history tells us that:

there may be an opportunity to buy second hand detectors at a good price as people sell to be able to afford the new one.

So save your pennies if you want to buy a second hand SDC 2300 or GPX 5000 in the near future - that has been the history in times past when a new machine is put our by Minelab. Return to Table of Contents
---
Goldtracker APP Coming Soon
Before Prospecting Season Goldtracker will be releasing an app which will give you a score for every Graticular block in WA.
This means you will be able to easily find places with the potential to find gold anywhere in WA based on a Gold Tracker score.
That score indicates the potential of finding gold in the graticular block you are looking at.
The app will also include for every graticular block viewable by mining district:
Bedrock geology in each graticular block and for the area,
goldmines nearby,
the Goldtracker score,
viewable in various map formats like Topographical, Satellite, streetmap and others.
It will tell you exactly where you are on the ground when in the field.
Of course, you will be be able to zoom in on just a graticular Block in WA if you want to.

We will provide more information in the next few newsletters, but we are really excited by this Goldtracker App.

There is NOTHING out there now that gives you the compiled gold data from MASSIVE AMOUNTS of information crunched in this fashion by Graticular Block in WA.

It will completely simplify your research about "Where to find Gold in WA" and be presented in a easily understandable format.

It will turn you into an instant expert on where the gold is likely to be found in WA.
---
Here are some links to the Updated Corona Virus Travel Updates pages.
WA Government Corona Virus Update Page




---
Latest Roadmap and Rules Corona Virus WA
---
---
Gold Prospecting WA Facebook Page

---
Regards
Udo and Bill
Nobody gets ALL the gold. There's still plenty left for you.
p.s. Hope you are starting to get excited about the new Prospecting Season. We are!
---