G'day


Launch Discount For GOLDtracker App Scores!... And Some FAQ
---
40% Off Goldtracker App Zone Scores
Half a Kilo of Fat or a new GOLD patch?
How the GOLDtracker App Helps You in the Bush.
FAQ about the New GOLDtracker App.
How the GOLDtracker "Gold Potential" Scores are Calculated.
---
Return to Table of Contents
---
40% OFF GOLDtracker App Scores!
Gidday From From Bill, Udo, Ray and Kurk from GOLDtracker.
Dont forget the special deal for you for the GOLDtracker App.
This email explores the cost of Goldtracker App in relation to a half a kilo of Fat and the cost of a pizza and the Secret Recipe we use to calculate the Goldtracker Scores.
But dont forget 40% off the Goldtracker District Scores until we close the deal on 9 April. So Dont Miss out!
---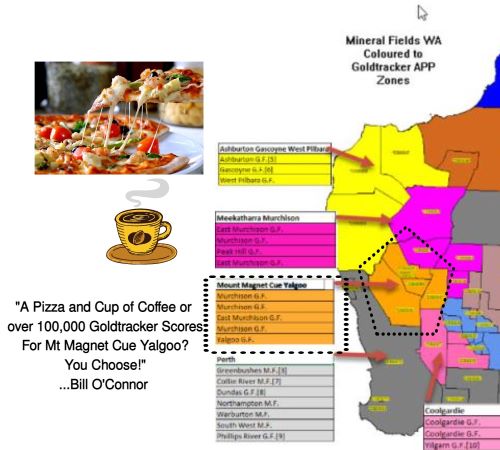 Half a Kilo Of Fat or Maybe a New GOLD Patch?
What does a Pizza and coffee cost in relation to a goldtracker Mining District "App Zones" set of scores.
For Example:
You could get the scores for the whole of say Cue, Mt Magnet and Yalgoo (over 117000 SQ Km) normally $50 at a discount 40% that costs $30
....A pizza and cup of coffee, thats all it would cost, for 100,000+ graticular block scores.
Yep You do the sums:
Half a kilo of fat and a coffee high, or,
...Maybe, just maybe, a New GOLD Patch!!!
---
How the GOLDtracker App Helps You in the Bush.
GOLDtracker App is a Android Mobile Phone App that tells you exactly where you are on the ground including;
Tenements updated each day.
1:500,000 Bedrock Geology and Cenozoic Geology.
Fault lines in WA.
Gold Mines.
Other minerals information.
Different views of maps like Topo, satellite and street map.
GPS location (if you have GPS capability in your phone or device)
Ability to create offline maps and use them in your phone when you are not connected to phone service.
Then you just buy one (or all of WA) of the 9 mining districts scores as in "In App" purchase.
Probably all you need in the bush to understand the local geology, know where the tenements are and exactly where you are on the ground.
---
Scores for Mining Districts
We have amalgamated the 40 plus Mineral Fields in WA into 9 major Score Districts or "App Zones".

In App Scores tell you the potential to find gold in EVERY GRATICULAR block in WA.

You select your favourite mining area (9 App Zones in WA).

Or.... Select the whole State Scores.

And find out the exact score in a specific block to find gold -

Find NEW Places to target Gold, ....Don't go where everyone else is gold hunting!

During the Launch period the District Scores you buy "In App" will be discounted by 40% until 9 April 2022.

MEMBER OF APLA? (Amalgamated Prospectors and Leaseholder Association of WA) we will be doing a special deal for you as our Thanks For Supporting APLA and The Prospecting Community in WA so dont buy yet on this page. I hope to have something in the next APLA newsletter for you.
---
---
Frequently Asked Questions (FAQs)
This deal closes on 9 April 2022 at Midnight. AFTER THAT THE APP WILL GO TO FULL PRICE FOR THE DISTRICT SCORES!

FAQ- We have had some questions asked over the past two days so here is a link to the FAQ page that might answer some of your queries.
---
How the GOLDtracker "Gold Potential" Scores are Calculated.
What's the recipe For Coca Cola?

Its a Closely Guarded Secret.

Just like the actual scores for every criteria used in GOLDtracker is.

The algorithm that assesses the scores is quite complex, secret, and Like Coca Cola's recipe "will never be revealed!"

However here is a page with some of the gold hunting criteria calculations within the GOLDtracker scoring system. It was sent out with the first Video "Where Do You Find Gold In WA."

Did you miss it? The Page and Video talks about the 4 criteria you need to use to find gold in WA and a "Secret" that few people know about finding gold.

This page explains the 4 Key Things you need to know about finding gold in WA  and the information that  Goldtracker uses to create the score in the app.

Find Gold In WA 4 Methods and a Secret. See How Goldtracker Calculates the "Gold Potential" score!

There is a video on that page,
"Where do you Find Gold Nuggets In WA".
that also explains what elements Goldtracker uses to assess the scores by Graticule in WA.

Start at the 8 minute mark and it will explain to you how the Goldtracker Algorithm assesses the Potential to Find Gold in EVERY graticular Block in WA.
---
How to Get and Use GOLDtracker App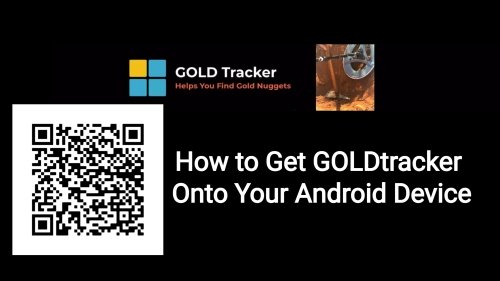 How to Get and Use the GOLDtracker app.
That page also explains how you can get the GOLDtracker app with a massive discount for "In App" purchases during the initial rollout phase which closes on Saturday Night 9 April 2022.
OR... scan the QR Code below with your Android Phone or Device..
---
Do You Have Questions About the GOLDtracker App?

If you have any questions or would like more information click this Link to Contact Us At GOLDtracker

Thank you for supporting us in the past and may you find plenty of Gold Nuggets in the Future.
---
Gold Prospecting WA Facebook Page

---
Return to Table of Contents
So go ahead and buy at the discount before the Offer ends.
...may you find plenty of gold nuggets in 2022
Regards
Bill
Nobody gets ALL the gold. There's still plenty left for you!
p.s. don't forget to like the Facebook page so you get updates on when the new Goldtracker App will be released.
---