G'day


Minelab GPX 4500 Re Released
Table Of Contents
Minelab 4500 – A Bargain Right Now
Gold Prospecting Seminars 2016.
GoldTracker Alluvial Hotspots Newsletter Sent out.
GoldTracker – New Programming Being Done
---
Return to Table of Contents
---
Minelab 4500 Re Released – At a Bargain Basement Price
Gidday All

With all the hype over the 7000 many people have probably forgotten the humble GPX4500 and its big brother the GPX 5000. (Not Udo – he reckons everything I am finding with the Minelab 7000 he would have found with the 5000!)

So for those on a budget it is great news to be able to buy the GPX 4500 at a bargain basement price after its re-release this month.

When you now consider the massive differential in price between this 4500 and the 7000 if you are in the market for a starter machine the 4500 brand new at $3299 is a very good buy. Especially seeing it comes with the standard 11" Commander DD coil and a 14x10" Commander Mono coil.

This page on our website talks about the difference between the GPX 4500 and 5000 is a good read if you are interested or thinking a purchasing a new machine.

Comparison of the Minelab GPX 4500 and 5000

You will notice in this page that we consider that the GPX5000 is a better machine than the GPX4500, however the 4500 is no slouch and at the special prices a - VERY - economical starter machine for metal detecting in WA.

NOTE; We understand that the price will go up to around $4200 again from 1 September – so if you want one, get into your Minelab Dealer to get one now.
---
What the Best Machine to Use on the Goldfields of WA
This is a question we are often asked and I will provide the reply we send to people when they ask us this question, often it is phrased in different ways;
Metal Detectors for the Highly Mineralized Grounds of WA.
It will depend on how keen you are and what you want to do with your detector, if you want to find deep gold in mineralised ground (or small gold close to the coil!), and you will use it regularly then you need to go for a Pulse Induction detector like the Minelab 4500 or 5000.
I very rarely see successful Gold nugget detector operators on the goldfields with Garretts , Fishers or Whites or the like - certainly not the VLF detectors which are usually in the lower price range.
Pulse Induction Metal Detectors are ESSENTIAL in WA.
They exclusively use Pulse Induction Metal detectors and in particular the Minelab machines and the really successful ones mainly the 4500 and 5000s. (Now - the Minelab 7000 but that is out of many people's price range.)
Issues with the GPZ 7000
7000's also struggle with salt ground.
7000's are ok with Banded Iron and other iron (magnetite) based ground and soils PROVIDED you understand and use the proper ground balance techniques and use the ferrite otherwise the machine will make too much noise to find small gold.
It is essential that you properly ground balance the machine in those settings or you will leave gold in the ground.
Side Note.
Although... this is what one of our readers had to say about BIF (Banded Iron), salty and iron rich ground and the effect on performance of the Minelab GPZ7000. Ground Balancing with the GPZ700 in Iron Rich and or Salty Ground"
GPX 5000 is a Pretty Deadly Metal Detector
I agree that with an experienced operator (like my partner Udo) and the right settings and coils the 5000 is a deadly machine that will find small and large gold in all sorts of ground, but we have also found that the 7000 is getting (very) small gold close to the coil that most amateurs might miss and is getting some deeper gold as well.
NOTE the same can apply to the 4500 with the right settings and coils like the Nuggetfinder 12x7" Mono.
Forget the bull about finding a 5c piece at whatever depth (19 inches, how far is that about 50cm?), normally that is done is quiet ground where there is no interference and no indication whether the coin is flat or perpendicular with the edge facing the surface – you can only compare the same depth and detection capabilities of different detectors and coils side by side so those statements can be deceptive.
Economy of the GPZ 7000 vs GPX 4500 and GPX 5000
The 7000 will find gold, and it will find gold in WA – the question is whether it is a $6000 better machine than the 5000 (Second hand 5000, $4500 – vs new 7000, $10700) your choice, but the GPZ7000 is finding gold - it is just a matter of Cost Vs Return and the amount of time you will be spending on the ground with the new machine – If you are only going out prospecting a few times a year the 5000 is a perfectly adequate and productive machine at a lot less cost.
Note – On a cost benefit basis the same applies to the 4500 - NEW $3299 compared to the 7000 NEW $10700.
I also hear that the professionals are reporting finding more small gold at ground that they hammered in the past and you know what, of course they are.
The reality is that they were looking for large gold with aggressive deep settings and large coils in the past which obviously did not pick up the small gold , the 7000 is very sensitive and picks up that small gold anyway, so now they have no choice!
---
Gold Prospecting Seminars Finished for 2015 – 2016 Process.
Thanks to all the seminar participants in 2015, We really had a blast in running them and congratulate all those people who are now finding gold and MORE IMPORTANTLY –understanding where to target gold LEGALLY in WA.
We will be running seminars again in 2016 - but cannot set dates until around December or January when we know our 2016 commitments. The process is we set the dates and send out a newsletter advertising them – the seminars are usually booked out then within a few days.
We will send out further news in the December Newsletter.
Here is an email from one participant:
"John and I would like to take this opportunity to thank you for sharing your knowledge at the seminar. We found it to be of huge benefit to us both in the weeks since with our prospecting.
We found almost 8 ounces of gold for the season, 6 of which we have found since the seminar. We have worked only on pending, vacant and leases that we had written permission from the leaseholders to go on and have used Geomaps on a daily basis. We will also be using Geomap over the off season to plan our next prospecting trip. "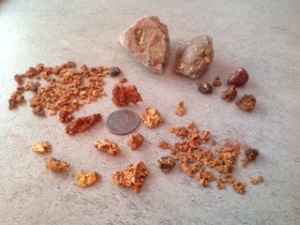 Maybe we will see you at a seminar in 2016.
---
Return to Table of Contents
Geomap Training Site and Changes to DMP Website.
In June we were advised by the Department of Mines and Petroleum that they would be rewriting and relaunching the Department of Mines website in July 2015.
This came as a massive shock to us because of the many (thousands) of links we have in documents, references to websites, videos and ebooks we have out there for you guys.
Impact on the GeoMapWA Training Website Development.
It also had an immediate impact on our development of the GeoMap Training website which will provide many videos, PDF training documents and programming processes for automatically downloading information which is a complex manual process in GeoMap currently.
We explained our dilemma with DMP and now the new website will not be released until later this year, there will be training on the new DMP systems from 14 September which I will attend and assess the impact on development of the GeoMap training site.
We also understand there will be an upgraded Tengraph System available this year from DMP.
What it means is the GeoMap WA training website will not now be released until we go to that DMP training and redo our videos and written training material. The whole GeoMap Training website in fact….
Wish I had a sad face picture to put here! Oh, Ok here's one;
---
Return to Table of Contents
GoldTracker Alluvial Hotspots Newsletter Sent Out and Update.

I noticed the latest GoldTracker Alluvial hotspots newsletter was sent out last week to those GoldTracker customers who have signed up for the alluvial hotspots programme.
Exciting Developments Being planned to the HOT SPOTS Information
There will some very exciting developments to the Gold Tracker HOTSPOTS Alluvial information in the future.
It's not my place to tell you what they are but, believe me, you will be very pleased with the plans GoldTracker has in the future for customers who purchase the plans which also includes HotSpots.
Keep your eyes peeled for the newsletter from GoldTracker that will explain it later down the track around October.
I also had a meeting with Ray Hammond Director of GoldTracker and our own Kurk Brandstater who is a developer of GoldTracker last week.
Ray works constantly on adding updated data to the GoldTracker database to ensure all the information is up to date and the Algorithm as accurate as can be for assessment of gold potential at the million or so points calculated for WA.
GoldTracker Map Will be Easier to Use
There is some great developments coming up in the next few months with GoldTracker which will make it simpler to use for selecting a specific point on the map and to overcome issues relating to screen resolution.
This is only going to enhance an already wonderful tool to assess gold potential in WA – why do all the research if you can avoid it?
You can have a look at GoldTracker here:
GoldTracker - Gold Nugget potential identification software program."
---
Return to Table of Contents
Regards
Udo and Bill
Nobody gets ALL the gold. There's still plenty left for you.
ps – there is still plenty of gold being found I have heard of a 1 kg nugget found in the Pilbara and yesterday at the Perth APLA meeting saw a picture of a 4.7kg specimen found recently that had over 300 grams of gold in it….awesome.