G'day


Section 40e Application Prices Raised
Table Of Contents
Section 40e to Increase in Price to $90 on 1 July 2019
---
Section 40e Application Prices to rise to $90
Gidday All,

This is just a short email that needs to go out today relating to Applications for "Section 40e Permits to Prospect on an Granted Exploration Lease" in West Australia.

AS you may be aware Exploration Leases cover around 46% of the land in the GoldFields and you need a Section 40e Permit to go prospecting upon those leases.

I have just received notice that application for a Section 40e (Permit to prospect on and Exploration Lease) formerly cost $25 will go to $90 from 1 July.

This was just published in the Government Gazette on 16 June 2019 - without any prior notice to any stakeholder.

That is an increase of 260% in one hit with no warning - I wonder what would happen if the banks or other private Enterprise organisations put costs up that high?

Here is the notice.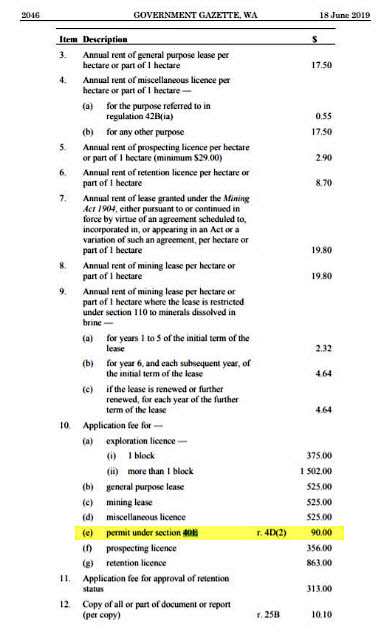 ---
What Does this Increase Mean to You
What this means is that if you are planning to go on prospecting in the next few months you need to lodge any forms prior to 1 July 2019 to save some money.

Obviously that can only be done online via Mineral Titles Online or if you can visit a Department of Mines Industry Regulation and Safety (DMIRS) office in the field or Perth at 100 Plain St East Perth.

Here is a link and video on how to apply online for a section 40e Section 40e How to Apply Online Video Page .
Video - How to Apply for a Section 40e Online
Download the training document that goes with it (This is Lesson 16 in the Geomap Training that we have created at Geomap Training WA )

Apply for a Section 40e Online - Instructions - Lesson 16 Geomap training
---
DMIRS Feedback and Complaints Page
If you feel hard done by with a 260% increase in costs and want to complain about this price rise then here is the link to do it. Feedback and Complaints Page - DMIRS .
---
Metal Detecting and Gold Prospecting Training Seminars in Cue 2019 Have been Completed
Thank you to all those that attended our Gold Prospecting Seminars this year, we had 5 seminars which booked out very quickly.

Alas, we are now too busy to hold any more this year.

Here is a link to our Facebook Page which has pictures of the seminars and participants this year.

---
We wanted to get this out today so you can save some money on your Section 40e Application.

In the next newsletter we will put up our video on the testing of the New Coiltek Aftermarket Mono Coils for the SDC2300 - we do NOT think they are a good investment for a number of reasons, so stay tuned for that newsletter.

See you out there prospecting and if we don't -

...may you find plenty of gold nuggets in 2019

Regards

Udo and Bill

Nobody gets ALL the gold. There's still plenty left for you.
---