G'day


New Vs4.0 Download Tenements App Ready For You
---
Updated Tenements in Geomap Projects Are Essential!
What Does the "Download Tenements" App Do?.
DMIRS Changes and a NEW "Download Tenements" app.
How to Get the New "One Click" Download Tenements App Vs4.
Link to Download Vs4 Download Tenements EXE File.
PDF Instructions on Downloading Vs4 Download Tenements file app
---
Updated Tenements in Geomap Projects Are Essential!
Gidday From From Bill and Udo.
In a newsletter in January we described how the Department of Mines are changing the download links to the Current Tenements you use in your GeoMap projects.
We have rewritten our One Click "Update Tenements" app for Geomap and it is now available for you to download.
Thanks to our friend and colleague Kurk Brandstater (Of APLA and Happy Prospector App Fame!) for rewriting this app program for us to provide to you.
Many will be out there prospecting now and those that use GeoMap might find that when the links for the downloads for Tenements used in GeoMap programs change it will cause some difficulty or worse, Outdated Tenements!!
So this update will fix it BUT...

...Please note: The Download Tenements APP will NOT work for you unless you have the standard folder and files setup we teach in our Gold Prospecting Seminars, on the Geomap Training Site or at our Free training at Seminars and with our APLA Free Training.
If you do not have that simplified Files and Folders setup on your PC this information will not be relevant to you.
---
What Does the Download Tenements App Do?
Click on it, it will go to DMIRS website and get the download tenements zip file
Select and download the Tenements shapefile to your pc.
Unzip the Tenements shapefile into the correct tenements folder on your PC "C" Drive.
Then ALL your projects will be updated with the new tenement information.
CAVEAT - You MUST have the files and folders setup that we teach in Geomap Training, at our Gold Prospecting Seminars, and any of the free training we have done for APLA and others.
Here is a Graphic of what the Folders and Files setup we teach looks like.
---
DMIRS Link Changes Required a NEW "Download Tenements" app
The Department of Mines and Petroleum (DMIRS) are changing their download links for downloading the Tenement Shape Files which will impact vs3.0 of the Free Tenements Updater App we have provided to you.
This will have several impacts.
The main one being that when the location of the Tenements you use in GeoMap Projects is changed by DMIRS the "Download Tenements" app will not work as it will be point to the wrong Website location.
That will Happen in June or July this year 2022.
This will mean your GeoMap projects will have out of date tenement information unless you manually download tenements zip files and then unzip them to the correct folder.
Vs4 of the Update tenements App ensures the tenements are downloaded and unzipped into the correct folder that your GeoMap projects are sourcing them.
---
How to Get the New "One Click" Download Tenements App Vs4
How to Get the New "One Click" Download Tenements App Vs4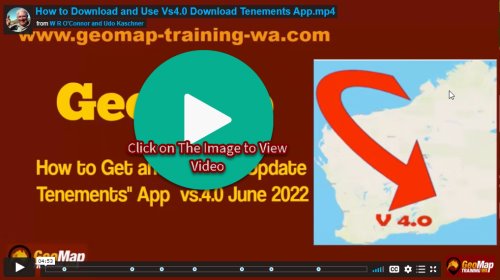 ---
Click to Get The Vs4.0 Download Tenements App File
The vs4.0 Download tenements File is linked to below.
Get The Vs4.0 Download Tenements App .exe File
---
PDF Instructions You Can Download
Update Tenements App V4 - PDF Help
---
Update Tenements App Geomap Training Blog Post
GeoMap Training WA BLOG post on the Changes to DMIRS Tenement Data Location and VS4 of Download Tenements APP
---
Gold Prospecting WA Facebook Page

---
Return to Table of Contents
...may you find plenty of gold nuggets in 2022
Regards
Bill and Udo
Still Plenty of Gold out there - just make sure you are going where you are allowed to go prospecting!
p.s. don't forget to like the Facebook page so you get updates on when the new Goldtracker App will be released.
---