G'day


What You Want - 2023 Gold Prospecting Season
What Should You Do to Get ready for the 2023 Prospecting Season.
List of Metal Detecting Gear for New Detector Operators.
Best Detector to use on the WA Goldfields.
---
Return to Table of Contents
Gidday From Bill, Udo, Sue, Ray and Kurk
The last two newsletters talked a bit about doing Section 40e's on granted Exploration leases, Goldtracker App progress and what we plan to do to help you find gold in 2023.
This newsletter is more about what you need to do to get ready for the 2023 Prospecting season which is nearly upon us.
So good luck and start the countdown to Gold Nuggets in 2023.
---
What Should YOU Do Now to Get Ready for 2023 Prospecting Season
A List of Things YOU Could Do to Get Ready for 2023 Gold Prospecting Season.
Check your gear make sure it is working the batteries charged regularly and it is all there. Yes even that wonky lead or noisy coil that you didn't replace after the last Prospecting trip.
Check your PLB, radios, GPS and safety gear - if you don't have them buy them - Particularly a PLB it could save your life. Learn how to use it if you don't know. And TEST it.
Get your car and Camper or van serviced now - beat the rush in April/May.
If you don't have one already, get a Miners right.
Research your spots. The best tool for simplicity is Goldtracker App with the graticular scores for the district you want to travel to - you might be surprised how much land is vacant or pending in areas with GOOD scores. (NO OTHER APP PROVIDES THIS SCORING INFORMATION)
If the area you want to metal detect is on a granted Lease - write to the owners to get permission to prospect there or plan your Section 40e timing - remember you will need around a month before you go bush to get that approved and then wait for the 21 days period to end.
Get the gear you need that you don't have or is worn out. Test it, charge the batteries and test them.
Join APLA.
Get your medical stuff and injections, pharmaceuticals up to date. Also your bush first aid kit including snake bite bandages. In my case get a 6 month injection of osteoporosis medicine and some happy pills.
Get a emergency grab bag together mine has:

GPS and spare batteries,
Hand held radio,
Snake bite bandages,
PLB - Personal Locator Beacon,
Waterproof matches,
Leatherman Knife (my daughter gave it to me for my 60th birthday she probably hoped to have inherited it by now!)
Compass,
Torch,
Whistle,
Silver sheet,
bottle of beer (not really, it's water).
---
Metal Detecting Equipment You Need
For new Prospectors or Metal Detectorists this is what do you need in your detector kit.

Metal Detecting Equipment
A Pulse Induction Metal detector (it should include the battery, harness, headphones, battery lead).
A small plastic shovel (Bunnings $3) or a loooong handled plastic soup scoop from the $2 shop.
A proper pick (detecting picks are around $70 metal detector shop).
A hammer and rock chisel (From Bunnings probably $30) just in case you have to smash gold out of calcrete.
A spare lead for the battery to the detector (about $60)if you need a lead e.g. Minelab 5000 - these leads DO break.
The headphones that come with the detector or some after market headphones. I prefer an external speaker as well and use the headphones as a backup.
A plastic bottle for the gold (an old medicine pill bottle is ok).
A broad brimmed hat.
A Mosquito/fly net for your face - or be tough and worry about the flies instead of concentrating on metal detecting noises.
Good boots - non metallic.
A litre water bottle with you at all times.
A compass so you know which way is home (preferably a hand held GPS as well with spare batteries).
A PLB - Personal Locator Beacon if you are going bush and walking away from the car. me, I prefer to detect with the car in sight.
A box of matches just in case you get lost and can light a small fire with green leaves to create smoke (be very careful in summertime with this though you can start a bushfire – it is only to be used in emergencies when you cannot communicate any other way).
You MUST tell someone exactly where you are going and when you are due back just in case something goes wrong. Make sure you check in with them regularly!
Are You Gold Hunting Near Goldfields Towns or Out bush?
It depends whether you are metal detecting based at Goldfields towns or in the bush camping with your own camper and safety gear, spares and so on.
If you are going off road into the bush then a 4wd is necessary.
If you are travelling any distance away from towns you need to be fully equipped with safety equipment, spares, food, Water, radios, Safety PLB, Satellite phone, the works – it is very dangerous and remote on the goldfields of WA.
There isn't any phones out there unless you have a Sat Phone!!
---
What Detector to Use in the WA Goldfields?
This is what we advise people about metal detectors.
Best Metal Detectors for the WA Goldfields to Find Gold Nuggets Consistently.
"We taught the use of a number of detectors in our training Seminars and these are what we use for work in the field.
We use the SDC2300 (as well as the Minelab GPX5000,6000 and GPZ7000) and it is a good machine for small gold close to the coil.
BUT if you want to get bigger, deeper gold then you need to buy or hire a Minelab GPX5000 or a 7000 which finds bigger gold further from the coil. The GPX5000 will get depth depending on the size of the coil but even that is limited with the 11" mono coil that is supplied with it.
You need bigger coils to go deeper - there is always a tradeoff between Depth (Deeper, bigger gold) and sensitivity (smaller gold, close to the coil).
The 2300 is dynamite on the small gold close to the coil but all detectors are limited to depth based on the size of the coil.
Because of this the SDC2300 is limited as to how deep it can detect. (NOTE the new Minelab GPX6000 is better but more expensive)
It will depend on how much detecting you do and your budget as well.
If you do it once a year then probably a Minelab SDC2300 is ok but if you do it regularly and are more serious then a GPX 5000 is a great machine.
You can get a 5000 second hand for around $3400 to $4000.
Make sure it is not counterfeit see this page and scroll down to "Stop Counterfeits" page link to the Minelab page that tells you how to check for counterfeits.
Or, buy second hand from a Minelab dealer.
Alternatively hire and try before you buy!
To get the best Performance for Value I would buy a 5000 if I was just starting out and my budget was limited.
BUT if affordable I would buy a Minelab GPX6000.
This is what we currently use in the field prior to going over the ground again with a Minelab 7000.
For a simple foolproof machine that gets the gold, a Minelab SDC2300 or GPX6000 are good choices.
Minelab 7000 is the Best But Heavy and Expensive.
The 7000 is the best detector and a very serious machine, it is heavy as well but it finds the gold - at $9700 I think you need to be a semi professional to buy it though.
If you are thinking of buying a 7000 then hire and try before you buy.
The GPX6000 is a newer machine and is a fantastic machine to find gold but once again at $8000 you need to be a serious and regular user to buy it.
Best Value for Money Minelab GPX5000
The best value for money is a second hand Minelab 5000 with some of the new coils especially the 17x13" or the smaller 12x9" nuggetfinder mono Evolution.
Or, any of the Nuggetfinder Evolution range or Coiltek Elite range, which are excellent finding small gold and will get depth for the deeper gold.
If you can afford it a GPX6000 WILL Find You Gold!
OR if you can afford it a GPX6000.
The 6000 will consistently find gold in areas that others have gone over, hammered - whatever you like to say - it is a real gold nugget producer.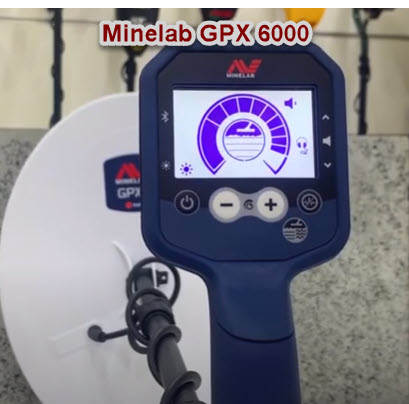 ---
An Update on Goldtracker App and Membership Site
Some information on the progress of the Goldtracker App Development.
The Goldtracker App Membership site has some new material included if you missed our email to members. it is; Lesson 8.1 How to select the BEST 10 blocks for a Section 40e Permit.
Downloadable Ebook with a list of all the checklists included in the training in one handy PDF is now provided at Lesson 14 - you need to be a Goldtracker member to download it..
Version 1.06.1 Android Update for the App is now with Google awaiting approval to use - this update provides the ability to click on a GPS site and get the best Route to get to it..
Goldtracker App Apple IOS version is still being slowly, and painfully built.
Unfortunately, at this stage we cannot put a time on when the Apple App will be available.

pdf - Using Goldtracker to Select the Best 10 Blocks for a Section 40e Permit Application

---
Gold Prospecting WA Facebook Page

---
Return to Table of Contents
May you find plenty of gold nuggets in 2023 - get ready now - to Get the 2023 Gold.
Regards
Bill and Udo
p.s. Still Plenty of Gold out there - just make sure you are going where you are allowed to go prospecting - HOW? Use GeoMap on your PC with a GPS dongle in the bush or the Goldtracker Android App with offline maps!.
p.p.s. don't forget to like the Facebook page so you get updates on when the new GOLDtracker App and IOS (Apple) will be ready.
---
Return to Table of Contents