G'day


Metal Detector Seminars and New Minelab CTX3030
Table Of Contents
The Metal Detecting Seminars in Cue Have proved Popular.
Some Future Seminar dates and Info
A Brand New Minelab Metal Detector the CTX3030
Access to Detecting Land and Section 20a Applications
Deadly Combo Nuggetfinder Sadie Mono and Minelab 5000 in Fine Gold
Wheres the Gold Price Going - UP or DOWN?
---
Return to Table of Contents
Metal Detector and Gold Prospecting Training Seminars in Cue
These have been great fun and the people who have been to them reckon they have learned plenty;

Here is a few comments we have had from our emails..

..... "I just wanted to contact you re the course at Cue to thank you and Sue.

The course was professionally run and a joy to participate in. I learnt a lot and feel much more confident detecting.

When you next speak to Udo please pass on my appreciation for not only his contribution to the training, but also for the generous use of his lease. "

..... "just wanted to say a big thanks for having me on your Gold Prospecting Course. I thought you guys did a great job in organising the training.

The whole course was very well organized and structured.

I learnt so much in two days that I am sure it has saved me years of time.

I felt well supported by all the staff throughout the course. A big thank you to yourself Bill and to your wife Sue. You both were very helpful to me personally during my training. Being a "new chum" I needed all the help I could get.

Also a big thanks to Udo for letting me camp on his block and prospect there. I caught up with Udo at his house the night before I returned to Perth and heard some amazing stories of gold and the old prospectors !!!"

..... "Gday Bill Sue & Udo ,Thanks for a great weekend , the seminar was fantastic I learnt a heap more than I was expecting. the class was really imformative and in the short time in the field Sue & Kirk put me on the right track with mineralised ground noise"
---
Udo is really worried that we are teaching people too well, they seem to be finding plenty of gold on his Mining Lease after the course see the facebook page Gold Prospecting WA Facebook Page.
He estimates that there has been around 4 to 5 ounces of gold found after the courses - and thats the stuff he knows about!
Here is a link to a film where some people from the last seminar camped there for a few days and Leon found a nice 23 Grammer (There was also a 66 grammer and a 22 grammer found in an earlier course and plenty of other smaller nuggets).
Video of Udo's Lease, a 23 grammer being found by Leon and an Unusual Way to Gather BBQ Firewood
The movie is on the Gold Prospecting WA Facebook pageGold Prospecting WA Facebook Page Video.
Sorry folks, still havent worked out a way to give you a direct link to the video yet but if you go to the Facebook page it is the first video, just click the arrow and you will be able to view it.
---
Dingo Micks 66 Gram Gold Nugget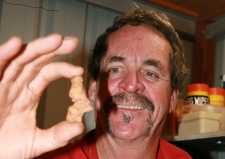 ---
Future Training Seminars in Cue
Thank you to all the people who have been completing the forms for the second half of 2012 year training seminar.
We are changing our email provider because the current one does not allow us to send out separate email newsletters to just those who are interested in the training dates with news. We are in the process of that change now.
When that change has been completed we will contact all those who have put in a training request form with their preferred dates so they get the first dibs on the training.
After that we will send out a special newsletter offering any vacancies to those who are interested in the spare positions available.
Some dates we will be looking at will be;
28 to 29 July
4 to 5th August
11 to 12 August
1 to 2 September
8 to 9 September
With possible dates on 6-7 October and 13-14 October depending on demand
Please subscribe up to the www.gold-prospecting-wa Facebook Page where we put up information regularly on Metal Detecting Seminar Information. Gold Prospecting WA Facebook Page.
---
Return to Table of Contents
New CTX 3030 Minelab Metal Detector in May 2012
There will be a new Minelab metal detector available on 28th May 2012. The CTX 3030. Its a VLF but with a lot of features.

This looks like a fantastic machine for the treasure and relic hunters and may even be a good unit on the very quiet goldfields grounds – that is still to be tested… we will buy one and test if for you.

….Why, because if you can use it on the quiet Ground then you can make use of the awesome new discrimination for Ferrous and Conductivity which will enable you to separate close together metal targets and identify them.
---
Return to Table of Contents
Features of the new Minelab CTX 3030.
Waterproof to 3 meters
Wireless Audio,Use the internal audio supplied or option is waterproof speakers ,or even use your own favourite audio headphones.
Ferrous and Conductivity Discrimination Enables you to detect the targets you want and ignore the rest. Target Trace allows you to determine the types of targets where there is two targets close together.
GPS Locating inbuilt Where you can find out where you are and it enables functions like geotrials, target waypoint entry, finding waypoints – truly a great step forward in merging technologies!
PC Mapping enables you upload your setting, localities, waypoints onto your PC and attach photos and text of your finds – you can view them in Google Maps.

Oh Boy, this is one of the greatest failings of modern detectorists in my opinion, they don't keep enough records of their finds!!

Full Colour LCD screen - Beeeooodiful
Here is a link to the Minelab Website for the brochure and further information
New Minelab ctx3030 Metal Detector .
---
Return to Table of Contents
Exploration Leases, Section 20a agreements and Access to Land
Remember, to get access to Granted EXPLORATION (E) Leases all you need do is to get your Section 20a Forms in for Exploration leases well before you want to go prospecting, the last two we have been involved in took a few weeks to be returned by the Department of Mines.
SO get your Section 20a applications in early.
....DONT FORGET - we have created a quick video guide that may help you understand how to get your Section 20a permit quicker.
It's free, so get your section 20a Video Guide here
Section 20a Permit System - Video Guide.
---
Return to Table of Contents
Nuggetfinder Sadie 8 by 6 inch Mono Coil Deadly on the Minelab 5000
We have been testing the Nuggetfinder 8 by 6 inch mono coils on both the Minelab 5000 in Fine Gold and the Minelab 4500 to compare its performance to the 11 inch Minelab Commander Mono.
The Commander is definitely a good coil and provides crisp signals on small targets but not as deadly as the Nuggetfinder 8x6 Sadie. Here is a film on the results.
We have upgraded the Metal Detector Coils page on the website and there is a new video on there showing the difference in signal intensity between the Minelab 4500 and 5000 using the Nuggetfinder Sadie Mono and Minelab Commander 11 inch coil.
---
Return to Table of Contents
Price of Gold Up or Down?
Price of Gold Up or Down? The price of gold has been moving sideways and slightly down over the past few weeks, the Aussie price has been held up by a declining Aussie dollar.
So where do you reckon its going to go?..
Some Commentators reckon down and some reckon up.
All we know is that when World Governments start printing money in uncertain times to spend their way out of recessions and downturns, then inflation goes up and money usually flies to safe havens such as the US and commodities like gold.
Its an election year in the US so it is unlikely the incumbent will be making any unpopular decisions about cutting expenditure and indeed will probably go for more borrowing and money printing to stimulate the economy - that means that maybe the US isn't such a safe haven for money any more
To us... we reckon gold will go up - How Much? - who knows - but I wouldnt be selling gold yet. Maybe a target of $3000 per ounce over the next few years is not so Fanciful? This is only an opinion, do your own research and make your own decisions on what you believe will happen.
---
Return to Table of Contents
Gold Mine Finder CD
The GoldMine Finder Software AVAILABLE IN CD FORMAT.

CD is available here Goldmine Finder CD

This is very powerful software with the data for over 34000 mines included.

The Goldmine Finder also includes Historical Gold Mines of WA but WITH GPS points and other locality data includedIt is available here Goldmine Finder Software and Data CD
---
Keep Detecting and keep well,
Nobody gets ALL the gold. Theres still plenty left for you. Just got a rumour of another 4 ounce nugget found!
Udo and Bill
p.s. Get those Section 20a's in and get out there prospecting!
---
---