G'day


Assessing the Weight of Gold in Quartz
Table Of Contents
How To Assess Weight of Gold In Quartz
Bill Now Secretary Perth Branch APLA
Minelab Warranty Changes from 1/7/2011
Metal Detecting, Gem and Mineral Club Directory

Pages being developed this month.
---
Rain in the Goldfields
Rain in the Goldfields.
We have tried to get in some prospecting over the last month or so BUT there has been plenty of rain in the goldfields
Only got bogged twice though!
We have finally dollied up the gold found in the quartz leader that we talked about in the last newsletter and it was around 6 ounces in weight.
Udo and his detecting pals found over an ounce, including one 15 gram nugget in a place that has been seriously hammered by good detector operators.
That just goes to show that not all the gold is found even in places that have previously been worked over and all the rubbish removed.
......So keep looking in those favourite old alluvial and gold mining areas, you may be surprised what you find!
We have heard of some nice finds in the last 4 weeks but people are pretty shy about telling you where (I wonder why?) and giving details of the nuggets found.
---
Assessing the Weight of Gold in Quartz
The methods of working out the weight of gold in quartz are pretty complicated unless you want to buy some pretty expensive specific Gravity or density scales, even buying the scales overseas they run into the hundreds of dollars

The reality is however that if you have an accurate set of scales that can weigh up to the size of the specimen you found and have a the capacity to weigh in 0.1 gram increments then it's not very hard to do.

We built a few pages this month so you can do it yourself and we have tried to simplify it with ;
A Video how to set up and use two methods
A Downloadable spreadsheet to just enter the two required weights - weight in air and Weight in Water
The spreadsheet also enables you to manipulate the SG of material or add your own SG in for rock matrixes)
A Gold in Quartz Table which is a handy chart to you can download - that provides the % of gold in a quartz specimen.
The page and video is available here Gold in Quartz How to assess the weight of gold.
We hope you enjoy it and as with all our pages please email us if you would like to see it improved, for example, charts using other rock matrixes rather that quartz.
By the Way If you had subscribed to our Facebook page, you would have already got notification of this page being published. Gold Prospecting WA Facebook Page
---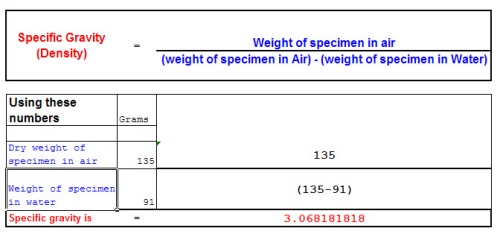 Selling Gold
I reported on the gold quartz leader we found in the last newsletter it dollied out to over 4 ounces with probably another 3 ounces or so in magnificent quartz specimens.
I took some into Becks in Perth to sell to get some cash a few weeks ago.
The process was pretty smooth and you can choose the price you want which is fixed on the day of lodgement or the future price when it is smelted.
Of course I grabbed the fixed price which was $46.19 per gram. I did have the option to take the price on the day it was processed about 10 days into the future, but I didn't.
That was just a few days before the US and European Crisis happened and gold went to $1700 per ounce and the Aussie Dollar down to just around parity.
THAT, is called Bad Timing! Anyone got a crystal ball out there?
If you missed it here is the How to Sell Gold Page
---
---
Brag about your Gold Finds
The Page on "Metal Detecting Finds" where YOU can brag or skite about your own finds including posting a picture and a little story if you wish has now been built.
We also put up a brand new video on that page on the quartz leader that produced over 6 ounces of gold for us. Its the first video on the page.
If you scroll down the page you will see some pictures of gold found in the past year or so with details of who and where it was found (Where that is available)
Why dont you tell the world about your finds - you can remain anonymous as well!
---
Amalgamated Prospectors and Leaseholders Association
Just as a sort of disclaimer I (Bill) have been elected as honorary secretary to the Perth Branch of APLA.

Udo is an honorary ambulance driver in Cue and we both believe that it is the right thing to do to get involved and contribute in our community and groups to make things better.

We also both believe that there is growing and strident opposition by vested interest groups who would like to take away the access to land, rights and traditions of small prospectors.

APLA is the strongest advocate on prospectors behalf and the time to stay on the sidelines is over - its time to support APLA by joining and getting involved.

However the views on www.gold-prospecting-wa.com, the Gold Prospecting WA Facebook page and this newsletter are our own and not influenced by any outside organisations, commercial interests or memberships such as APLA.

Just so you know where we are coming from!
---
Club Directory Page
In the next month we will be building a Club Directory section on the website which will feature information and contacts for WA clubs and associations.
This will enable our readers to quickly look up any club or locality and get the contacts and information about clubs in their area.
This will be aimed at;
Metal Detecting Clubs
Lapidary Clubs
Gem and Mineral or Rock Hunting Clubs.
Or the like to give them a profile through the website which will help them increase their membership.
There will be a page published which will enable a simple submission form with a photo and club contacts to be added to a website page for each club.
If you are a member of a club when this page is published could you refer it to one of your committee members so they can complete the details and have their club featured on the www.gold-prospecting-wa.com website.
---
Minelab Warranty Changes
In the Gold Prospecting WA Facebook Page we have already mentioned this fact that the Minelab warranty conditions have changed from 1 July 2011.

In essence the changes are that for Minelab Metal Detectors bought after 1/7/2011 the warranty is transferrable during the warranty period if the detector is sold to another person.

Here is a link to the warranty conditions See point 4;

NOTE This link was removed by Minelab so is no longer on the newsletter.....
---
Gold Prospecting Pages Coming This Month
Coming - plans for new pages;
Club Directory Page A page this will link to Rock, gem, mineral hunting, metal detecting clubs in WA, with a section to enable clubs to provide their own information to be included on the website.
A Page with an "Interactive Map" that shows you localities and goldfields in relation to towns and highways - this has been requested by Interstate and some Overseas prospectors who do not have local knowledge of localities. (Still to be done)
"Tips for Metal Detecting" due to a request from some new starter prospectors.
We will also be doing a complete rewrite of the GOLDMINE FINDER software and database which is still in progress, believe it or not our programmer broke his hip and has been in hospital since July.
---
Metal Detector Bags
We are still awaiting the arrival of these bags
---
---
Keep Detecting and keep well,
Nobody gets ALL the gold. Theres still plenty left for you.
Bill and Udo
p.s. What about the price of Gold Over $1700 Aussie as we write this newsletter. Wow.
pps. Help us to Help you, tell us what you want to know so that we can create the pages that YOU want.
Just click reply to the Newsletter
---
---