Sell Gold - How to Value and Sell Your Gold Nuggets
Understanding how to sell gold to get yourself the best price is a key skill you need now that you have worked so hard to find your gold.
This page tells you how to value your gold, where to sell your gold and the conditions you need to know to get the best price for your gold.
We will also add three unique extra ideas to sell gold at greater than spot price that you probably have not thought of yet.
What Are Your Gold Nuggets Worth?
We will not be dealing with scrap gold here, that is the realm of the merchants buying gold at hock shops and the ubiquitous shopping centre style gold buying kiosks (Beware - You will NOT get fair value for your gold at these places!)
What we are interested in is the gold you find while you are prospecting from the gold dust right up to the very large gold nuggets.
Rarity
Gold nuggets are rare and becoming rarer, most of the gold in history has been melted down and reused, this means for an attractive gold nugget you will get a premium in price.
The larger the gold nugget the more rare and desired it will be.
What is an Attractive Gold Nugget
This is described on the page relating to How to Make Gold Jewellery, essentially the beauty and shape will be assessed by the buyer, but if its just a round or amorphous blob without any attractive shape then you will not get premium price over spot price for the nugget.
Jewellery grade or "Attractive" gold nuggets will fetch a premium.
Size
Flour gold to gold up to 1 gram is usually sold at normal spot price less the costs of smelting, or at a discount to spot price of up to 15%+ to cover costs and a reasonable profit to the buyer.
You need a reasonable amount of this to make it cost effective to sell for example if you are selling it to the Perth Mint Refinery where the minimum cost is $297.
1 gram gold nuggets upwards (if jewellery quality) will sell at a premium to spot gold prices but unless it is crystalline gold, leaf gold or wire gold not a massive premium.
The larger the nugget generally the greater the premium when you sell gold, but it is all based on the value in the buyer's eyes.
Purity
WA gold is not pure 100%, 24 carat gold, no natural gold nuggets are!
Gold Nuggets have impurities such as silver or other metallic content or small pits of quartz and ironstone in the matrix of the nugget.
This is an important to understand for selling gold when you sell it to a refiner, the gold nugget that you provide is not 100% in gold content and your return will be less than the weight of the gold nugget due to that fact.
Sellers Motivation
What you eventually sell your gold nugget for may also depend on your motivation for selling as well and the effort you are prepared to go to to sell it.
If you need the money and have limited time to sell gold for example, then you may be prepared to sell your nuggets for spot price less expenses for refining.
If you have plenty of time then its worthwhile looking for other options beside this such as selling via ebay or taking the time to obtain offers from the various buyers who will pay a premium for clean, natural, Australian Gold nuggets.
You will also be motivated by the up and downs of the daily gold price and where you believe the price will go to in the future, if you believe the price is going to go up you may be prepared to hold or alternatively, go down, you may want to sell quickly.
Where do You Sell Gold Nuggets?
Ebay
If you want a premium to spot daily prices this is one way to get it for your small nuggets when you sell gold.
Go to E Bay type in "gold nuggets" and look at the prices that people are asking for and often receiving for small gold nuggets.
Be careful with EBay and make sure you follow their recommendations on safety.
Here is an example of a nugget for sale at January 2023;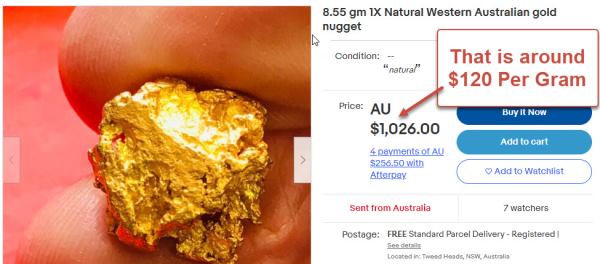 Using EBay to Sell Gold

Make sure you have a sharply focussed photograph of the nugget with some perspective of size such as a graduated ruler when you are offering to sell gold via EBAY in Australia or overseas. 
Natural, Australian nuggets do get a premium if they are good and displayed well.
You can always make sure you set the base price at the price you want so you never get less than that.
Provided the base price you want to sell for is realistic then you will attract bids.
You also need to read up on EBAY security so you protect the transaction and value by insurance and getting the money in the bank before you send it anywhere.,
Smaller gold nuggets seem to sell very well on EBay - probably because they are affordable. The problem is of course that you will need to pay a % of sale price which could be up to 2-3% which can be costly for a large nugget, you need to do your own research on this.
You will also need to pay Paypal fees if you are transacting money this way.
Perth Local Buyer of Gold Nuggets JandM CashNGold Services
We have been hearing some good reports about JandM CashNgold Services for small purchases or gold nuggets that you have found.
UPDATE ON JM Location - 2019 - New Contact Details
We have moved from this premises 279 South Street, Hilton & now operate as a home business/office in Coogee to enable us to offer a personal, exclusive & private place for prospectors to sell their gold.
Sales By Appointment
This is done by appointment for an hour block so that we are not rushed, have a cuppa & a yarn.
Our number is still the same 0430050676.
As a independent Gold Buyer we can now offer the highest price for nuggets over 2 grams compared to our competitors & we still pay in cash.
For large quantities we can advise if we have cash on hand or need to order it in, this takes @ 2-3 days. If you have any queries or need to clarify please feel free to contact me. Kind Regards Janet & Wayne Moller
For more information ring them or google JM Cashngold WA.
Perth Mint
Will buy nuggets and pay a premium for certain nuggets, they do not buy specimens, but you need to contact them to see if they of a certain size that the Perth Mint requires.
They will also buy good clean nuggets at the Perth mint at the spot price, but remember that will use and XRF analyzer to see what the actual persentage of gold in the nugget is. They give you the daily price x the percentage of gold in the nugget.
Here is part of my last communication with them;
"- What type of natural Gold nuggets do you buy (define the size and price by mesh size if you wish)
MINT - Nice clean nuggets and we are keen to see any over 50 ounces.
- Is there specifically any types of gold nuggets that you would pay a greater premium for?
MINT - 5g to 15 g and 50 ounces and over. Must be attractive and clean.
- How do you pay for the gold purchased and what is the approximate time for payment.
MINT - We do a direct credit into the clients bank account normally within 48 hours and Jewellery is paid 5 working days after the transaction is done."
REFINING GOLD
Perth Mint (Formerly AGR) will also buy gold at the Perth Mint Refinery arm, Airport 131 Horrie Miller Drive - 08 94799999) at 98.6% of the Gold Price set in the morning that you sell it.
They will charge a minimum of $279 + GST ($297) for refining it and you will be paid the market price I mentioned earlier for the gold extracted and silver extracted (Ensure you check this when you are researching your best sale option!) - remember that not all gold is pure - your gold may only be 90-95% pure and that is what is assessed in the assaying process and what you are paid for.
You will need to open an account to sell gold to them which requires similar identity documents that you need to open a bank account such as photographic Passport, drivers license and so on.
P W Becks
P W Becks will also buy gold. They no longer have an office in Perth.
They also will have the gold picked up by courier and delivered to their offices with insurance up to $50000. That costs about $12 plus GST.
They will also refine the gold and charge a refining fee which is about half that of the Perth Mint Refining Arm. Their contact is freecall 1800888528.
PMT in Queensland
Information about PMT can be found at PMT website .
PMT are a Queensland based precious metal refinery and have a national client base and deal with prospectors and fossickers who can send their nuggets to them for refining.
They mostly pay by EFT but will return gold ingots if requested.
They have said that in special circumstances where the gold nugget or jewellery has a high intrinsic value they will refined separately and returned the customer's actual gold. Their refining charges are based on the gold's purity but for Australian native gold are between 6c and 10c/gram. Their minimum charge is $170exc for refining and $80exc for assay.
Payment is done within 3 working days. They also say they assay and purchase the silver content if there is a worthwhile amount.
If you have any questions or comments then please telephone them on 07 5574 6629 or toll-free on 1300 733 463
DISCLAIMER
Udo and Bill from www.gold-prospecting-wa.com have no connection, nor do we get any form of compensation from any of the companies that are listed on these pages. With the exception on this page of the link relating to "Build Your Own Business>"

Furthermore, the information is provided at a specific date (15/08/2015 and JM gold as at 23/2/2019) and is only current to that date - it will change over time.
The links and contacts are provided to assist you in your research to find the best place to sell your gold and gold nuggets.
As with any financial transaction you want to incur it is your responsibility to do any due diligence and research required to obtain the best result for yourself!
Three Unique Ways to Sell Gold at Better than Spot Prices

Make your own Gold Jewellery and Sell Gold at a Premium
This pendant necklace has been made from an ironstone gold specimen and fitted into a rolled gold pendant with a bail and chain fixed.
It is surprisingly easy to make your own gold jewellery and a great pastime - our webpage How to Make Gold Jewellery shows you how to do that.
For example; the value of this piece is very much more than you could achieve by simply selling the ironstone and gold specimen.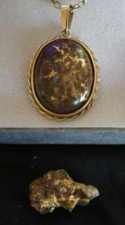 Gold In Ironstone Brooch
This gold jewellery piece would have a great deal more value than the sum of Ironstone and Gold specimen, the gold bail, the pendant setting and chain.
Setup Your Own Market Stall to Sell Gold
This was an interesting idea floated at a Forum and it makes a lot of sense as an option to obtain a premium for your gold.
Make up your own individual gold nugget product presentation boxes with clean polished nuggets or add value as jewellery pieces (matching earrings, nugget with a finding attached and chain, stud earring), and sell gold with other gold paraphenalia and books/scales/loupes at carpark markets or even the local weekend markets.
Selling Gold - Has it Been a Good or Bad Experience for You?
Had a positive experience selling gold? Share you stories and experiences of selling gold to help other people.


What Other Visitors Have Said about Selling Gold
Click below to see contributions from other visitors about selling gold...

Selling through Ebay Not rated yet
I thought I would give Ebay a go with a small nugget less than half a gram, but it was a lovely shape. I was so surprised that the bids came in for …
Return to Gold Prospecting home Page from "How to Sell Gold" page