G'day


Department Mines Website Major Changes Will Affect You
Table Of Contents
Critical Website Changes Department Of Mines WA
Special 1 – Metal Detector Protective Bag Cheap
Special 2 – Goldmine Finder AND Historical Gold Mines of WA Both for $35
Geomap Training Website Update
---
Return to Table of Contents
---
Critical Changes to Department of Mines Website
Gidday All

Wow, the DMP changed their website a few days ago and pretty much all the links on www.gold-prospecting-wa.com needed to be redone. Not to mention the downloadable ebooks like Tengraph and videos than need to be rewritten and rebuilt.

If you have been following on Facebook you would have seen our posts about it. For Example the following one;

Here is a link to our Facebook page where we have been putting updates.

Here are some of the pages we have fixed so far:
Gold Prospecting Regulations.
Gold Prospecting Mindmap and links page.
Gold Prospecting Regulations Flowchart.
Simplified Chart to help understand Rules for different types of land ownership.
Basic Provisions of the miners Act.
Miners right Page.
Free Geological Maps.
Section 40E Page.
---
It is Also On our Agenda to Rewrite our E-Books and Re-Record Our Videos
After we have fix the websites up we will rewrite the "Tengraph instructions" ebook and redo the videos for Tengraph and Section 40E pages for you.
That will take a few weeks and we will do it in conjunction with building the Geomap Training Website.
But it's nearly Christmas so Merry Christmas to you all
Here is some specials for you if you are looking for a gift.
---
Return to Table of Contents
Merry Christmas – Our Own Design Metal Detector Bag – Cheapest it will ever be.
Here is the page we use normally to sell our bag.
BUT DON'T BUY ON THAT PAGE – just have a look at the page if you want to view the bags!
Metal Detector Bags - Designed by Metal Detector Users for Metal Detector Users.
You can have a Protective Metal Detector bag
for $100 Plus Postage
We have only Camouflage and green bags left in stock until we get a new order. The bags supply costs and postage have increased significantly over the last year so we can't do a free postage this year, sorry.
Postage will cost:
Pickup Free - I live in Northern Suburbs at Quinns Rocks, I can deliver to the Northern Suburbs..
$15 Perth metro.
$20 Near Country WA.
$30 North West WA.
$40 Eastern States.
Unfortunately, it is too expensive to send these bags overseas.
| | |
| --- | --- |
| | The Green and Camouflage bags are available and Camouflage is more the Army Style colours on the bags available |
To Buy the Metal Detector Bags
If you would like a Protective Metal Detector bags at this price just return email to this newsletter with your Email address, Name, Address and colour required and I will send an Invoice for you to pay online
---
Return to Table of Contents
Merry Christmas 2 – Goldmine Finder CD AND Historical Gold Mines Posted for 35 bucks
Yep that's right both CDs Posted to you at your address or as a gift or sent direct to your " Special Person" direct from us.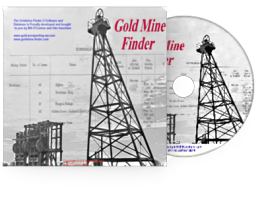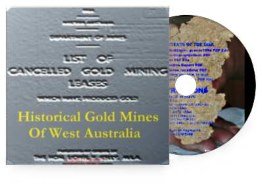 To Buy the Goldmine Finder and Historical Goldmines CDs
Just return email to this newsletter with your email, name, address you would like the two CDs sent and we will return email an invoice that can be paid on line - then we will get the gift into the mail.
---
Return to Table of Contents
---
Gold Prospecting Training Seminars in Cue in 2015
For those interested in our Gold Prospecting and Metal Detecting training seminars in Cue in 2016 we will give you the dates in a newsletter in Early January.
If you are interested please book early these seminars usually sell out quickly and we don't like to disappoint.
---
Return to Table of Contents
Update on GEOMAP TRAINING WEBSITE
The development of this training and website has been delayed due to the impending changes that were proposed by the Department of Mines and Petroleum earlier this year.

There was no point in building a website full of video and written training if the DMP website links and programs were to change – the material would be outdated as soon as that happened.

Now that the new DMP website has been finally published we can get on with it and build the Geomap Training site.

There will be a newsletter about that over the next month.
---
Return to Table of Contents
Merry Christmas, Please Keep Safe, and....may you find plenty of gold nuggets in 2016
Regards
Udo and Bill
Nobody gets ALL the gold. There's still plenty left for you.
ps – have a wonderful Christmas with your family and loved ones – the reason for the season is love – share yours with others.