Metal Detector Bags - Designed by Metal Detectorists to Protect Your Valuable Metal Detector!
SORRY ALL BAGS OUT OF STOCK...
We spent some time to design these protective carry bags because there is simply nothing on the market that adequately protects our $6500 Minelab 5000 metal detectors properly..
...OR enables us to store all our gear adequately.
Metal Detector Bag - A Short Video

Some Features We Built In
Will take a Minelab 4500 or Minelab 5000 without having to separate the shafts.
We have a larger bag for GPZ7000.

Heavy Duty Water Resistant Canvas.
Padded to take the knocks.
Internal Thermal Layer to protect against heat.
Dust Proof - Dont let that fine red dust get into your electronics.
Heavy Duty Double Zippers that you can lock with padlocks for safety.
Two side pockets that will take 16" round coils
Plenty of room for all your gear to be kept together - dont arrive without half your gear.
Designed to fit across the back seat or compartment of a 4 wheel drive.
Reinforced handle and strap.
No Longer Available - out of stock

We are not in the hard goods retail business but had these made due to the expensive bags that are currently  only available. So when we run out it takes some time to get new orders in.
 Colours Available
There are four colours you can choose from, Black, Dark Green and Maroon and a Patterned Bag; Note that they are not always available in stock.

Colours of the Metal Detector Bags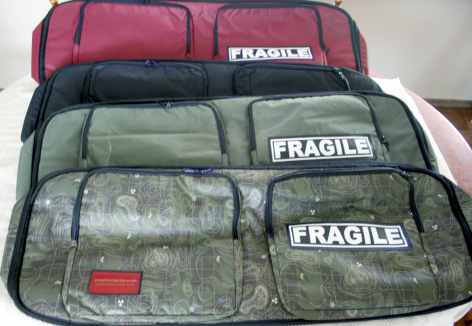 Colours of the Metal Detector Bags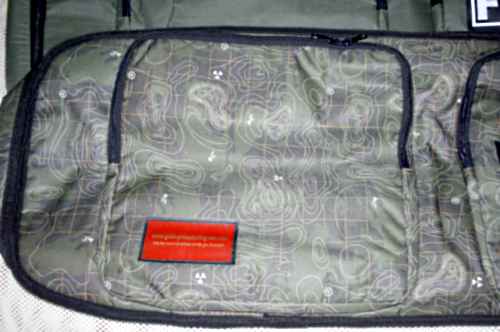 Designer patterned metal detector bag - example only - not always available in this design, but we normally have a camouflage colour in stock.
If you want a Minelab 5000 protective Bag your investment is $129 each plus postage and packing which will be;
Sorry.....all our bags are out of stock 
Perth Metro - $12
Near Country 6215-6699 - $20
North WA 6700-6799 - $30
Eastern States - $40
If you live in Perth I don't mind if you wish to pick your bag up (I live in the Quinns Rocks area).
The GPZ7000 Protective Bags are extra because of the additional costs to make them they are $149 Each.

---
Return to Gold Prospecting home Page from metal detector bags page