G'day


Garrett ATX Review and Seminar Vacancy
Table Of Contents
Seminar Vacancy 3,4,5 May in Cue
Gold Nuggets Already Being Found this Season

12x7 Nuggetfinder Mono - Hot Coil on the Small Gold
---
Return to Table of Contents
Garrett ATX First Impressions
Hi Everyone

Sorry about this late newsletter Udo and I have been preparing for the seminars and we ran the first one in Cue last weekend so time just caught up on us!

As promised Udo and I have purchased the Garrett ATX, the full kit, to test.

Those that know us will know that we do not have an affiliation with any equipment manufacturer and we try to give our honest opinion on the equipment we buy and try. We are independent and fiercely so.

Ok, given that knowledge we want to ensure that we give the equipment we test the best workout we can. These are our first impressions and you can be sure that we will do some more testing before we put the video up on our metal detecting page.
Protective Package
Love it, congratulations to Garrett for putting together the heavy duty case to protect the machine in the Deepseeker package. It costs extra but worth it to protect your investment.
Maybe that will tickle Minelab along to provide a decent protective case with their detectors so customers can protect them right from the start.
Owners Manual, Setup and Ease of Understanding Instructions
Although Udo and I have been around detectors for a while we thought the setup of the machine and understanding the instructions was reasonably simple, it was easy to set up out of the box and came with batteries inserted and a spare re-chargeable set to recharge and use later.
Some post purchase training would be very helpful to new users though.
The Manual was readable and easy to understand so we could get going pretty quick with the detector.
The red writing on dark green on the display was very hard to read for old-timers eyes and not a good contrast.
Maybe gold on green would have been a better contrast and with enough difference to the white printing on green to quickly comprehend the Primary and Secondary controls.
Signal Noise
We are not headphone type people preferring external speakers reverberating from our shoulder speaker to our hat brim and back so we can hear them.
The volume created by the Garrett using the speakers only was not sufficient for determining soft sounding targets.
This almost forces you to use the headphones in the bush where there is other noises in the environment. We didn't like that and think it could be improved - maybe that is a personal preference thing for us.
The detector noises are electronically strident until you tune the machine up to quieten them and that was a bit disconcerting.
Field Performance
We went to the goldfields of Cue and detected some targets that we knew were gold with the Minelab 5000 and 12x8 inch Mono Nuggetfinder coils, then we attempted to video the comparison on signals over the same targets while they were still in the ground.
The Garrett did not detect them, even when we tweaked the settings – so the jury is out on performance with small gold nuggets (these were in the 0.1 to 0.5 gram range. We haven't yet walked over a bigger one in the 1 gram to 10 gram range yet to test the signals
It picks up other metallic surface objects OK but that is not what detecting for Gold Nuggets is all about!
To be fair to the Garret Machine we will test performance over the next month so we can ensure we are more experienced and expert with the setting and use of the Garrett ATX machine.
We will video the results, sounds and comparisons and put a video up on the gold-prospecting-wa site in May.
Our initial conclusion are however that if you are in the market for a Metal Detector to detect Gold on the WA goldfields this season, the Minelab 5000 is superior to the the Garrett ATX.
More next month.
---
Return to Table of Contents
Metal Detector and Gold Prospecting Training Seminars - Vacancies
Gold Prospecting Seminar Vacancies 3 4 and 5 May in Cue
For various reasons we have had some cancellations for the Seminar on 3,4 and 5 May seminar in Cue.
If you are interested please reply email to this newsletter and we will send you details and send an invoice.
Our Gold Prospecting and Metal Detecting Seminars will answer the following questions for you;
Where can I find Gold in WA?
What sort of Geology and rocks should I be looking for that indicate gold could be present?
Where am I legally allowed to go Metal Detecting in WA?
How to Legally Access around 46% of ALL the already Pegged, Prospective Land in WA?
What are The best metal detectors and Equipment to use to get ALL the gold.
how to used the Minelab 4500 and 5000 metal detectors
How do I set up and use GEOMAP on my computer with freely available Geological and TOPO Maps to easily research prospective Gold Locations.
How do I set up GEOMAP with a computer and GPS so I know EXACTLY where I am, anytime in relation to Tenements and prospective gold locations.

....and, setting Geomap up NOW, RIGHT NOW and using it during the seminar and Field trip Detecting part of the seminar with moving maps to show you exactly where you are.
Also, New in 2014 - A Full Extra Day of Training and Detecting in the Goldfields
We will answer all of those questions for you, and Now in 2014 we offer an Additional Day at the Seminar as part of the training so you can go out and try your hand at finding some gold while we test your metal detecting technique.
---
Return to Table of Contents
Terms and Conditions and More Information
This is a link to the page relating to Gold prospecting lessons and seminars . This page has been updated to reflect the 2014 vacancies.
Important Terms and Conditions
It is very important that you read the terms and conditions document relating to the training for your own safety and peace of mind.
Click on this link for further information and Important Terms and Conditions
---
Return to Table of Contents
129 gram Specimen
129 gram Specimen

Already this year we are getting reports of some nice gold finds.

Here is a 129 gram Quartz Gold Specimen found by Peter down "Sandstone" Way.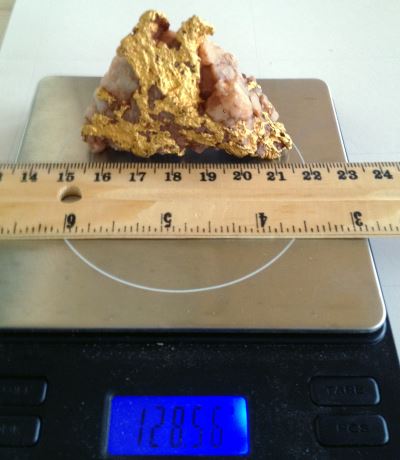 Petes Beautiful 129 Gram Specimen found down Sandstone Way
---
Return to Table of Contents
12x7 Nuggetfinder Mono - Hot on Small Gold
Udo has been using our new Nuggetfinder 12x7" mono the last few months.

Believe me it was hard to pry his Nuggetfinder Sadie 8x6 mono off him, but we needed to test the 12x7.

He is very impressed with it finding over 100 small nuggets since he has had it on and used it on his old gold patches recently.

The coil has greater coverage (12" compared to the Sadie's 8")and it is very sensitive like the Sadie. At the same time it can be used in between rocks and under vegetation where the bigger coils cant go.

If you need a small coil to mop up the small gold this is a good investment and it will pay for itself very quickly on the Minelab 5000.
---
Fortunately the weather is cooling down so prospecting season is upon us.
...may you find plenty of gold nuggets in 2014
Regards
Udo and Bill
Nobody gets ALL the gold. Theres still plenty left for you.
---
---