G'day


Gold Prospecting and Metal Detecting Seminars Cue 2015
Table Of Contents
Dates of Metal Detecting Seminars in 2015
What Others have been saying about the Course
---
Return to Table of Contents
Metal Detector and Gold Prospecting Training Seminars in Cue 2015
Gidday All

Gold Prospecting Seminars 2015

In 2015 we will again be running seminars in Cue to help you answer these questions;
Where can I find Gold in WA?
What sort of Geology and rocks should I be looking for that indicate gold could be present?
Where am I allowed to go Metal Detecting in WA?
What are The best metal detectors and Equipment to use to get ALL the gold.
How do I set up and use GEOMAP on my computer with free Geological and TOPO Maps to easily research prospective Gold Locations.
How do I set up GEOMAP with a computer and GPS so I know EXACTLY where I am, anytime in relation to Tenements and prospective gold locations.
....and, setting Geomap up NOW, RIGHT NOW and using it during the seminar.
---
Return to Table of Contents
Training Dates in 2015
| | | |
| --- | --- | --- |
| Gold Prospecting Lessons Cue 2015 - Dates | Total Available Places | Places Left |
| 28, 29, 30 March, Seminar Cue | 10 | 7 |
| 4,5,6 April(Easter), Seminar Cue | 10 | 10 |
| 25,26,27 April, Seminar Cue | 10 | 10 |
| 2, 3, 4 May, Seminar Cue | 10 | 10 |
| 30, 31 May, 1 June, Seminar Cue | 10 | 10 |
| 6, 7, 8 June, Seminar Cue | 10 | 8 |
| 4, 5, 6 July Seminar Cue | 10 | 10 |
| 11, 12, 13 July Seminar Cue | 10 | 10 |
Some positions in the seminars have already been taken because people booked from last year and we have people from overseas and the Eastern States who have planned a holiday around specific dates.
---
Return to Table of Contents
---
Return to Table of Contents
Terms and Conditions and More Information
This is a link to the page relating to Gold prospecting lessons and seminars . This page has been updated to reflect the 2015 vacancies.
Important Terms and Conditions
It is very important that you read the terms and conditions document relating to the training for your own safety and peace of mind.
Click on this link for further information and Important Terms and Conditions
Sequence of Events After You Complete the Preferred Dates Form
This is the basic process after you tell us the seminar date you prefer;
You Select your preferred date.
We Confirm it is available or offer alternative options.
When the date is agreed a deposit invoice is sent to you.
More information about the courses, such as Maps, Places to Detect, Section 40E Permits are sent to you about 4-5 weeks before the course.
The (Seminar) Training is held at the Airconditioned St John Ambulance Centre just behind the Caravan Park in Cue.
After training you can detect at places we have suggested or Exploration Leases you have applied a Section 40E Permit for. It's difficult to know exactly what we can recommend until closer to the time due to what will be available in Tengraph
If you are interested please complete the form on the webpage Gold prospecting lessons and seminars . This page has been updated to reflect the 2015 vacancies.
Please remember that the course dates and numbers are limited and if you are interested - get in early.
We book on a first come first served basis, and we do not overbook. We will offer alternative dates if they are available.
---
Return to Table of Contents
2014 Feedback for the Seminars
Here is a few comments we have had from our emails in 2014.

On the last day of the course you asked for feedback on any changes etc that we felt might be beneficial to future course participants.

Well for me it was a fabulous weekend, I will say however, that if I hadnt already attended a couple of courses elsewhere I probably would have struggled because of the amount of information the three of you were so willing to impart on us novices.

Personally that's why I did your course, because it filled in most of the gaps left by the others and reinforced and reminded me of what I had been taught previous.

So to answer your question, I wouldnt change a thing and I can not think of anything extra that needs to be added.

The fact that you are all competent prospectors and detector operators and were so willing to give us so much information , blows me away. And to top it all of ,to allow a few of us to tag along after the course to one of your spots was very special.

My sincere thanks, particularly as I think I learnt more that day than I did at Udo`s about setting up my detector which ultimately I believe allowed me to hear clearly and find my first bit of gold.

In closing can I again say thanks to the three of you for your friendship, your openness in regards to all things prospecting, for a very informative weekend and for confirming in my mind that prospecting is something that I want to do more of, that I am capable of finding some gold and havent wasted my money on all the equipment.
---
From Don
"Thanks again for running the course,
well worth the $600, will recommend it to anyone. (might have a crack at finding Lasseters reef now :-)
Can you let Kurk know I managed to put Geomap on my mac, its running beautifully , and the GPS dongle works a treat."
---
From Kevin

Hi folks, just a short note of thanks. I have just returned from our winter trip with 3ozs.Still lots to learn of course, but looking forward to the next trip already. The seminar was a good starting point.

Thankyou for your patience and encouragement.

Now digging all targets, with a 10, 7, and several 5 grammers in the bag..... Always in a hole........Kevin
---
From Chris…
Managed to get out prospecting last weekend and after taking your advice was armed with a 12 X 7 NF Coil.
I spent two weeks researching a promising looking area and in that time the tenement status changed so it opened up for us. We tried two areas with the second and more remote area showing up with the goods. My input was to find the rough area to look (from what we leant) and my mate who has more experience was responsible from then to narrowing it right down.
In 5 hours of detecting we turned two specimens and 1 nugget.
I managed to find the species which were 16 grams and 17 grams and my mate found the nugget which was 3 grams. One photo shows the haul for the day uncleaned while the other shows the species and the bits that fell off after cleaning.
The species are very rough so we suspect near the source. We now have this area marked and will return to have a real good look.
Without putting the mockers on myself that is two trips with both times finding colour and I put it down to what we learned in your course. The more I talk to people the more people I realise could benefit from the course. You guys do a great job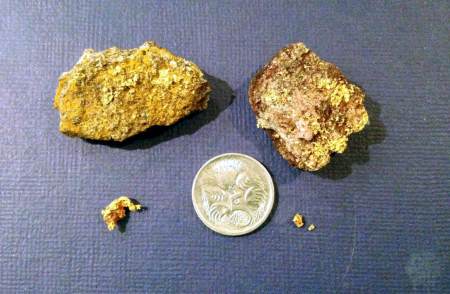 Chris' gold specimens after a seminar in 2014
---
From Richard..
I would just like to say thank you for your hospitality and seminar at Cue this June.
I found the course to be very informative and enjoyable over the three day with Bills enthusiastic presentation,Udo's stories and the generally comradery between instructors and attendees. I am a very quiet person and generally avoid group situations but enjoyed this group very much. I cannot see how you could improve the seminar very much as it is well formatted and fits a large amount of information into a small amount of time.
My main area of interest was where I could legally prospect with your explanations and the use of Geo maps and the connection to the GPS so we can follow position makes me much more confident.
---
From Chris..
Your classes are great and cut years off the learning curve. Thanks
---
From Gordon..
As mentioned on the day, I thoroughly enjoyed the seminar and took away a heap of refined information to hopefully further enhance / concentrate my efforts. Seminar content, Mapping, Geo, Detecting and Legislation plus more provided a great collection data and tools for either the novice or the semi-experienced individual.
In addition your hand-outs consisting on excellent and well packed notes, USB and gold sample (great touch) as well as the side touches of morning, lunch, afternoon and evening catering would put many major training venues to shame –WELL DONE.
So yet again thank you for a very worthwhile 3 days of knowledge sharing and I hope we meet again either at an APLA event or out in the field somewhere.
Will let you know when I hit the big one – or perhaps any one. I did manage to find a very clean new spot on my return trip. I have enclosed a couple photos of the ground to rouse your curiosity – another 40E being prepared
---
From Rod..
After the field trip Monday, I decided to spend one hour detecting on Tuesday morning before leaving for home. Monday evening I decided to apply what you had taught. The Minedex layer showed the mine just north of the camp site as "xxxxxx", the only gold location in this area. The 1:100k geology map Austin 2442 showed favorable geology for that site, so I chose what seemed the most likely area to detect.
I made one run across the slope, low, slow, overlapping etc, and located a bullet. As I started my second run I got a weak but clear signal, scuffed off the surface with my boot and the signal was still in the ground. Took off 20 mm with the pick, identified the signal in the dirt and ended up with a small reddish object. When I washed it clean I could see the yellow color - my first nugget!
Thanks Bill, Sue and Udo for sharing your valuable knowledge and helping me to develop the necessary skills to find gold. Getting a result like this proves to me the value of the seminar, including Udo's comment "If it is there and you walk over it, you will find it".
---
Return to Table of Contents
2013 Feedback
"(Names Deleted) and I have found some more gold at (Place Deleted) each weighed around the gram x 5 so Cue/Meekatharra has been good for us
I would like to thank you all very much for the great teaching you gave us and especially the patience Bill gave me for my computer not doing what it was suposed to do, I have been practicing and have the entire WA maps on my computer.
---
"Thanks Bill and Udo,

Did enjoy the time and learnt a lot

Found my first little piece a couple of days later"
---
"good afternoon from (Name Deleted) -on the way home stopped at a spot that iI knew near Paynes Find -geology was right - 2days at 4hrs per day - 10 grams with my gp3000 and standard dd coil -,one 7gram piece and other smalls.carefully marked spot for revisit with mono first and then 5000 -pretty exciting -now planning trip to cue in 2nd week october -to hell with the heat "
---
"Thanks again for a great few days of training and hospitality. We had an awesome time and now feel quite confident in going it alone.
We will be in touch soon to hire a detector in a few weeks time, as we can't wait to get back out there!"
---
"I have showed a few people my gold (okay anyone I see!). They are mostly impressed and ask all sorts of questions. The one thing that I have told everyone and make very clear is this... I would never have found a thing if not for the absolute kindness of you two, Udo and (Name deleted). Nowhere else on this planet do people take you to their patch, where they have found and are finding gold and say "here you go", "go for it!" Amazing people!"
---
"had a great time at course learning tips etc..Bill..you are a great teacher & a gentleman.. ended up with 22 grams from little patch near Udos..best piece was 5.6 g..have just picked up another 23 g at Laverton area & am fueling up for another stint..so am on the run, bill..if you keep handing out so much information , the gold will soon run out..!
---
Dingo Micks 66 Gram Gold Nugget
I know this was in last years email but I cant resist showing the picture, Dingo Mick was pretty happy to find this beautiful piece.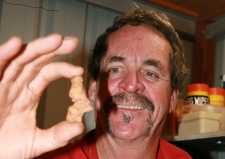 66 gram nugget found by Dingo Mick at Udos Block after a seminar in 2013
---
Seminar Detectorista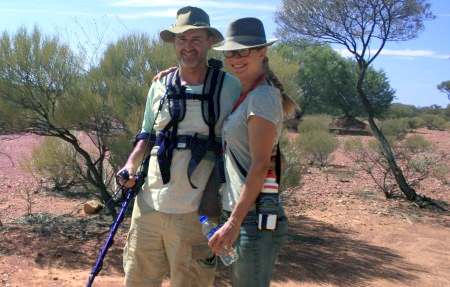 Seminar Graduates
Seminar Participants Terrence and Emily
---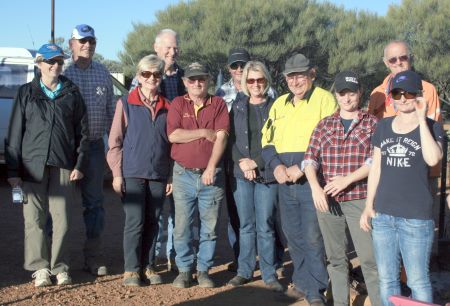 Seminar Goup at Udos Mining Lease in Cue
---
Return to Table of Contents
---
All the best, ....may you find plenty of gold nuggets in 2015
Regards
Udo and Bill
Nobody gets ALL the gold. Theres still plenty left for you.
ps – Please book early if you want to go to one of our seminars in 2015 they fill very quickly!
---