G'day


Gold Prospecting Seminar Dates Cue 2016
Table Of Contents
What Will You Learn at the Metal Detecting Seminars in 2016
Dates of Metal Detecting Seminars in 2016
Important Terms and Conditions
Some Pictures and Comments 2015 Seminars
---
Return to Table of Contents
Overview of What you Will Learn at the Gold Prospecting Seminars in Cue in 2016
Gidday All

In 2016 we will again be running seminars in Cue to help you be the Masters of Your Own Prospecting Destiny so you can answer these questions for yourself;
---
Return to Table of Contents
Dates of Seminars in 2016
| | | |
| --- | --- | --- |
| Gold Prospecting Lessons Cue 2016 - Dates | Total Available Places | Places Left |
| 26, 27 28, March (Easter), Seminar Cue | 10 | 4 |
| 5,6,7 April, Seminar Cue | 10 | 10 |
| 16,17,18 April, Seminar Cue | 10 | 9 |
| 7, 8 9 May, Seminar Cue | 10 | Booked out |
| 28, 29 30, May, Seminar Cue | 10 | 8 |
| 4, 5, 6 June, Seminar Cue | 10 | 8 |
| 25, 26, 27 June Seminar Cue | 10 | 5 |
| 2, 3, 4 July Seminar Cue | 10 | 7 |

Some positions in the seminars have already been taken because people booked from last year and we have people from overseas and the Eastern States who have planned a holiday around specific dates.
---
Return to Table of Contents
Where to Get the Application Form
If you are interested please complete the form above or on the webpage Gold prospecting lessons and seminars .
---
Terms and Conditions of the Seminars
It is very important that you read the terms and conditions document relating to the training for your own safety and peace of mind.
Click on this link for further information and Important Terms and Conditions
---
Return to Table of Contents
Sequence of Events After You Complete the Preferred Dates Form
This is the basic process;
You Select your preferred date.
We Confirm it is available or offer alternative options.
When the date is agreed a deposit invoice is sent to you.
More information about the courses, such as Maps, Places to Detect, Section 40E Permits are sent to you about 5 weeks before the course.
The (In House part) Training is held at the Airconditioned St John Ambulance Centre just behind the Caravan Park in Cue.
After training you can detect at places we have suggested or Exploration Leases you have applied a Section 40E Permit for. It's difficult to know exactly what we can recommend until closer to the time due to what will be available in Tengraph
This page has been updated to reflect the 2016 vacancies.
Please remember that the course dates and numbers are limited and very popular so if you are interested please don't hesitate to book now.
We book on a first come first served basis, and we do not overbook. We will offer alternative dates if they are available. These have been great fun and the people who have been to them reckon they have learned plenty;
---
Comments and Pics from some 2015 Seminar Detectorista
Here is a few comments we have had from our emails in 2015.

From Harro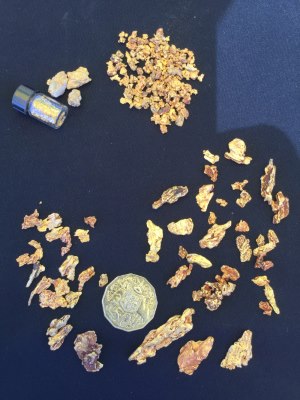 Harro's gold nuggets after the Seminar in Cue
Now moving on, we want to share with you what we have found since completing your course in Cue in May 2015.
We now have just over 5 ounces!!! The biggest piece being 13 grams. Coil used was the nugget finder 12 x 7 - an excellent coil.
Thank you all for providing such a great, useful and helpful course. We've learnt so much. Particularly useful was Geomap and Tengraph online.
---

John and Sonya's gold nuggets after a seminar in Cue WA
From John and Sonya
John and I would like to take this opportunity to thank you for sharing your knowledge at the seminar. We found it to be of huge benefit to us both in the weeks since with our prospecting.
We found almost 8 ounces of gold for the season, 6 of which we have found since the seminar. We have worked only on pending, vacant and leases that we had written permission from the leaseholders to go on and have used Geomaps on a daily basis. We will also be using Geomap over the off season to plan our next prospecting trip.
---
From Steve
Thank you again for a very informative, relaxed and detailed course
The good news is that I have found a little, 3 pieces of colour @ 2.5gms
Now I am working on building maps and doing research
---
From Max
This is some of the gold we got on our trip to WA the 4kg rock with a lot of gold showing the end result was a 6 0z of gold sitting on the scales.
Thanks to Bill and Udo for their training courses give me the knowledge to help me find gold. Total gold found was 12 ounces.
---
Seminar Participant Tui with her Gold Nugget found During the Seminar at Cue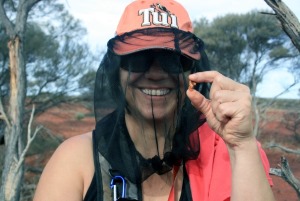 Tui's gold nugget found during a Metal Detecting Seminar in Cue WA
Seminar Participant Tui with her Gold Nugget found During the Seminar at Cue
---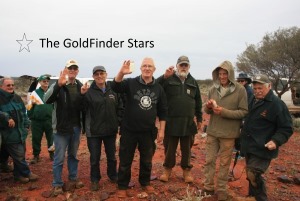 Field Day Gold Nuggets at the July Metal Detecting Seminar in Cue WA
---
Return to Table of Contents
See you at the seminars and if we don't -
...may you find plenty of gold nuggets in 2016
Regards
Udo and Bill
Nobody gets ALL the gold. There's still plenty left for you.