G'day


Metal Detecting and Gold Prospecting Training Seminars in Cue 2017
Table Of Contents
Dates of Metal Detecting Seminars in 2017
What Others have been saying about the Seminars in 2016
---
Return to Table of Contents
Metal Detecting and Gold Prospecting Seminar Dates 2017
Gidday Everyone,

In 2017 we will again be running seminars in Cue to help you become the "Masters of Your Own Prospecting Destiny" so you can easily answer these questions for yourself;

Here the dates for 2017 for our Seminars.
Training Dates in 2017
| | | |
| --- | --- | --- |
| Gold Prospecting Lessons Cue 2017 - Dates | Total Available Places | Places Left |
| 1,2,3 April , Seminar Cue | 10 | 4 |
| 8,9,10 April, Seminar Cue | 10 | 1 |
| 29,30 April, 1 May, Seminar Cue | 10 | 9 |
| 6,7,8 May, Seminar Cue | 10 | 8 |
| 27,28,29 May, Seminar Cue | 10 | 10 |
| 3,4,5 June, Seminar Cue | 10 | 6 |
| 24,25,26 June Seminar Cue | 10 | 10 |
| 1,2,3 July Seminar Cue | 10 | 7 |
Some positions in the seminars have already been taken because people booked from last year and we have people from overseas and the Eastern States who have planned a holiday around specific dates.
---
Return to Table of Contents
Gold Prospecting Training Seminars In Cue
Terms and Conditions and More Information

This is a link to the page relating to Gold prospecting lessons and seminars . This page has been updated to reflect the 2017 vacancies.
Important Terms and Conditions
It is very important that you read the terms and conditions document relating to the training for your own safety and peace of mind.
Click on this link for further information and Important Terms and Conditions
---
Return to Table of Contents
Sequence of Events After You Complete the Preferred Dates Form,
This is the basic process;
You Select your preferred date.
We Confirm it is available or offer alternative options.
When the date is agreed a deposit invoice is sent to you.
More information about the courses, such as Maps, Places to Detect, Section 40E Permits are sent to you about 5 weeks before the course.
The (In House part) Training is held at the air-conditioned St John Ambulance Centre just behind the Caravan Park in Cue.
After training you can detect at places we have suggested or Exploration Leases you have applied a Section 40E Permit for. It's difficult to know exactly what we can recommend until closer to the time due to what will be available in Tengraph
If you are interested please complete the form on the webpage Gold prospecting lessons and seminars . This page has been updated to reflect the 2017 vacancies.
Please remember that the course dates and numbers are limited and very popular so if you are interested don't hesitate to book now.
We book on a first come first served basis, and we do not overbook. We will offer alternative dates if they are available.
These have been great fun and the people who have been to them reckon they have learned plenty;
---
Return to Table of Contents
What People Said about 2016 Seminars
Here is a few comments we have had from our emails in 2016.
Thankyou for the course, organising a 40E and to Udo for inviting us to his house on Saturday nite.
Found some gold at (location removed) one piece was 6.6grams which I enjoyed digging out of the calcrete.
A piece found by a friend weighed 30.8ozs , specie we reckon it may have maybe 6 to 8 grams in it . the rock was bloody heavy though
Stephen and Edwina
---
My apologies for not making the last day, had nothing to do with any negative views on the seminar ,was a credit to all your crew with a very well presented presentation ,so very helpful with Geomap & all the other info, so accept my heartfelt thanks for a great seminar.
At the moment up at Meekatharra, picked up some nice pieces the last couple of days.
Cheers Allan
---
I would like to thank you, Sue, Udo and Kurk, I had a really good time and learnt a lot.
As far as I am concerned there was nothing to improve on.
I found a few pieces of gold around 3g which was a bonus, I thought we had found a good patch but it turned out to be pyrite (boo hoo).
I am sure we will catchup again on one of the APLA events and if I find anything in the meantime I will let you know.
Once again thanks for a great time. Dave and Lyn
---
Just wanted to say thanks again for your great course.
It was very informative and has made it even more enjoyable to be out bush looking for gold knowing exactly where you are and where you are allowed to be without having to look over your shoulder.
Joe, Mat and myself found gold every day and this would not have been possible without Geomap and the training.
This was highlighted by people at the caravan park who left their holiday early as they were convinced there was no gold left.
Thanks for everything and I will be highly recommending your course to prospecting friends
Craig
---
Thank you very much for the training seminar. I know we are a bit late in providing feedback, but having spent a few weeks further north in Exmouth (fishing), we returned back to the goldfields. Thanks to your training we have managed to pick a 10 small pieces ranging from 0.3 up to 2.5 grams between us.
The seminar itself was perfect, with a lot of information to learn within the first 2 days, and the materials providing an excellent resource material for follow up. It easy to see how much effort you guys have put into the training, and your passion shows through.
Geomap is a fantastic tool and we are using this quite often, not only for tenement locations but also for the geological map info.
We've managed to apply for a Section 40 in Menzies area for our trip back to Victoria.
The group was enjoyable and we great time, even though the temperature was right up there.
Keep up the good work that you are all doing, couldn't fault the course or the company. Liz and Ian
---
Just a quick email to say thank you for all your time and effort in putting together such a good seminar.
We had a little knowledge (always dangerous) but now feel comfortable in the knowledge we can prospect legally.
Really enjoyed everyone's company and look forward to meeting up again down the track. Pamela & Gerry
---
To you all involved in running the seminar I wish to thank you all for doing a wonderful job,I went out and found gold, it can't get any better than that. I look forward to running into all of you later on. Best wishes to you all. Laurie



And in 2015...
And in 2015
From Harro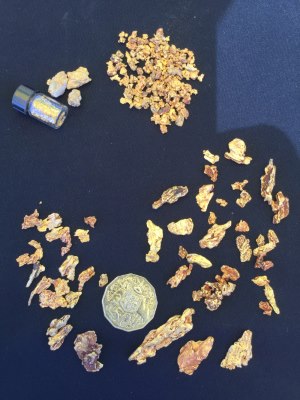 Harro's gold nuggets after the Seminar in Cue
---
Now moving on we want to share with you what we have found since completing your course in Cue in May 2015.
We now have just over 5 ounces!!! The biggest piece being 13 grams. Coil used was the nugget finder 12 x 7 - an excellent coil.
Thank you all for providing such a great, useful and helpful course. We've learnt so much. Particularly useful was Geomap and Tengraph online.
---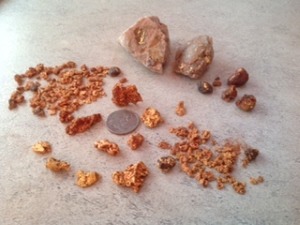 John and Sonya's gold nuggets after a seminar in Cue WA
From John and Sonya
john and I would like to take this opportunity to thank you for sharing your knowledge at the seminar. We found it to be of huge benefit to us both in the weeks since with our prospecting.
We found almost 8 ounces of gold for the season, 6 of which we have found since the seminar. We have worked only on pending, vacant and leases that we had written permission from the leaseholders to go on and have used Geomaps on a daily basis. We will also be using Geomap over the off season to plan our next prospecting trip.
---
From Steve
Thank you again for a very informative, relaxed and detailed course
The good news is that I have found a little, 3 pieces of colour @ 2.5gms
Now I am working on building maps and doing research
---
From Max
This is some of the gold we got on our trip to WA the 4kg rock with a lot of gold showing the end result was a 6 0z of gold sitting on the scales.
Thanks to Bill and Udo for their training courses give me the knowledge to help me find gold. Total gold found was 12 ounces.
---
See you at the seminars and if we don't -
...may you find plenty of gold nuggets in 2017
Regards
Udo and Bill
Nobody gets ALL the gold. There's still plenty left for you.
p.s. If you are at all interested please contact us quickly as these seminars will book out within a few days.
---