G'day


Gold Prospecting Seminars 2019
Table Of Contents
Dates of Metal Detecting Seminars in 2019
Seminar Formats - What You Will Learn.
Important Terms and Conditions
What is Provided to You at the Seminars
What Others have been saying about the Course 2018
---
Metal Detecting and Gold Prospecting Training Seminars in Cue 2019
Gidday All,

I will be sending another email newsletter out next week about how to use Tengraph Web so you can get ready for the 2019 Prospecting season using that system.

This newsletter relates to the Gold Prospecting seminars we will be holding in Cue in 2019.

If you are not interested in attending a seminar in Cue this year then you do not need to read any further.
---
Seminar Formats - What You Will Learn
In 2019 we will again be running seminars in Cue to help you understand how you can answer these questions for yourself;
Where can I find Gold in WA?
What Geology and rocks should I be looking for that indicate gold could be present?
Where am I allowed to go Metal Detecting in WA?
What are The best metal detectors and Equipment to use to get ALL the gold.
How do I set up and use GEOMAP on my computer with free Geological and TOPO Maps to easily research prospective Gold Locations.
How do I set up GEOMAP with a computer and GPS so I know EXACTLY where I am, anytime, in relation to Tenements and prospective gold locations.
---
Training Dates in 2019
We have four seminars this year in April and May and depending on demand we may hold others after those months .
| | | |
| --- | --- | --- |
| Gold Prospecting Lessons Cue 2019 - Dates | Total Available Places | Places Left |
| 13,14,15 April, Seminar Cue (start of School Holidays in WA) | 10 | 8 |
| 20, 21,22, April (Easter), Seminar Cue | 10 | 6 |
| 18, 19,20 May, Seminar Cue | 10 | 8 |
| 25, 26, 27 May, Seminar Cue | 10 | 9 |
Some positions in the seminars have already been taken because people booked from last year and we have people from overseas and the Eastern States who have planned a holiday around specific dates.
---
Return to Table of Contents
---
Terms and Conditions and More Information
This is a link to the page relating to Gold prospecting lessons and seminars .
Important Terms and Conditions
It is very important that you read the terms and conditions document relating to the training for your own safety and peace of mind.
Click on this link for further information and Important Terms and Conditions
---
Return to Table of Contents
Sequence of Events After You Complete Your Preferred Dates Form
This is the basic process relating to Gold Prospecting Seminars;
You Select your preferred Seminar date.
We Confirm your preference is available or offer alternative options.
When the date is agreed a deposit invoice is sent to you in Late January for the Deposit.
More information about the courses, such as Maps, Places to Detect, Section 40E Permits are sent to you about 5 weeks before the Seminar.
The (In House part) Training is held at the Airconditioned St John Ambulance Centre just behind the Caravan Park in Cue.
After training you can detect at places we have suggested or Exploration Leases you have applied a Section 40E Permit for. It's difficult to know exactly what we can recommend until closer to the time due to what will be available in Tengraph
If you are interested please complete the form on the webpage Gold prospecting lessons and seminars.
Please remember that the course dates and numbers are limited and very popular so if you are interested please don't hesitate to book now.
We book on a first come first served basis, and we do not overbook. We will offer alternative dates if they are available.
---
Your Investment for the Seminar
The cost is $730 for the two day course with $130 deposit required to hold your place. The deposit is non refundable - please refer to the Terms and Conditions
---
What Is Supplied to You at the Seminars.
All course Materials.
Morning and Afternoon teas, BBQ lunch, cool drinks, bottled water.
Access to land for metal detecting on the third day of the course.
Geomap software on a memory stick. This includes all the Geological and Topographical maps that need to be used with Geomap.
GeoMap will be setup on your Windows PC at the Seminar and you will be able to use the thumbdrive to setup GeoMap on your home PC.
APP to easily download Mining tenements to ensure your GeoMap tenements are up to date.
A hard copy and digital Manual covering the seminar contents.
Access to the Geomap Online Training Membership website.
Morning and Afternoon teas, BBQ lunch, cool drinks, bottled water.
Directions, with maps and coordinates for your own prospecting activity after the course - note; this will always depend on availability of land in Tengraph at the time.
What is NOT included.
Your transport to Cue.
Accommodation in Cue.
Metal detectors, but you can hire one on the practical day if needed. Our view was that we did not want to add costs into the seminar for detectors as some people have their own.
---
Return to Table of Contents
What Others Have Said About the Seminars
These have been great fun and the people who have been to them reckon they have learned plenty;

April 2018 - Don's comments really describe what we try to do for you at our Seminars.

"I would like to to take this opportunity to thank you all for the recent course conducted at Cue.

The course was extremely well presented and informative, It opened up my eyes as to how seriously the Mines Dept takes this matter of prospecting and to what our responsibility is towards others.

The amount of knowledge you people have is staggering as is your willingness to share it.

I have learnt so much from the course directly and it has opened up my mind to a form of lateral thinking on to which I can build.

I also met some great people, not just your selves, but other people from different countries and backgrounds and hope to continue those contacts."

From Roger 2018

"Hi Bill Sue Udo and Jen, many many thanks for a superb time at the seminar in Cue.

It far exceeded my expectations, your knowledge and teaching method is exceptional.

Wow there is so much more to prospecting(properly) than one could imagine.

I now have all the information that I need to be in control of my prospecting destiny and can't thank you all enough. I'm looking forward to doing my homework and reinforcing in my mind all the information that you provided. When chatting to all the other participants, they were all thinking alike as to how great the seminar is."

From Neville

Thank you so much for a brilliantly orchestrated and executed 3 days of intense learning and bonding with like minded people. Your course is a masterful piece of guidance for anyone thinking of going gold prospecting. It has now laid the ground rules for how I approach my next prospecting adventure. I know I have to apply lots of practice to GeoMap and am grateful for the booklet you gave us at the course."

Kevin June 2018

"A couple of pics of the gold I found at Leonora in the 2 weeks after course, the 2nd one is only the bigger pieces, the top 3 are 36, 15 and 42 grams.

Thanks very much to you, Sue, Udo, Kirk and Sandra, I certainly had a good time at Cue on the course and have no problem promoting it to people I meet.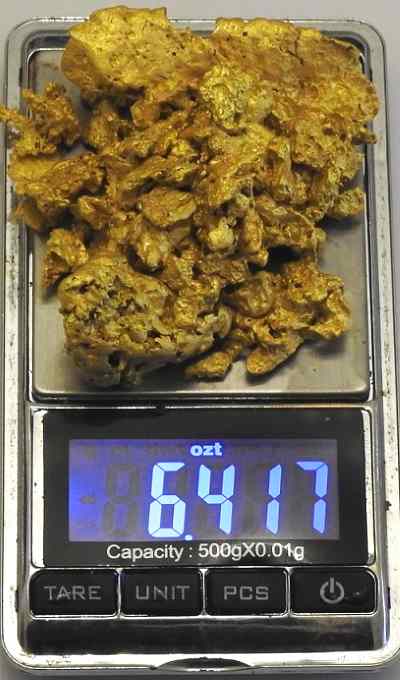 ---
Here is a few comments from seminars in 2017
I have to get onto practising Geomap in earnest very soon or the bits and pieces I remember from the hard two days will be all forgotten. Thank goodness for your step by step booklet. I am determined to get my head around all the stuff and hopefully it all helps me next year to find some good spots to detect.
As for feedback, your course was very well presented, most enjoyable and certainly worth the money spend on. Thank you for it.
By the way, I had 79 bits making 16.9 grams and all but two bits came from (location removed).
Cheers and thanks again Ray
---
I have to say thanks for the enjoyable training seminar the knowledge turned out to be an asset, as you were aware I was going to the Coolgardie goldfields over Easter using Geo Maps we had plenty of places to search.
While we were detecting in a small pending tenement inside a large area operated by Focus Minerals we had several service vehicles pass in and out of the track with a ute and 2 workers returning about 2 hrs later wanting a chat, and informing me that I was on Focus land so I said show me, which he proceeded to whip out his phone and have some tenement maps on it and them said you are about here on focus land, so of course my reply was
HOLD ON A MINUTE I can show you EXACTLY where I am, so reloaded up Geo Maps, connected to GPS, zoomed in and the cursor showed me well inside the pending lease so then the reply was
"Ohh ,Ok we will let the Office know."
It was a really good feeling to know exactly where we were on the ground cause it saved the bacon again thanks for the info gained it turned out to be Invaluable…Craig
---
Thank you for a terrific seminar. I feel my objectives were met on the course, just crying that I didn't walk over some gold on the final day :) It's also great to meet other like minded people from all over WA, hear their stories and get together at Udo's place on the Saturday. Allen
---
There is also some pictures from previous seminars on the Gold Prospecting facebook page just scroll down until you find them.

---
See you at the seminars and if we don't -
...may you find plenty of gold nuggets in 2019
Best Regards for a fantastic Gold Nugget Hunting Year.
Udo, Bill and Sue
Nobody gets ALL the gold. There's still plenty left for you.
p.s. If you are interested in the Seminars please contact us quickly as these seminars will completely book out within a few days.
---