G'day


Merry Christmas and Some Offers for You
Table Of Contents
Online Geomap Training, Tengraph Training PLUS the data CD.
Metal Detector Protective Bag.
GoldTracker 600 searches for 50% off!
---
Return to Table of Contents
---
---

Gidday Everyone.

Udo and I hope you had a great year metal detecting and you found plenty of gold nuggets and kept safe and well 2018.

Right now we are in hibernation due to the heat but we are getting the 2019 Gold Prospecting Training Seminars information together and will send that out in January.

So this is just a quick email if you are stuck for Christmas Gifts for the metal detectorist person in your life, here are some products with a big discount to celebrate Christmas.

....(Without spending a fortune on a Metal Detector that is!).
GeoMap Online Training and Tengraph WEB Online Training AND all the Data You Will ever Need.
The 2018 "Merry Christmas" SPECIAL Offer Includes:
GeoMap GOLD Product which includes the GeoMap Training Course Lessons AND Geomap Gold Data Thumb Drive.
Express postage free in Australia.
AND Access to Tengraph Web Online Training!
BUT – Only Available until 18 December 2018
The GeoMap Gold Data Thumb Drive.
The GeoMap Gold thumb drive includes the following:
1:250000 Geological and Topographical Maps for Western Australia,
The 1:100000 Geological Maps for WA,
All the Mines in WA Database – Minedex.
The Mining Tenements Database,
The "One Click",Download Tenements APP,
and 3 "Done For You" Projects for the whole of Western Australia.
You simply copy everything to your PC by clicking on one usb_copy file which copies the required files from the Thumb Drive to your Computer C: drive.
Regular Price is $174.00 – the Christmas Discount Sale Price is $100 Which includes Express Postage anywhere in Australia.
Only Available until 18 December 2018
Click on this Link to get the Special Discount Offer for GeoMap training.
---
Our Own Designed Metal Detector Bag
Here is the page we use normally to sell our bag.
BUT DON'T BUY ON THAT PAGE – just have a look at the page if you want to see the bags!
Metal Detector Bags - Designed by Metal Detector Users for Metal Detector Users.
Minelab 5000 Protective Bags
You can have a Protective Metal Detector bag posted for free (in WA – sorry it's too expensive to post to the Eastern States or Overseas) or pickup in Perth.
for $120.
We have only 3 Camouflage, 3 Green and 2 black Bags left in stock so get in quick.
| | |
| --- | --- |
| | The Green and Camouflage bags are available and Camouflage is more the Army Style colours on the bags available. |
Minelab 7000 Protective Bags.
The Minelab 7000 Protective Bag Size is longer (1350 mm compared to the Minelab 5000 Bags of 1200mm) We have a few Maroon and Army Green Colour Cost $140.
To Buy the Metal Detector Bags
---
Alternatively If you would like a Protective Metal Detector bags at this Christmas price just return email to this newsletter with your Email address, Name, Address and colour required and I will send an Invoice for you to pay online
But remember it is only until 18 December 2018
---
Return to Table of Contents
---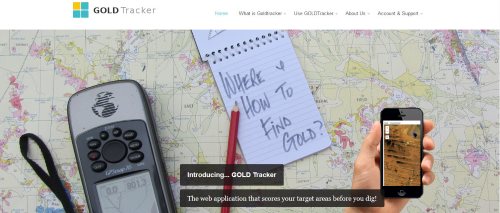 Goldtracker Massive Discount Offer Next Week.
The big Christmas discount will give you enough clicks for you to really research gold prospecting locations AND the clicks will be useable until the end of 2019.
Just to Recap what Gold Tracker Does for You.
GoldTracker gives you a measurement of the potential or Prospectivity of Gold being located in over 1 million locations in WA
The Prospectivity or Potential of gold is the likelihood of the presence or absence of gold at each of these 1 million sites.
How is Gold Prospectivity Measured in GoldTracker
This how is the score of gold prospectivity is calculated and allocated to each of those over 1m blocks in WA.
The prospectivity score is assessed using a number of criteria;
Economic History - The economic geological history of the area, evidenced by either presence or absence of previously discovered or indicated gold occurrences.
Lithology - The presence, distribution and type of rocks and overburden.
Structural Geology - The presence, association and relative distribution of structural features including for example, faults, folds, intrusives, metamorphic and altered zones, and geological boundaries.
Geochemistry of gold.
Aero-magnetic Anomalies.
Local gold finds and Historical records.
Other - Presence of alignments, palaeo-channels, stratigraphic unconformities.
The massive database immediately assesses the possibility Gold Mineralisation and provides a prospectivity score in every graticular block in West Australia.
Even Better, if the area you have researched has a poor gold prospectivity score, THEN YOU JUST ASK FOR THE NEAREST BEST POTENTIAL LOCATION!
The point is that this price will enable you to have hundreds of searches to use prior to prospecting next season so you can pick the best places to go.
The Goldtracker team will be sending out the offer to their email list later this week, but here is a preview of the draft page for you.
Hidden Link to GoldTracker Christmas 50% Off Offer.
We will also send a email to you when we get the full details of the offer.
---
Return to Table of Contents
---

---
Return to Table of Contents
We hope you have a Wonderful Christmas with your family or loved ones and, of course,
...may you find plenty of gold nuggets in 2019
Regards
Udo and Bill
Nobody gets ALL the gold. There's still plenty left for you.
---