G'day


Tengraph Online Application to Change in 2017
Table Of Contents
New Tengraph Online Application Next Year.
Christmas Special 1 – Metal Detector Protective Bag
Special 2 – Goldmine Finder AND Historical Gold Mines of WA Both for $35
---
Return to Table of Contents
Update on NEW TENGRAPH Online Application
Gidday Everyone,

At the last APLA Open Day on November 26 in Perth The Department of Mines announced that Tengraph Online is currently undergoing rewriting and will be changed in the future from the current Tengraph Online Application to a new application with the same look and feel as Geoviewer.

That is likely to happen early next year around February.

The current Tengraph Online system will continue to run alongside the new Geoview type Tengraph application for a period of time after the new application release .

We will discuss the changes with the DMP prior to that time so that we can build some training on the website for you and we will send a newsletter about the changes to Tengraph as we get more information over the next few months.
---
Return to Table of Contents
Christmas Specials
It's nearly Christmas so Merry Christmas to everyone.
We know some of you have been waiting for the Christmas Special so you can buy a Metal Detector Bag or Goldmine Finder Software DVD for Christmas and Here is some specials for you if you are looking for a gift.
Special 1 – Our Own Design Metal Detector Bag.
Here is the page we use normally to sell our bag.
Metal Detector Bags - Designed by Metal Detector Users for Metal Detector Users.
BUT DON'T BUY ON THAT PAGE – just have a look at the page if you want more information about our specially designed metal detector bags!
You can have a Protective Metal Detector bag
for $100.
Plus Postage
We have, Camouflage, Green, Maroon and Black bags left in stock (please note that the "Designer Motif" is not available only "Camouflage" Design.
Postage will cost:
Pickup Free -Bill lives in Northern Suburbs at Quinns Rocks.
$12 Perth metro.
$20 Near Country WA.
$30 North West WA.
$40 Eastern States.
Sorry, It is too expensive to send these bags overseas.
| | |
| --- | --- |
| | Camouflage is more the Army Style colours on the bags rather than the design shown in the graphic. |
To Buy A Metal Detector Bag
If you would like a Protective Metal Detector bags at this price just return email to this newsletter with your Email address, Name, Address and colour required and I will send an Invoice for you to pay online.
---
Return to Table of Contents
Special 2 – Goldmine Finder CD AND Historical Gold Mines Posted for $35
Yep that's right BOTH CDs Posted to you at your address or as a gift or sent direct to your " Special Person" direct from us.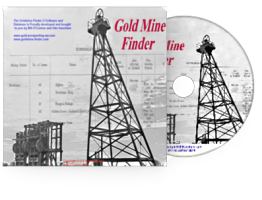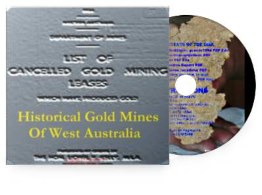 To Buy the Goldmines Finder and Historical Goldmines DVDs
To buy Special 2 - the Goldmine Finder and Historical Goldmines of WA DVD - Just return email to this newsletter with your email, name, address you would like the two CDs sent and we will return email an invoice that can be paid on line - then we will get the gift into the mail.
Once again for our overseas readers - unfortunately, this special is only available for Addresses in Australia.
---
Gold Prospecting Training Seminars in Cue in 2017
For those interested in our Gold Prospecting and Metal Detecting training seminars in Cue in 2017 we will give you the dates in a newsletter in Early January.
If you are interested please book early these seminars usually sell out quickly and we don't like to disappoint. - Positions will be allocated on a first come first served basis – if you are thinking of booking from overseas please contact by return email so we can ensure that we fit a date in for you.
---
Return to Table of Contents
Merry Christmas, Please Keep Safe, and....may you find plenty of gold nuggets in 2017
Regards
Udo and Bill
Nobody gets ALL the gold. There's still plenty left for you.
ps – have a wonderful Christmas with your family and loved ones.