G'day


Tengraph WEB - How to Access and Use It
Table Of Contents
Tengraph Web Page Now on Gold Prospecting Website.
Difference between Tengraph Web and GeoMap.
Tengraph Web Overview and How to Access Video
---
Tengraph WEB Research Gold Localities and Land Ownership
Gidday All,

Our seminars have been oversubscribed so thank you to all those people who have booked for the Gold Prospecting Seminars in Cue this year.

We are looking forward to the seminars and meeting you all, thank you for your support.

Todays email is about Tengraph Web, which is an online program from the Department of Mines, Industry, Regulation and Safety (forevermore know as DMIRS) which provides you all the mining tenement information necessary for you to go legally prospecting in WA.

However, Tengraph WEB also provides you information like Land types and Ownership with Topo, Geo and Satellite images so you can really drill down and research infromation about the area you want to go prospecting.

It is running in parallel with Tengraph Online at present and possibly will replace the Tengraph online software in time.

This is an incredibly flexible, information rich, easy to use program that once you "Get it" you wont go back to Tengraph Online again.

So this newsletter provides some information about it which is explored further on our webpage.

Tengraph Web - Gold Prospecting WA Page
---
What is Tengraph WEB?
Tengraph Web is an online program run by the Department of Mines Industry Regulations and Safety (DMIRS), to enable you to understand:
Mining tenements in WA whether they are granted or pending. OR if the ground is not pegged at all!
It shows Mining, Prospecting or Exploration Tenements
The Land use Types of all WA land. Such as reserves, Vacant Crown Land, Freehold land, Native Title land, A class reserves, Pastoral Lease land and their boundaries.
Vacant land or land available for Metal Detecting or Mineral Exploration.
The details of Mining Leases which change every night from Monday to Friday.
It also provides information from other databases and maps such as:
Mineral Titles Online - Tenements current or historical.
WAMEX (Mining Tenement file exploration reports)
MINEDEX (Mine site and Mineral Deposit information including Historical Goldmines)
Topographical Maps.
Geological Maps. 1:100000 and 1:250000
Satellite Imagery.
With almost infinite ways of viewing and using the information to target potential gold localities where you can legally go metal detecting in WA.
It is an Awesome Program! The DMIRS should be congratulated on the development of Tengraph Web for prospectors.
---
Difference between Tengraph Web and GeoMap WA
There are a number of differences but the main thing to understand is that Tengraph Web is an ONLINE program that gives you data about land use and tenements in West Australia whereas GeoMap is a Windows Program that you can use on your PC OFFLINE while you are travelling and prospecting in the bush.
Tengraph WEB DOES NOT WORK IF YOU ARE NOT CONNECTED TO THE INTERNET!!!
Tengraph Web - a View of the Online Interface.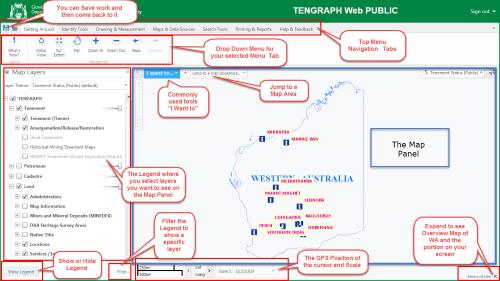 ---
GeoMap is a DMIRS Program that is used on your Windows PC offline.
GeoMap WA uses the data provided by DMIRS Data and Software Centre.
You download all of the Maps and Shapefiles that you need to create a project and use it in the bush on your PC.
That data in GeoMap can be the same that is shown on Tengraph WEB such as;
- Tenements Shapefiles (BUT you must download the shapefiles for Tenements to ensure the Current Tenements on GeoMap are up to date when you go prospecting).
- Minedex (Mineral Deposit information including Gold Occurrences).
- Abandoned Mines.
- Wamex (Mining Tenement Exploration Reports).
AND You can also add Geological, topographical and other maps freely downloadable from DMIRS to GeoMap so you can have a very accurate picture of the places where you are Legally allowed to go prospecting and where the gold might be.
With GeoMap you can also attach an inexpensive GPS Aerial to your Windows PC and know EXACTLY where you are on the ground when you are in the bush.
GeoMap - a View of the Geomap Interface Page.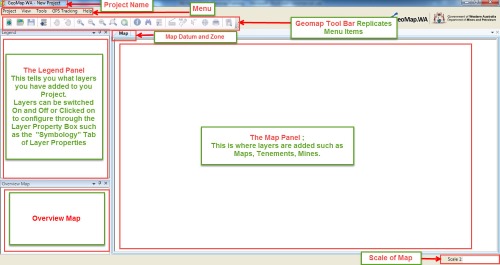 ---
Return to Table of Contents
Overview of Tengraph Web
We have included an overview document of Tengraph Web on our Tengraph Web Page which will give you a very broad picture of what is available in Tengraph WEB.
We do expand on this in our Tengraph Web training at our Geomap Training Website with videos and PDF lessons.
Tengraph Web Help from DMIRS Page
You can also get help from the DMIRS Tengraph Web "Help" menu items when you login to Tengraph Web Or on this page.
---
Video - How to Access Tengraph Web
How To Access Tengraph Web
---
The video is the first lesson in our program for learning how to use Tengraph Web and it provides information on how you sign up and access Tengraph Web.

The video also refers to other lessons in the training we have built for Tengraph Web. Access to those lessons is not provided here.

It is however provided on our training site Online GeoMap and Tengraph Training. See below Tengraph Web Online Training - Special Price.
A view of the Tengraph Web Signin or Register Page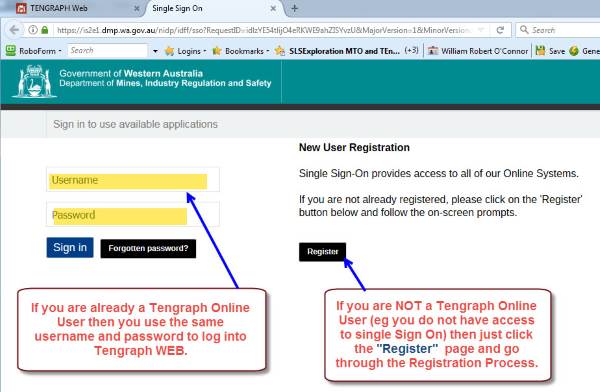 ---
---
Tengraph Web Online Training
We have Tengraph Web Online training available on our Geomap Training WA Site.

Our training is aimed at what a prospector needs to know to research localities and places where they are allowed to go prospecting.

There are 10 video lessons online so you can look over our shoulders as we use Tengraph Web Online.

Each lesson has a PDF with graphics so you can print it and follow along at your own pace later.

These are the lesson headings:
Lesson 1 – How to Access Tengraph WEB
Lesson 2 and 3 – Getting Around Tengraph Web
Lesson 4 – Understanding the Map and Layers Legend in Tengraph Web
Lesson 5 – Using the "Identify" Tools In Tengraph Web
Lesson 6 – The Drawing Tools in Tengraph Web
Lesson 7 – Maps and Data Sources in Tengraph WEB
Lesson 8 – Using the Search Tools in Tengraph WEB
Lesson 9 – Tengraph Web a Practical Exercise to Find Gold
Lesson 10 – Advanced Tengraph WEB Subjects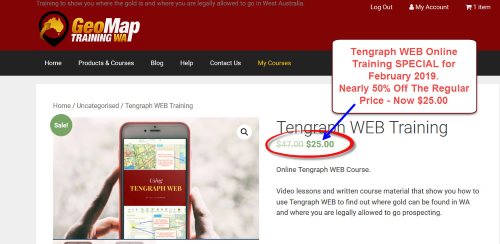 Click the Link Below to get a special price reduction on Tengraph Online Training for February 2019 Nearly 50% Off.
Tengraph Web Online Training Special Price nearly 50% Off
---

---
See you out there prospecting - It's getting closer to Prospecting Season - But if we dont:
...may you find plenty of gold nuggets in 2019
Best Regards for a fantastic Gold Nugget Hunting Year.
Udo, Bill and Sue
Nobody gets ALL the gold. There's still plenty left for you.
---