Tengraph Web - How to Get Access to it and Use it.

Tengraph Web is a free Online program running alongside Tengraph Online at present in Western Australia. You may be familiar with Tengraph Online - Tengraph Web will eventually replace it.

What Does Tengraph Web Show You?

Tengraph Web is online free program run by the Department of Mines Industry Regulations and Safety (DMIRS), to enable you to understand:
What land is under Mining tenements in WA whether they are granted or pending.

The types of Tenements Mining, Prospecting or Exploration Tenements.

The Land use Types of all WA land. Including reserves, Vacant Crown Land, Freehold land, Native Title land, A class reserves, Pastoral Lease land and their boundaries.

 Land available for mineral exploration or metal detecting.
It gives an up to date picture of land under mining lease activity. This is changed every night Monday to Friday.

It also provides information from other databases and maps such as:
Mineral Titles Online - Tenements current or historical.

WAMEX (Mining Tenement  file exploration reports)

 MINEDEX (Mine site and Mineral Deposit information)
Topo Maps.
Geological Maps.
Satellite Imagery.
With almost infinite ways of viewing and using the information to target potential gold localities where you can legally go metal detecting in WA.

It is an AWESOME and easy to use program.

---
Overview of Tengraph Web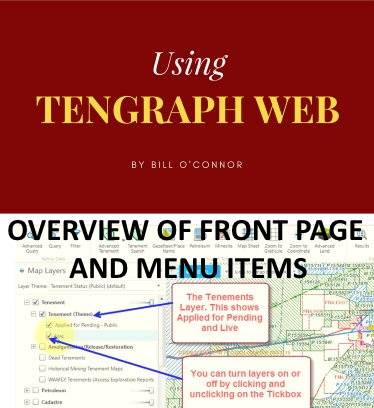 Click on this link to download Overview of Tengraph Web Ebook


---
How to Access Tengraph Web

The video is the first lesson in our program for learning how to use Tengraph Web and it provides information on how you sign up and access Tengraph Web.
The video also refers to other lessons in the training we have built for Tengraph Web.  Access to those lessons is not provided here.
It is however provided on our training site Online  GeoMap and Tengraph Training

If you already have an account with DMIRS for access to Tengraph Online then you use the same Username and Password for access to Tengraph Web.

---
---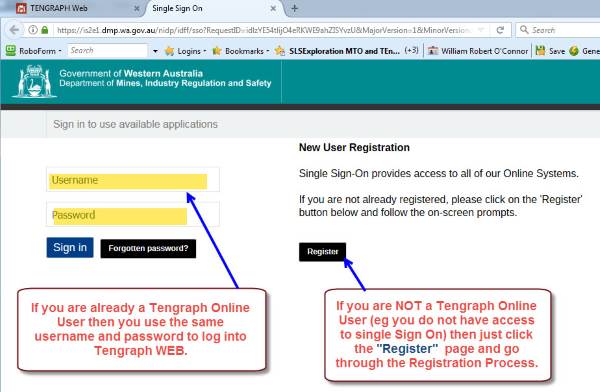 Tengraph Web Login Page
---
Rules for Prospecting in WA - A BRIEF Overview for Use with Tengraph Web

You Must have a Miners Right!
Here is a BRIEF outline or where you can go Prospecting for Gold in West Australia;
Vacant Crown Land (VCL) not covered by a Mining Tenement.

VCL that has a tenement that is pending (Blue hashed lines on Tengraph Web).

Granted Mining Tenement provided you have Written Permission. (M P or E)

Granted Exploration Tenement if you have a a Section 40E Permit about 46% of land.

Pastoral lease land provided you advise the Pastoralist , (with some restrictions where you need written permission e.g. within 400 metres of a stock watering point)
Make sure that the land has no other restrictions,  such as - A Class Reserve, Town Reserve, Freehold Land, Native Title land, Cemetery Reserve (not all the rules and regulations are  covered here - Click to See the DMIRS Prospecting in WA Brochure)
For more information on Prospecting Rules in WA go to this page

---
 Any Problems or Questions - Contact Us!

If you have any problems with the download or any questions about Tengraph Web please Contact Us, we are happy to help you find gold.
---
Return to Gold Prospecting home Page from Tengraph Web page