G'day


Understanding Geology - Product Review
---
Understand Geology - Find Gold!
A Video Review of Understanding Geology Training.
The Common Question - Where to find Gold In WA?
Comprehensive and Clear Geology Training.
Clear Graphics, Photos, Diagrams.
Simple Tools Provided for Your Use in Prospecting.
What about Finding Gold In WA?.
20 Appendices Especially for the Prospector in WA.
---
---
Understand Geology - Find Gold!
Gidday Everyone.

Dr Bob Fagan has recently completed his Training program entitled "Understanding Geology" "Geology for Non-Geologists".

Which I have studied the past week or so and decided it is a great addition to help you understand the Science of Geology and particularly, how that will help you find gold in WA.

I have reviewed that training for you in this newsletter.
---
---
A Video Review
---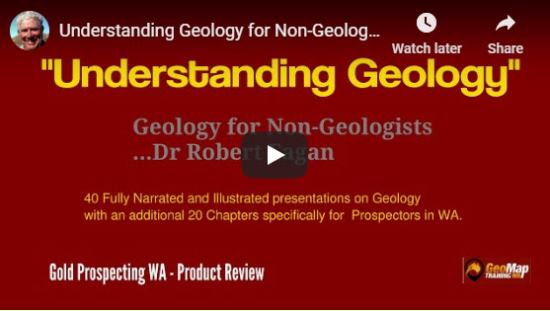 ---
Where to Find Gold in WA?
The most common question we are asked here at Gold Prospecting WA is

"Where Can I find gold in WA."

We have sent previous newsletters and even built a website that helps you understand how to do that.

BUT obviously no-one is going to tell you EXACTLY the place to go and find a nugget.

Are they?

If they know where the gold is they will not (and should not) tell you where to go.

Why? Because no-one gets all the gold - you can go back later and get gold that you missed based on better equipment, knowledge and greater experience.

SO, YOU have to KNOW where gold is located. To do that you need to understand Geology.

More precisely, the geology where minerals occur in the place you are looking for gold.

That is what this series of training that Dr Bob Fagan has written and produced does.
---
Geology Training
The Training Series of 40 lectures and 20 additional presentations for prospectors and small miners comprehensively answers those questions for you.
It pulls together in (mostly) plain language the geology of rocks and rock forming processes then in a structured way how to practically use that information in your prospecting and mining work.
So the product helps you gain the knowledge in Geology that you need to understand to find gold in WA.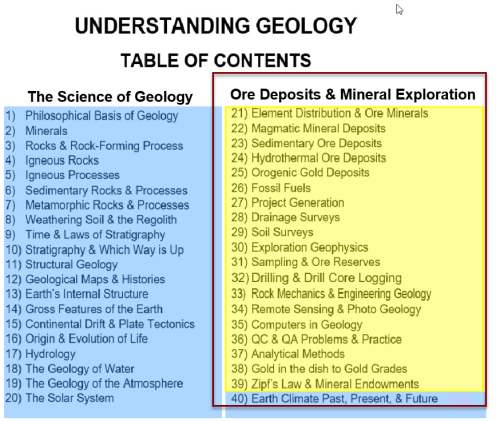 ---
Simple Structure of Lessons
"In a structured way" means Bob provides a series of 16 talks (blue on the graphic "The Science of Geology") where you can understand geological concepts and then in the following presentations (Yellow on the diagram, "Ore Deposits and Mineral Exploration") how you can use those concepts of explore, locate, identify and develop ore deposits.

WOW, read that again how you can use those concepts to explore, locate, identify and Develop Ore Deposits.

He describes each section with simple powerpoint presentations that clearly teaches the information that needs to be known.

If you have tried to build your knowledge of Geology by buying Geology texts you will really appreciate the carefully structured heirarchy of presentations in Dr Fagan's "Understanding Geology" training.

It is in logical sequence and carefully builds an understanding, lecture by lecture , of information required to understand Geological concepts.
---
Clear Graphics, Photos, Diagrams
The training uses many local rocks and geological structures as examples and anyone who has been prospecting in WA will immediately recognise the concepts being described in the talk or in diagrams by the photographic examples provided.

You will also appreciate the limited use of "Geology-ese" Geek terminology.

Where it is necessary and unfamiliar terminology is used Bob explains what the terminology means.

There is a few talks that get more detailed and complex but this is essential to describe the topic being discussed.

Remember too, that this is a concise study guide for students undertaking studies at Geology and other professionals in the Mining Industry.

However Bob has great communication skills which enable people like us to understand the concepts and information easily.
Return to Table of Contents
---
Simple Invaluable Tools To Identify Rocks
The various sections on igneous, sedimentary and Metamorphic rocks also provide a simple guide to help you quickly identify rocks in the field.

Simple, invaluable tools that continuously guide you in your quest for understanding the rocks in an areas and how it can help you prospect for gold or other minerals..

And of Course it is backed up with photos of specimens to understand the classifications.

For example this simple classification scheme for Igneous rocks based on colour and crystal size.
---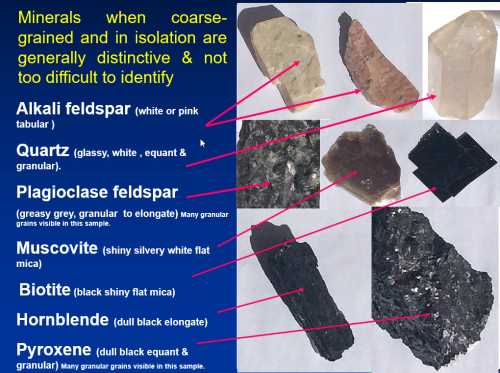 Return to Table of Contents
---
What About Finding Gold in WA?
Just one lesson (lesson 8) "Weathering Soil and the Regolith and the Economic Aspects of the Weathering Profile" will help you understand what you have probably been missing in your search of minerals in WA.

The sections from 21 Element Distribution of Ore Minerals though 22 to 25 on types of mineral deposits also gives you a clear understanding of what you need to understand about Deposits in WA and the World.
---
When you align this knowledge with the appendices (for those just interested in the WA situation) and the deposition of secondary and nuggets gold at appendix 12.

Then you have a powerful explanation of Geological theoretical understanding and knowledge used in geological maps to target secondary gold.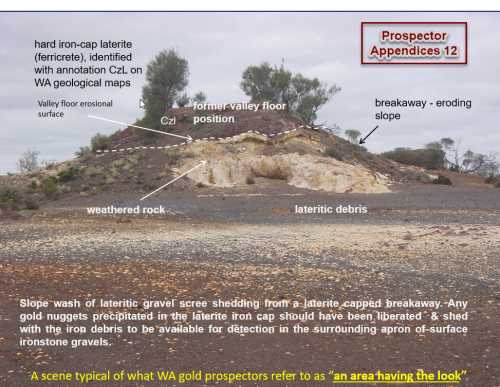 Return to Table of Contents
---
Using Geological Maps to Target Gold
---
The Three diagrams above show the structure and power of using the information in Dr Fagan's Training to Help you to find gold in WA.
First the Geological Theory at (lesson 8) "Weathering Soil and the Regolith and the Economic Aspects of the Weathering Profile".
Then a picture and explanation of the theory at Prospector Appendices 12 "Secondary and Nugget gold".
Then how that looks on Geological Maps in WA. Which you learned from Lesson 12 "Geological Maps and Histories."
---
Return to Table of Contents
Value of the Training
Overall, that is the value of this "Understanding Geology" training by Dr Fagan, a series of lectures to understand Geological theory and specifically that can used to be applied in the field - a comprehensive outline of the basics that you need to know about Geology.

You can use it to study just the information you need to know about your particular interest and refer to it over and over again to lock in your understanding of Geology.

Or you can just use the 20 "Prospector Appendices" which are a marvellous addition to the Geological training.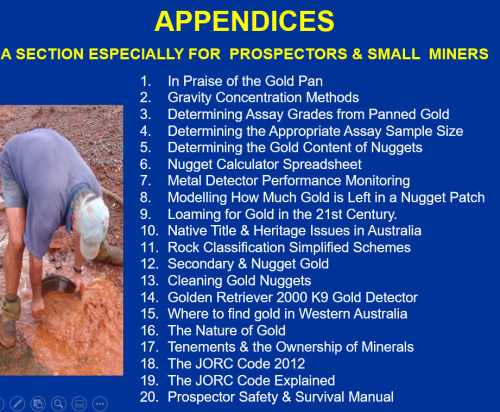 Return to Table of Contents
---
If You Want to Order The Training
I have included a form below that you can use which is forwarded to Dr Fagan with your details. This will save you sending separate emails communications and us publishing his email address on this newsletter.

The USB disk will be posted to you free when you purchase it. 

BUT it is a limited offer he will not be using the mail out USB disk in the future. The product will be delivered by download from a website.

When the product goes online it will be aimed a the world market.

The price will then be in $100 US dollars.

This mail out USB disk version in Australia is in Australian dollars $AUD (at todays $US to $AUD rate that is a massive saving of $55). So grab it  while the mail-out option still is available."

Form to Order Dr Fagans Geology Training Please Click this Link
---
About Dr Bob Fagan
Dr Fagan has been a geologist for over 45 years.
He spent twenty years lecturing in all aspects of geology in the Department of Mineral Exploration and Mining Geology at the Western Australian School of Mines in Kalgoorlie.
Dr Fagan has a PhD in geology and geochemistry.
He has extensive background in the geology of most parts of Australia and New Zealand
He is the author of numerous technical articles and papers.
He has run extensive courses on various aspects of geology and exploration geoscience to industry.
Most importantly Bob is and active prospector, leaseholder and small miner in WA and has a comprehensive knowledge of gold in the primary and secondary regolith environments.
DISCLAIMER...Udo and I are not in business with Dr Robert Fagan nor do we get any financial benefits from this review. It is our honest, unbiased opinion of his "Understanding Geology" Training.Bob Fagan is a member of the Amalgamated Prospectors and Leaseholders Association (APLA) as we are.
Dr Fagan has also provided extensive Free training and knowledge to members of APLA over many years.
Gold Prospecting WA Facebook Page

---
...We hope you CAN get out there and find gold in 2020.
Regards
Udo and Bill
Nobody gets ALL the gold. There's still plenty left for you.
---