G'day


Historical Gold Mines of WA and Goldmine Finder Now Available as a CD
Table Of Contents
Historical Goldmines and Goldfields of WA - NEW CD
Goldmine Finder Software - NOW ON CD
1970 Gram Specimen Found at Sandstone
---
Historical Gold Mines Of WA - New CD
Christmas Issue - Two NEW Cd's Make an Ideal Gift for any Gold Prospector.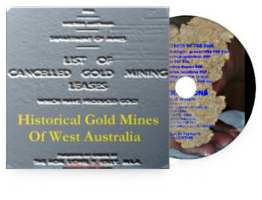 These two CDs will make an ideal Christmas Gift.
The Historical Gold Mines of WA CD
And
The Goldmine Finder Software CD
The Historical Gold Mines of WA CD is $17 (which includes postage).

(OR you can download the Historical Gold Mines PDF if you just want the PDF Copy ... It is only $9.00 for the Download version)
Historical Gold Mines of WA CD is a list of all the mines extracted from the List of Cancelled Gold Mining Leases that have produced Gold printed way back originally in 1954.
It is a PDF on CD that you can upload to your PC or run it directly off the CD if you wish.
It lists over 9000 old gold mines with the following information;
Name Of Goldfield.
Name Of the Mining Centre.
Number of the Lease.
Name Of the Mine.
Ore Treated.
Gold Produced.
Alluvial or Dollied Gold produced.
Period of Production.
The CD also has some Ebooks included that are currently also on the Website. BUT They are all included on the CD as well so you dont have to download it from the web for example;
Cheat Sheet Showing you all the steps you need to take to go Prospecting - INCLUDING links to where you get more information.
Ebook "Simple How to Tips for Using Tengraph Online"
Ebook " Old Gold Mines - How to Find Them using Tengraph Online."
The CD is available here Historical Gold Mines of WA CD
---
Goldmine Finder Software - ALSO NOW ON CD
The Second CD that would make an Ideal Christmas Gift if you are stuck for a gift idea is the;

Goldmine Finder Software and Data CD.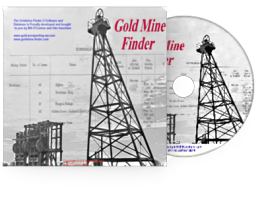 The GoldMine Finder Software is
NOW RELEASED IN CD FORMAT.
This software has now been released as a CD which has the Goldmine Finder software, data and all of the prerequisite programmes to enable it to be uploaded to your PC (and your Laptop if you want to), easily.
This is very powerful software with the data for over 34000 mines included, you can search and retrieve data any way you like then export it to text files for OziExplorer or (with a few steps) to Google Earth.
This also includes Historical Gold Mines of WA but with GPS points and other locality data included, such as;
Local Government Areas.
1:100000 GE0 Map names.
1:200000 GEO Map names.
It is available here Goldmine Finder Software and Data CD
---
1970 Gram Specimen Found at Sandstone
This is a nice story for Christmas. Talk about a Merry Christmas; this will brighten it up for you!

One of the Website readers told us about a 1970 gram gold specimen they found at Sandstone.

There is a picture of it on the gold finds page - 1970 Gram Gold Specimen Just scroll to the bottom of the page.

Awesome find Kerry!
---
Gold Prospecting Pages Coming Next Year
Next year Udo and I will be introducing some Metal Detector and gold prospecting training.
The training will be at seminars with field practise to ensure you really know what to do - we will announce more about that in January.
The training will start in March and it will Launch you into the gold finding season with the tools you need to help you find plenty of gold.
Thanks for Supporting us during the year and Udo and I hope you have a wonderful Christmas with Plenty of Gold Nuggets in 2012
---
Keep Detecting and keep well,
Nobody gets ALL the gold. Theres still plenty left for you.
Bill and Udo
p.s. These CDs are a wonderful gift and if you know a prospector it solves your gift dilemma.
---
---