G'day


Metal Detector Training Starts in March 2012
Table Of Contents
Metal Detector Training - Be Ready to Find Gold in 2012
Gold Prospecting and Metal Detecting Training Course Venue and Dates
Training Investment and Inclusions
Which Dates are You Interested In?
GoldMine Finder and Historical Gold Cds Still Available
---
Metal Detector Training - Be Ready to Find Gold in 2012
There has been a great deal of interest in the Gold Prospecting and Metal Detecting Training that you asked for in the survey forms in late 2011

We have created a course using highly qualified Minelab instructors and certified Minelab dealers to provide you with the best training - then personalised field practise with the same experts so you can test your new knowledge.

Not to mention the additional information you need to find gold patches and prospect LEGALLY in WA.
---
Training Course Subjects
Here are some of the intense tuition you will be provided to help you find plenty of gold in 2012.
Metal Detecting Using the Minelab 4500 and 5000. Including Field Practise
Metal Detector Coils - The Best and the Ones you should use and Why.
Minelab settings to ensure you get all the gold!.
Metal Detecting Techniques - Dont leave ANY Gold Behind.
Where to find the Gold - Geology of Gold and Rock Recognition.
Tengraph set up and Online Real Examples
How to do Section 20a Agreements
Set up and use Geomap on your PC with Basic GPS understanding.
What you do after you find your gold, cleaning, how to sell it, Dollying gold.
The course will be over two days intensive training with never more than 1:3 staff/student ratio in the field.
It will include morning and afternoon teas and a delicious lunch on the two days of the course.
---
Venue and Dates
The Venue for the initial 2 day metal detecting seminars will be at Cue in Western Australia.

We have access to leases here and of course, it is where Udo has his gold mining lease which participants will have access to after you finish the course - we will take you out there but you need your own vehicle.

It is about 80ks out and a four wheel drive vehicle is required. Obviously it will depend on weather and track access at the time.

DATES

We have a number of dates set and depending on demand we will include other dates during the year
Course 1 - 2 days. Venue Cue West Australia
Saturday 31st March and Sunday 1st April 2012.
Course 2 - 2 days. Venue Cue West Australia
Saturday 28 April and Sunday 29 April 2012.

Course 3 - 2 days. Venue Cue West Australia
Saturday 5 May and Sunday 6 May 2012.
Depending on demand we will also slot in courses in late June, July and August at Cue and other venues as required.
---
Your Investment and Inclusions in the Training
The cost of the two day course is $590 which includes;
Instruction and knowledge that will give you all the tools you need to find gold.
Morning and Afternoon teas, BBQ lunch, cold drinks.
Access to land for metal detecting.
Geomap software on a memory stick.
Morning and Afternoon teas, BBQ lunch cold drinks
Directions, with maps, coordinates for your own prospecting later - note; this will always depend on availability of land in Tengraph at the time.
The cost DOES NOT include;
transport to, or accommodation in Cue
Hire of detectors but they will be available to hire if you require one at $50 per day.
---
Which Dates Are You Interested In?
There is only limited numbers available on these courses because of the intensive personal tuition.
Please reply to this email (just hit "Reply" on your email programme) if you are interested and indicate to us your preferred date and we will contact you with more details.
To all those people who completed the training survey form we will contact you separately and directly.
If you are prepared to pay big dollars to buy a metal detector then as least give yourself a chance to cut the learning curve right down to quickly obtain the skills you need to find plenty of gold.
---
Historical Gold Mines and Gold Mine Finder CD Still Available
Goldmine Finder Software and Data CD.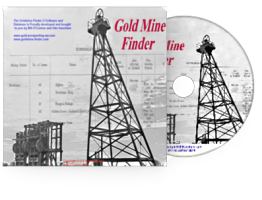 The GoldMine Finder Software NOW RELEASED IN CD FORMAT. CD is still available here Goldmine Finder CD
This is very powerful software with the data for over 34000 mines included, you can search and retrieve data any way you like then export it to text files for OziExplorer or (with a few steps) to Google Earth.
The Goldmine Finder also includes Historical Gold Mines of WA but WITH GPS points and other locality data includedGoldmine Finder Software and Data CD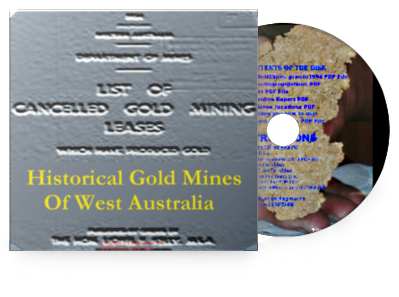 The Historical Gold Mines of WA CD
The Historical Gold Mines of WA CD is $17 (which includes postage).

(OR you can download the Historical Gold Mines PDF if you just want the PDF Copy ... It is only $9.00 for the Download version)
Historical Gold Mines of WA CD is a list of all the mines extracted from the List of Cancelled Gold Mining Leases that have produced Gold printed way back originally in 1954.
It is a PDF on CD that you can upload to your PC or run it directly off the CD if you wish.
It lists over 9000 old gold mines with the following information;
Name Of Goldfield.
Name Of the Mining Centre.
Number of the Lease.
Name Of the Mine.
Ore Treated.
Gold Produced.
Alluvial or Dollied Gold produced.
Period of Production.
The CD also has some Ebooks included that are currently also on the Website. BUT They are all included on the CD as well so you dont have to download it from the web for example;
Cheat Sheet Showing you all the steps you need to take to go Prospecting - INCLUDING links to where you get more information.
Ebook "Simple How to Tips for Using Tengraph Online"
Ebook " Old Gold Mines - How to Find Them using Tengraph Online."
The CD is available here Historical Gold Mines of WA CD
---
Keep Detecting and keep well,
Nobody gets ALL the gold. Theres still plenty left for you.
Udo and Bill
p.s. We will by flying over Andrew Greck "Greckie" from Golden Triangle Tours in Victoria to do the Minelab and Metal Detecting training - he's been detecting since 1989, used every Minelab detector since the 1600 and is Minelab Endorsed.
He has also been conducting training for the last 6 years.
...We reckon he is the best we could get for that part of the training.
So Dont Miss out!.
---
---