G'day


Noisy Minelab 4500 Detectors
Table Of Contents
Metal Detecting Seminar Training Dates Available
NEW Tagalong Metal Detecting Training and Tour
---
Noisy Minelab 4500 Metal Detector
A few questions have been asked by email recently about noisy Minelab metal detectors particularly for right handed operators when the coil is swinging across the left side of the body.
Sometimes this is caused by the coil lead hitting your body as you swing the coil from right to left in the case of a right hander and left to right if you are a left hander.
All you need to do is tape the coil lead to the Opposite side of your detector shaft (he side away from you body)which will eliminate this noise - see the picture.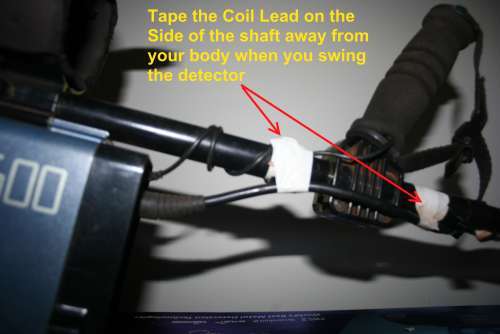 Other Causes of Noise While you are Metal Detecting
Loose Leads to your Detector from the Coil or the battery leads. Check them and tighten them.
You are not ground balancing regularly. This is a bad error because you are leaving gold behind!
Lifting the coil at the end of your swing. Lifting you coil will cause more EMI to be detected.
Metal in your boots or rubbish bag which is too close to the coil.
Your Coils have become touch sensitive and when you hit a rock or vegetation they emit a noise.
EMI OR ElectroMagnetic Interference - Use the auto tune button to find the best frequency for detecting
You Detector swing speed is too fast - slow down!
Rx gain setting too high
Some electronic devices switched on that you are carrying - Pinpointer, GPS or Radio can cause interference.
This is not an exhaustive list but it will cover most of the problems you will have with random annoying detector noise which prevents you from hearing the gold...

.... And Drives You Insane!!
---
Seminar Training Dates Available
| | | |
| --- | --- | --- |
| Gold Prospecting Lessons Cue 2012 - Dates | Total Available Places | Places Left |
| 28 July and 29 July | 10 | 1 |
| 4, 5 August | 10 | 1 |
| 11, 12 August | 10 | Booked Out |
| 1, 2 September | 10 | 2 |
| 8, 9 September | 10 | 3 |
---
NEW TAGALONG TOURS - October 2012
We planned to have our standard Training Seminars in Cue in October for two weekends, unfortunately one of our trainers cannot make it to WA and there has been limited demand for October courses.
We are changing the two original seminar dates to a one day "In House" training day with two days out in the field at Mindoolah/Cue as a Tagalong style tour. The tour will be October 6, 7 and 8.
On the first day we will cover metal detecting, equipment, coils, settings, Tengraph, WA Geology and Geomap training in the St John Ambulance training rooms.
The next two days will be spent looking for gold with Udo, Sue and I looking over your shoulder and offering support.
The price is $590 each for the three days and it is limted to for up to 10 people detecting.
You will be fully catered for the first day with morning tea, lunch, afternoon tea, continous coffee and tea, and drinks.
On the Saturday night we will still have the BBQ at Udos (no way are we going to miss that!) and your partners are welcome - you provide your meat and drinks and we will provide the salads, condiments and so on. Meat packs will be available to purchase if you want one.
Sunday and Monday we go bush as a tagalong tour where you provide your own Detecting equipment, food, refreshments and accommodation if you wish to camp out and we show you where gold has been found on the Section 20a permits we have suggested and you have taken out prior to the tour.
We dont want a massive convoy for this tagalong tour it will be for an absolute maximum of ten detectorists.
| | | |
| --- | --- | --- |
| 6,7, 8 October | 10 | 4 |
---
Return to Table of Contents
More Details About the Gold Prospecting Seminars
Full Details are available at Gold Prospecting Lessons Cue

The Terms and Conditions relating to the Gold prospecting Seminars including the new Tagalong Training tours are available on this page:

Click Here for further Information and Important Terms and Conditions

---
Return to Table of Contents
Gold Mine Finder CD
The GoldMine Finder Software AVAILABLE IN CD FORMAT.

CD is available here Goldmine Finder CD
---
Keep Detecting and keep well,
Nobody gets ALL the gold. Theres still plenty left for you. This has never been more evident than now wiht the Minelab 5000 detectors which are really getting a lot of gold from the old haunts!
Udo and Bill
p.s. We will have one of the Brand New Minelab CTX3030 Metal Detectors at the Seminars for you to have a Look at! But this is a TREASURE detector and not a serious gold detector
---
---