G'day


Geological Maps - Use Them As Gold Maps
---
Geological Maps Pages Rebuilt.
What - Less Than 1/2 of 1 % of WA Has Gold Occurrences?
Link to video "How to use Explanatory Notes to Understand Gold Geology".
Regions Opening to Gold Prospecting in WA - AT LAST.
---
---
Understanding Geological Maps
Gidday Everyone.

Last newsletter we introduced a series of Training by Dr Bob Fagan called "Understanding Geology"

I want to continue that theme today and at present we are reviewing and updating many of the "Gold Prospecting in WA" website pages (we are struggling to get out to find gold with the Covid 19 Virus anyway.)

I did travel to do some sampling on our lease in Sandstone but wow, what a disaster.

Two staked tyres and my car stopped about 100k out of Paynes find on the Paynes Find-Sandstone Rd.

$3300 later for towing I finally go home.

Another $900 discovered a fuel blockage in the diesel main tank.

The Nissan has only done 430,000k's too, who would expect such trouble???
---
Geological Maps Pages Have Been Rewritten
The pages I reviewed this past few weeks relate to Geological Maps and I have rebuilt that page completely.

Geological Maps are now 4 different pages to more fully explain how you can use Geological Maps as Gold Finding Maps.

The new Pages are:

The Main Page "Geological Maps - What They Are and How to Use Them to Find Gold."

Then via the main page you can link to;
Explanation of The Different Types of Geological Maps.
Geology Maps Online - Where You Can Get Free 1:250000 and 1:100000 Digital Maps for WA.
Gold Maps - How to Use Geological Maps and Systems to Target Gold in WA.
Link to Geological Maps and How to Use Them as Gold Maps Pages
Return to Table of Contents
---
What - Less Than 1/2 of 1 % of WA Has Gold Occurrences?
In the last newsletter we explained the following:

"One of the methods of targetting gold is of course, where gold has been found before."
BUT less than 1/2 of 1% of WA land area has records of discovered Gold.
i.e. of around 1.1 million graticules in WA Only 5557 graticules have a record of one or more gold finds. This still represents around 1,722,000 million hectares
Clearly, even using this one criteria you must target locations to find gold.


So have a look through the new pages.

They will give you some very good information on what Geological Maps are and how you can use them to target gold in West Australia.

There is a few videos on these pages as well -

Where to get free Geological Maps and Other Information about any location in WA including all sorts of information about the area where you want to go prospecting.
---
Link to Video - How to Use Geological Maps Notes to Find Gold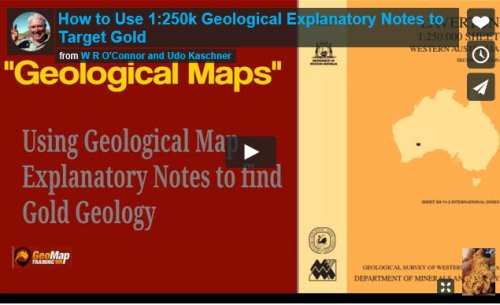 ---
Gold Prospecting Pages Being Reviewed Next
We have already reviewed and rebuilt the "Tengraph Online" Page which now is a link page to Tengraph Web since Tengraph Online has been removed as a system by Department of Mines which now relies on Tengraph Web.
The Gold Prospecting W Tengraph Web Page has also has a review.
Next I will be looking at the "Where and How to Find Gold in WA Pages" to expand the information in them.
Tengraph Web - Gold Prospecting WA Page
---
Regions Opening Up for Prospecting - At Last!
It looks like the WA Government has very few excuses to keep everything including Intrastate travel locked up.

So on 18 May 2020 they have opened up some regions and if you are lucky enough to be in those regions you can go out and do a bit of prospecting.

Here is the news item and link:

"The Latest Updates"

Corona Virus Latest Updates Page
The New Road Map from 18/5/2020
Extracted From that New Road Map Page which is linked to below;
"Regional travel -WA Regional borders map,
Restrictions relaxed, with travel allowed:
between South West, Great Southern, Wheatbelt and Perth-Peel regions
between Mid-West, Gascoyne and Pilbara regions (excluding the biosecurity zone)
within Goldfields-Esperance region (excluding the biosecurity zone)
within Kimberley Local Government areas (the Commonwealth's biosecurity zone remains in place).
Travel exemptions are still required to enter WA and travel between the 4 regions.""
And it is stated that further travel restrictions may be lifted in 4 weeks if there is no further outbreaks.
Fantastical, so looking forward to getting out there again.
WA Corona Virus Roadmap Controls from 18 May 2020
---
Gold Prospecting WA Facebook Page

---
...We hope you CAN get out there and find gold in 2020 - the borders are starting to open up and really the WA Government has no reason to keep them closed now..
Regards
Udo and Bill
Nobody gets ALL the gold. There's still plenty left for you.
---