G'day


Gold Prospecting Christmas Gift Suggestions
Table Of Contents
Update on New Minelab PI Detector

Metal Detector Bag with Control Box Cover

Goldmine Finder CD AND Historical Gold Mines CD

Basic Geology for WA Prospectors

Gift Suggestions if You Are Stuck for Ideas

Gold Prospecting Outlets in WA
---
Minelab New Detector Planned
Hi everyone

"New model After the Minelab 5000? There has been a lot of rumours about an impending new model of the Minelab 5000"

We only discussed that in the last newsletter and were told by Minelab that there will not be one for a while.

But of course they were speaking of a replacement for the Minelab 5000 which will not happen for at a minimum 12 months.

However it appears that in response to market needs (and maybe the emergence of the Garrett ATX PI) there will be a new Pulse Induction detector which will fit somewhere between the XTerra 705 and Minelab 5000. It is the Minelab SDC2300, here is a picture and link to their site.

New Minelab Metal Detector - SDC2300 .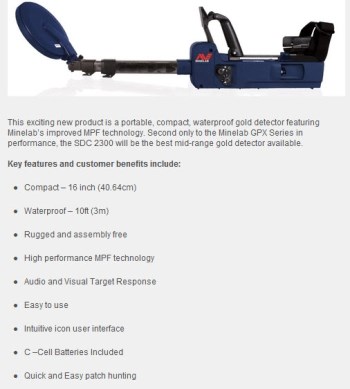 Some details of the coming Minelab PI Detector SDC2300
---
Your Loved "Metal Detector Operator" Ones Christmas Gift Suggestions;
Christmas gifts time is here so here is a suggested list of items you can buy for your loved one (Or for yourself - if You've been good!)

Udo and I have some Specials as well so if you are thinking of buying the Goldmine Finder or a Protective Metal Detector Bag now is the time to do it.
---
SPECIAL 1 *** A Metal Detector Bag with a free Matching Control Box Cover
Why would you buy an expensive metal detector and not invest a few dollars on a protective metal Detector bag to protect it.

If you purchase a metal detector bag before Christmas Day we will also include a matching Minelab 5000/4500 control box cover for no extra cost to protect your Minelab Control Box..

The bags will be posted to you (postage applies) or you can pick it up in Perth if you prefer. I will even deliver it if you live in the Northern Perth Suburbs.

You don't have to do anything it will be included in your package when you order the Metal Detector bag. Just order the bag and I will include the control Box cover when it is posted.

See this page.

Metal Detector Bags - Designed by Metal Detector Users for Metal Detector Users.
---
SPECIAL 2 *** Goldmine Finder CD with a Free Copy of the Historical Gold Mines CD
This is our own product and it is a very good aid to finding and locating the GPS Points of gold mines, alluvial areas, dryblowing areas and prospective target areas in WA. $45.
Until Christmas we will also give you a Free copy of the Historical Gold Mines CD at no extra cost posted direct to your home.
Available here;
Goldmine Finder Software CD with complimentary copy of Historical Gold Mines of WA CD.
Note ; all purchases will receive the copy of the Historical Goldmine Finder CD if purchased before Christmas Day...
... You dont need to do anything it will be automatic!
| | |
| --- | --- |
| Goldmine Finder CD | Goldmine Finder Software CD |
| Historical Gold Mines of WA CD | Historical Gold Mines of WA CD |
---
Gemstones of WA (Mineral Resources Bulletin 25)
This book is a 326 page hard cover book that is just amazing in detail and information and cheap at around $55- $60. - You can also purchase this at your local Metal Detecting stores as well. Gold Prospecting Outlets in WA

Available from the Department of Mines and Petroleum bookshop 1st floor 100 Plain St East Perth WA. Go in and browse the publications that they have available.

There is an wonderful variety of products available from the Department of Mines Bookstore and it is well worth a visit.
---
Give One of Dr Fagan's CD's on Prospecting in WA
This will really be treasured by the Gold Prospector or metal detector operator.

Dr Fagan has taught Geology at the Kalgoorlie School of Mines and he is a renowned authority on Geology and gold in WA.

He has some CD products available for around $30 like " Basic Geology for WA Prospectors" and we recommend them.

The Dr Robert Fagan CDs are available at your local metal detecting Store see below.
---
---
Other Gifts
A Hipstick or Control Arm
It can be tiring when you out out detecting for a few hours with a detector without a control arm or a hipstick.
A Control arm ($50 to $60) makes the Detector easier to swing and takes some pressure off your should and and swing arm and a hipstick takes the pressure off your shoulders and back and transfers the weight to you hips.
My wife Sue is a real fan of the hipstick and would not be able to detect as long without it.
Spare Stuff for The Bush
A Spare Bungy kit and bow knuckle ($25-$30).
A Spare lower shaft ($45)
A Spare Minelab 12v Vehicle charger $35)
These things break and its always nice to have a spare when you are out in the bush, there aint no shops out there to buy one!
Whatever the metal detector your fanatical friend has is there is always equipment spares that will be appreciated.
How about a subscription to Gold Gem and Treasure Magazine?
How a subscription to the Gold Gem and Treasure magazine for 12 months (around $60)
---
Other Gifts up to $50
A Gift Voucher from the Metal detector shops so you favourite Metal Detector Person can put the value towards that coil have always wanted (Beats a bottle of cheap wine)

A Coiltec Heavy Duty Metal Detector Lead for the Minelab 4500 or 5000. (around $45)
An External Speaker
Believe me, once you have used an external speaker ($30 TO $50 ) the headphones go into your metal detector bags for emergencies - These are very helpful for those who have hearing problems)
Go to you local Metal detector shop and pick out a gift that will be thoughtful and treasured by your loved one.
---
---
Location of your Local Gold Prospecting Shop
Metal detector stores will have specials on metal detectors now so they are worth a visit, here is a link to the main ones around WA;
Bunbury
Prospectors Pick Bunbury LOT 43 CRAIGIE STREET BUNBURY WA 6230.
Kalgoorlie
Finders Keepers, St Barbara Square, 250 Hannans Street, KALGOORLIE WA 6430.
Perth
Reeds Prospecting Supplies 25B Helen St Bellevue, WA 6056.
Prospectors Patch, Unit 3, 144 Great Eastern Highway, Midvale, WA, 6056..
DISCLAIMER - Folks, that is a free plug for these Prospecting and Metal Detecting shops, we do not receive any benefits from displaying their details in the newsletter. Make sure you support your local WA suppliers like we do. Return to Table of Contents
---
Here is a link to our Facebook page.

---
Udo and I wish you and you families a wonderful Christmas and we hope you find plenty of Gold Nuggets in 2014.
Regards
Udo and Bill
Nobody gets ALL the gold. Theres still plenty left for you.
p.s. Keep your eyes peeled for the Gold Prospecting Training Dates in Cue in 2014 we will send an email out at the end of December with the dates available.
---
---