G'day


Access to Goldfields Metal Detecting Areas
Table Of Contents
Know Where are you allowed to go Metal Detecting on the Goldfields

Know Precisely Where you are on the Land

Geomap Shows you EXACTLY where you are on the Ground

Tengraph - your Day to Day Information Source

What about Pastoral Leases Access

Using Hand Held Tools - Just what is allowed?
---
Return to Table of Contents
Access to Metal Detecting Areas
Hi everyone

We just completed our first seminar and tagalong for the year and fortunately the weather has cooled down a bit. A bit of gold was found by the people who came to the course but the most interesting thing was being confronted by a few locals around Udo's Lease who clearly don't know the rules.

In fact I have noticed that there is and increase in some being shown by some people prospecting in the bush.

Not all of them are the leaseholders either but people illegally detecting upon the leases in the first place.

Look at this photo which is clearly illegal and threatens damage – this was not even put up by the leaseholder but the story goes it was someone else who didn't want people to go metal detecting in that area.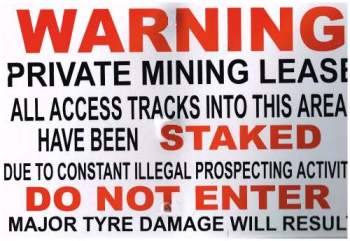 This same thing happened last season at Stakewell where a couple were evicted from land where they had permission to metal detect by someone who said they represented the leaseholder. When they contacted the leaseholder it turned out that that was not the case and the person was an imposter.
So, what are the things you can do to overcome this sort of nonsense out there.
---
Know Where you are Allowed to Go Metal Detecting
Firstly know where you are allowed to go metal detecting.

If you don't know already read our webpage Metal Detecting Laws and this pamphlet put out by the Dept of Mines and Petroleum.

Download the pamphlet Prospecting in WA - New Prospecting Information Pamphlet (Edition January 2013)

Knowing your rights and the rules is your most powerful protection.

Get written permission off Leaseholders of granted Leases!

You CAN access pending leases which are simply applications for a lease to be granted.

These are leases coloured with blue diagonal lines in Tengraph.

You do NOT need permission from the person who applied for these leases to access them.

However if the leases are Granted (Green diagonal lines) you must get written permission to access them unless they are Exploration Leases upon which you can apply for a section 40E permit to prospect on them, the last newsletter discussed this;

Newsletter 26 - Changes to Section 20a Permit System
---
Know Precisely Where You Are on the Ground - GEOMAP
We teach the use of Geomap at our seminars and seminar/tagalongs.
Geomap is freely provided by the Dept of Mines and Petroleum and when you link this to the downloadable tenement shapefiles and connect your PC to ,a GPS Aerial you can use moving maps real time, and know EXACTLY where you are on the ground.
This way you will not stray onto areas where you are not permitted such as granted mining leases.
Here where you can get some training in Geomap and Tengraph;
Rob at the Prospectors Pick Bunbury runs courses based on demand. 08 97914344
Jeff and Jo at Reeds Prospecting also run some courses in Perth.
APLA periodically arrange training in Geomap also depending on Demand.
Contact the Dept Mines and Petroleum who will help with Tengraph
Kurk Brandstater may take one on one coaching but he is not available all the time 0433217895
The Department mines Data and Software Centre link is; Data and Software Centre Dept Mines and Petroleum
Scroll down to the bottom of the page for the free Geomap software download with the instructions.
We will be building a website on geomap training in the near future so you it will be easier to learn all about it at your own pace with videos and checksheets that will help you every step of the way.
---
Tengraph - Your Day to Day Information Source
If you don't know how to use Tengraph Online download this ebook We have just upgraded it to reflect the recent changes to Section 40E.

Download it here Tengraph Instructions
---
Pastoralists and Access to Crown Land under Pastoral Leases
Read the document, an in particular the section relating to Prospecting on Pastoral Leases...

Prospecting in WA - New Prospecting Information Pamphlet (Edition January 2013)

Here is an extract;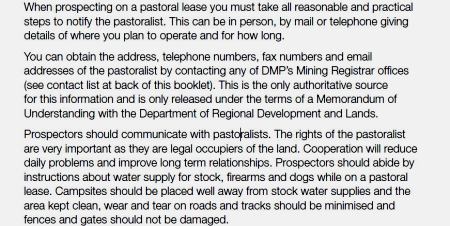 We strongly support good communication and discussion with Pastoralists whose land you will be visiting. You never know what is happening in the area where you are going and the local Pastoralist will be able to advise you if they are doing anything in the area that will be a problem.
Also read Prospecting On Pastoral Leases
---
Using Hand Held or Hydraulically Driven Machinery.
We were curious to see if the use of hand held equipment had changed in any way and just what constitutes a hydraulically driven hand tools so we wrote to the Dept Mines and Petroleum about it, here is there reply.

"I refer to your email query of 15 February 2013 regarding prospecting using hand held equipment.

Regulation 4O of the Mining Regulations 1981 states-

"4O. (1) A permit holder is not to use powered or hydraulically driven hand tools on the land the subject of the permit". A permit referred to here is one issued after application is made under Section 40E of the act to enable prospecting on a granted Exploration Licence.

Under Regulation 4O the equipment referred to in your email such as a "Shaw portable Backpack drill or cordless 36 volt rotary hammer drills or a 4 stroke hand held jack hammer" cannot be used under a Section 40E Permit.

Under Section 40D (2)(b) of the Mining Act 1978 when using a Miner's Right on Vacant Crown Land you must not use explosives or tools, other than tools prescribed for the purposes of this paragraph or hand tools. As tools have not been prescribed for this purpose the hand tools you described in your email can be used."

Very Interesting.
---
Gold Price and Where is Gold Heading?
We subscribe to a free newsletter called "Money and Markets" and one of their analysts had this to say about where the gold price is headed.

Important Disclaimer

(Note that the price described here are US Dollar Prices. ("Source: http://www.moneyandmarkets.com" Udo and I are in no way associated with this company nor do we get any benefits of any kind by referring you to their website, we are also not financial advisors so please contact your financial advisor if you want investment advice)

"..Another reader writes in: "When the heck are you going to give your buy signal for gold, Larry?" My answer: When one of two things happens ...
A. Gold falls to $1,384 by August, or ...
B. Gold rallies and closes above $1,760 on a Friday-closing basis.
Those are the latest signals on my models. In between $1,384 and $1,760 gold is in a neutral trading range. And as long as gold remains under $1,655.80, the bias will be to the downside and a test of $1,384 remains a high probability.
So you see, gold can bounce up to the $1,656 level and it still remains bearish short-term. Moreover, it would have to rally a full $160 to enter a new bull leg to the upside.
Now, I can hear even more questions: "If gold were to rally and close above $1,760 you will turn bullish, yet you will have missed a huge move!"
My reply: Then so be it. I don't really care. What matters is buying when it's safe to buy. And given that gold long-term is heading to more than $5,000 an ounce, I'm not concerned if I miss a $160 move to make sure I'm buying a confirmed bull market and not some giant bear market rally.
Where do you think the price of gold will go?
---
Training Places Left 2013
Seminars and tagalong tours to the end of July have been booked out but there is vacancies for the training after that.
| | | |
| --- | --- | --- |
| Gold Prospecting Lessons Cue 2013 - Dates | Total Available Places | Places Left |
| 27, 28 April, Seminar Cue | 10 | sold out |
| 4, 5 May, Seminar Cue | 10 | sold out |
| 29, 30, June and 1 July, Tagalong Seminar and Tour | 10 | sold out |
| 27, 28 and 29 July, Tagalong Seminar and Tour | 10 | sold out |
| 31 August and 1 September, Seminar Cue | 10 | 6 |
| 7 and 8 September, Seminar Cue | 10 | 6 |
| 28, 29, 30 September, Tagalong Seminar and Tour | 10 | sold out |
| 19, 20, 21 October, Tagalong Seminar and Tour | 10 | 6 |
---
Return to Table of Contents
This is a link to the page relating to Gold prospecting lessons and seminars. This page has been updated to reflect the 2013 vacancies.
Important Terms and Conditions
It is very important that you read the terms and conditions document relating to the training for your own safety and peace of mind.
Click on this link for further information and Important Terms and Conditions
---
Return to Table of Contents
Facebook Page for Gold Prospecting WA
Here is a link to our Facebook page.

---
You are probably packed and ready to go out and get the gold, we wish you luck and many big nuggets in 2013.
Know your rights, know where you are on the ground and stand your ground out there.
If anyone is abusive or violent then get some details like licence number, their description, type of vehicle, Photo if possible, GPS point on location and report them to the local police - you dont have to put up with that.
The same with the threatening signs, photograph them and get the GPS points and lease number and send them to the Dept Mines and Petroleum.
Remember though that 99.9% of the people you meet will be wonderful and just enjoying the great Australian Bush and the Original Australian Tradition of prospecting
Udo and Bill
Nobody gets ALL the gold. Theres still plenty left for you.
---
---