Goldmine Finder Software and Database - Is Now Available On CD
The Goldmine Finder Software and Data for over 34000 mines in West Australia is now available on CD with all the prerequisite programmes to enable you to download it and use it on your PC or Laptop.
Goldmine Finder - Software to Help You Easily Find over 34000 Mines in WA
October 2017 - Goldmine Finder Software - Tabs Greyed out and Not Clickable Issue

The standalone Goldmine Finder Software and database has been working flawlessly for some 6 years on PCs but suddenly early October the Tabs within the software are no longer clickable.

We suspect it was caused through a Window 10 upgrade but have our programmers looking at the problem and the fix.

Until the Goldmine Finder program is fixed we have temporarily removed it from sale.


If your copy of the Goldmine Finder has problems like:


 "Search Results" tab not clickable,

" OZIexport" or "Google Export" not clickable.


We are working on the fix and will send out an email to you with the fix as soon as the programmer has identified it and developed a fix.

Until them we sincerely apologise for the issue and will place it back on the market as soon as possible.
Contact us if you need to know more.

....Bill and Udo

 Paypal Button Temporarily Suspended

We have temporarily suspended the Paypal Purchase button until the  software has had a program fix implemented.

IMPORTANT Paypal Information - So We Get Your Posting Address
Please make sure you Click "Return to William Robert O'Connor and Udo Kaschner" on the Thanks for your Payment Screen.
That will return you to a page to provide your posting address.
The goldmine finder software enables you to easily find over 34000 Mine Locations in WA
In the past although you could find old gold mine names and mud maps showing you the way to the gold you did not have precise GPS localities.
Over the last century those old map marks and tracks no longer exist - you need precise GPS points of the old gold mine to find it again.
The Goldmine Finder database enables you to find the GPS points of old gold mine and then export them to OziExplorer and Google Earth Maps so you can find your way to the old mine.
Old Gold Mines Software NOW RELEASED IN CD FORMAT
This software has now been released as a CD that has the Goldmine Finder software, data and all of the prerequisite programmes to enable it to be uploaded to your PC (and your Laptop if you want to), easily.
Formerly the software was available as a download from the site but it has been removed for a complete rewrite to overcome some issues people had in downloading the programme for use on their own PC.
NOTE - The software was not written for a MAC/APPLE/LINUX Computer, Sorry.
What Can you DO with Goldmine Finder
Locate over 34000 Mines and their GPS Locality.
Find GPS points for Old Gold Mines from the the Document "List Of Cancelled Gold Mining Leases Which Have Produced Gold" published in 1954
It provides production figures for the Cancelled Gold Mining Leases, including whether the gold was Mined or Alluvial.
Search by Goldfield, Locality, Shire, Mapsheet 1:100k or 1:250k or just by an individual mine name
Extract GPS points Ozi Explorer ready and for Export to Google Earth.
You are only limited by your imagination what you do with it.
How to Find Old Gold Mines Easily. (Instructions Manual)
Here is a copy of the Instructions Manual;

Here is the Link How to Find Old Gold Mines Using the Software
PLEASE NOTE - The reference ebook will take a few minutes to load because it includes a lot of Graphics - Please be patient.
You will need a PDF reader to read the Ebook, if you cannot open it the downloaded PDF file then you can download Adobe Reader by left clicking on the icon below.

Here is a list of the table of Contents.
Have a look at the table of contents of the Ebook that Explains the Software:
Chapter 1 - Introduction to the software. 
Chapter 2 - How to Access the Standalone CD Version of Goldmine Finder and Use it on your Computer. 
Chapter 3 - Goldmine Finder Explained in Pictures. 
Chapter 4 - Datafields and Explanations. 
Chapter 5 - How to Search for Old Gold Mines. 
Chapter 6 - How to Export GPS points to Oziexplorer. 
Chapter 7 - How to Export GPS points to (Free) Google Earth. 
Chapter 8 - The Easy Way to Apply for A Section 20a Permit. 
Chapter 9 - FAQ. 
There is even an easy free bonus chapter on the Easy Way To Apply for A Section 20a permit
Goldmine Finder finds Treasure Island
Here is a video of how to use the software and data to do research to find gold bearing areas.
Disclaimer - This example is just a means how to use your ability to research and shows you one method of how to find some prospective Geological targets based on information that you find from other sources.
It is not giving you the right to prospect in this area or suggesting you should go to the area discussed - you need to refer to Tengraph and find out the current ownership of the mining tenements before you access any land.
Here is another example of a quick search done for Old Gold Mines in Toodyay

A Search for Gold Mines Near Perth At Toodyay
On an excellent forum run in WA for Prospectors there was a question raised about gold found in Toodyay near Perth;
Here is a picture of the Filter Screen and resultant search return - the whole process only takes a few seconds to select your filter items and retrieve the data.
Database Filter Screen to Search For Gold Mines
Old Gold Mines Toodyay Locations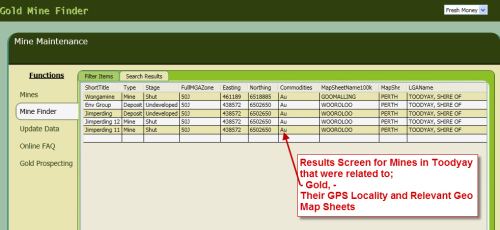 Sign up to the e-gold newsletter in the form below, for any upgrades to the Software and Data and Case studies on how it is used effectively to find gold prospects.
Return to Gold Prospecting home Page