Metal Detector Bags - Designed by Metal Detectorists to Protect Your Valuable Metal Detector!
We spent some time to design these metal detector bags because there is simply nothing on the market that adequately protects our $6500 Minelab 5000 metal detectors properly..
...OR enables us to store all our gear adequately.
Metal Detector Bag - A Short Video

Some Features We Built In
Will take a Minelab 4500 or Minelab 5000 without having to separate the shafts.
Heavy Duty Water Resistant Canvas - It will last as long as your detector.
Padded to take the knocks.
Internal Thermal Layer to protect against heat.
Dust Proof - Dont let that fine red dust get into your electronics.
Heavy Duty Double Zippers that you can lock with padlocks for safety.
Two side pockets that will take 16" round coils
Plenty of room for all your gear to be kept together - dont arrive without half your gear.
Designed to fit across the back seat or compartment of a 4 wheel drive.
Reinforced handle and strap.
Still Limited For Sale to Newsletter Subscribers and Facebook Subscribers

Originally Udo and I have only had a few of these bags made for mates and to see if there is a demand for decent metal detector bags.
There have been many requests to buy these bags since we started running our training seminars and people have seen how much greater quality they were than anything on the market so we decided to get some more made for our customers.
For this newsletter we will limit the sales to you, our newsletter subscribers, next month we will open the sales to everyone for Christmas.
Metal Detector Bags Colours Available
There are four colours you can choose from, Black, Dark Green and Maroon and a Patterned Bag;

Colours of the Metal Detector Bags

Colours of the Metal Detector Bags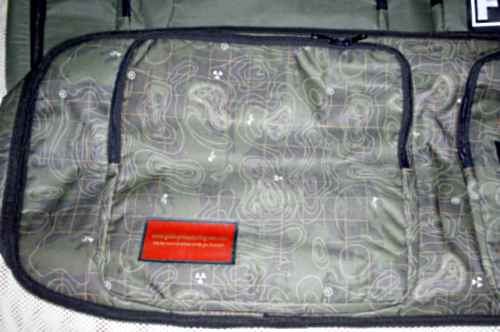 Designer patterned metal detector bag
If you want one your investment is $129 each plus postage and packing which will be;
Perth Metro - $12
Near country 6215-6699 - $20
North WA 6700-6799 - $30
Eastern States - $40
If you live in Perth I dont mind if you wish to pick your bag up (I live in the Quinns Rocks area) or, North of the River I will deliver for no charge.
Paypal or Credit Card
Other Methods Of Payment
You can pay for the bag by cash if you wish to pick it up or I deliver it, or by money order/Cheque Sent to Bill O'Connor PO Box 2207 Clarkson WA 6030.
If these methods of payment are inconvenient then please use the contact us form on the contact us page and I will provide direct bank deposit details. Please make sure you provide your name and regular email details so I can generate the invoice.
Here is an example of the contact form with details;
Return to Gold Prospecting home Page from metal detector bags page