About Us
We are REAL People That Live and Prospect in WA....
Our Knowledge Will Give You The Best Chance to Find Gold in WA
Udo
I know a lot about the bush and gold prospecting in WA.

I Live in the Goldfields and have lived there since 1991 - There is no way I would live in a city, I love the freedom of the bush too much.
Places I Have Been Gold Prospecting
I've been prospecting and mining in WA for over 25 years. I have an active mining lease at Mindoolah in WA and work this lease all the time.

I have prospected all over the state from the Kimberleys, through the Pilbara down through the Southern Goldfields and I have found some good virgin gold patches in my time prospecting.
On this lease and all over West Australia I have found hundreds of ounces of gold including one find of a series of nuggets of 150 ounces of gold (including the 22 1/2 oz nugget which is pictured on the home page)
Equipment I have used for Gold Prospecting
I've panned for gold, used dry blowing, been metal detecting since the 80's (1980's that is!) and used heavy machinery to recover gold.
I currently tumble, cut and polish all my own gemstones and rocks for my own collections and also sell them locally.
Metal Detecting Gold and Metal Detectors that I have used
I started with a White metal detector the white 5000 and later the White Vsat. 
Over the period I have used Garret Metal Detectors like the Ground Hog.
I've also used the Minelab metal detector range from the 1600 through the 2100, 3500, 4500 and the SDC2300 and  my trusty Minelab 5000 metal detector.
I've lost count of the different combinations of metal detector coils I have used, currently I use the Nuggetfinder Evolution series - this with the Minelab 5000 is a pretty deadly combination.
So what does this mean for you? - you can guarantee the information on this website is based on many years experience and knowledge...
and that, my friend, means that the information on this website will help you find gold quicker and easier!
Sign up for our free Gold Prospecting newsletter
Sign up for the egold newsletter which Udo and I will send out monthly. Each month we will feature information about prospecting in WA such as rules, places to detect, maps and gold leases information 

Don't worry your e-mail address is totally secure. We promise to use it only to send you Gold Prospecting e-News.
Bill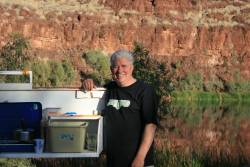 My dream was to become a geologist but alas, because I married early and started a family the practicalities of earning money to feed a family overruled my desire to study at Uni.
That was a shame because even studying part time while balancing work and family needs I came third in WA in the science subject Matriculation Geology.
I retired in 2005 after 43 years with the same company - good old Australia Post.
I quickly took up my great love of geology and travelling around Australia after retirement.
Then, I started metal detecting for Gold throughout Western Australia.
It didn't take me long before I realised that information about gold prospecting and metal detecting was bloody hard to come by, it was expensive and required heaps of time and research.
A Massive Gap in Simple Gold Prospecting Information
I spent a lot of time thinking about how I could get simple, easy to understand and reliable information about Gold prospecting, Metal Detecting and locations that it was worthwhile to go detecting to find some gold.
While I was prospecting and metal detecting around WA I met up with my old childhood pal Udo who took me to many places to detect for gold.
I realised that his vast experience and knowledge is exactly what is needed to make metal detecting simple... if only you knew what he knew....Hmmmm
To cut a long story short, I had built a simple website for a friend of mine using "Site Build It" in 2005.
I knew I could build a website that would help people get the information they need to find gold in WA, so Udo and I decided to team up to build a website that provides;
Easy to understand,
NO ads or distractions,

Simple,
Free or very inexpensive information
Comprehensive gold prospecting site locality information
Based on our knowledge and extensive research to help people to find gold in WA.
This website is about information YOU want or need to help you find gold.
So if you have any suggestions or want something developed that will help you find gold please contact us using our contact form.
Return to home page from About Us