Gold Locations 
How To Find Old Gold Mine Localities Through Tengraph Web
Gold locations and how you pinpoint them are discussed in the pages relating to gold locations - gold fields of WA and Old Gold Mines in WA.
It is essential for you to have access to Tengraph Web and GeoVIEW WA which are very powerful software tools provided by the Department of Mines in WA.
Tengraph Web - Read This If You Don't Have Access
We have taken the liberty on this page to assume that you have access to Tengraph Web!
Access to the Tengraph Web system is essential for a number of reasons and one of those is that you can find out where gold fields, old gold mines and Historical Gold Sites in WA are.

If you want to know how to access and use this incredibly powerful and essential system link to the page about Tengraph Web and its uses .
How to Use Tengraph To Find Gold Locations Such as Old Gold Mines and Gold Fields in WA?
Here is a video lesson from our training in Tengraph Web Online Training which is available through our training Website Tengraph WEB Training – Geomap Training WA (geomap-training-wa.com).
This lesson explains how you can use Tengraph Web to view gold locations and old gold mines and then download the information to  use in GeoMap. Note that is is one of many lessons in the online training and is provided here so you can use it to find out where gold mines are located.
GeoMap is free OFFLINE software that you can use in the field with a GPS connected to know exactly where you are on the ground in relation to Tenements, Gold locations and Geology.
How to Extract Gold Mines Data Video Chapters
Here is the time line of subjects in the Video.
         Start Chapter Title
0.24 Tengraph Web Page.
0:57 Mines Layer.
1:21 Select an area.
1:59 Select all Mines.
2:21 Extract Data File.
2:56 Unzip (Extract) files.
3:12 Add to GeoMap Project.
Very Interesting and valuable information about gold fields and Gold locations that can lead you directly to places where you might find gold.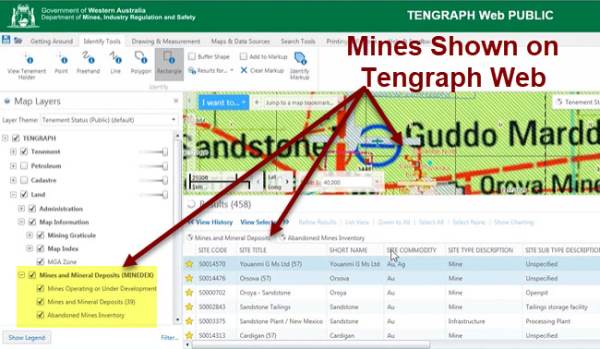 Here is a view of Tengraph Web with the;
Legend for Mines ticked on (Yellow Highlight Area).
List of Mines Viewed an an Area and
The mines on the Tengraph Web Map Page.
Return to Old Gold Mines home Page from Gold Locations page