Where to Find Gold in WA - Local Knowledge of Signs and Indicators to Help You Find Gold
Did you know this fact about where to find gold in WA?
Less than 0.5% (Less than 1/2 of one percent) of the goldfields areas in WA are prospective for nugget gold. .....

Yes, you read that right.
Only a very small proportion of the GOLDFIELDS of WA are prospective for gold!.
Knowing this fact is important and should convince you that you must know the indicators and precise areas where to find gold.
If you know what to look for and which areas to target it will significantly increase your chances of finding nuggets.
....and that is exactly what you want to do - not waste your energy prospecting or metal detecting in barren areas.
So, Where to find gold - What are the indicators that can help you find gold in WA.
This is not an exhaustive list and other pages in the website will expand the knowledge for you as will our specific Area Gold Reports which are currently being developed.
Please make sure you sign up for our E Gold Newsletter so you dont miss any of these reports. These area reports will expand significantly the information on where to find gold.
The box is on the right hand side of this page in the blue box.
Where to Find Gold - Localities and Signs Where Gold Can Be Found
---
Where Gold Has Been Found Before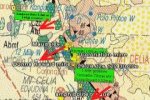 Where there is Old Gold Mines

Where gold has been found before then there is either Primary or Secondary gold in the area.
The Primary Gold does not necessarily have to be of minable grade. There could be secondary enrichment in the area under laterite caps or calcrete sheets.
---
Primary gold locations where there is laterites, calcretes or ancient alluvial channels
Laterites, calcretes, alluvial channels either current or ancient buried channels and salt lakes in an area where primary gold has been located or is found are good areas to prospect.

---
Streams, Gullies and Water Catchment Areas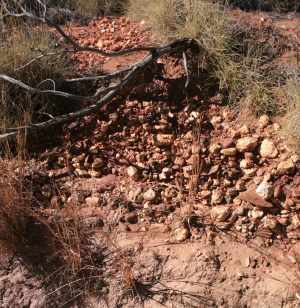 Streams and gullies and their catchments running down from areas where there has been active mining in the past or current mining activity. Particularly where the stream or gully joins a larger stream or salt lake.

---
Quartz and Ironstone Country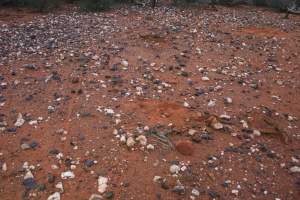 "Salt and Pepper" Country where Quartz and Ironstone are littered across the lower slopes are prospective areas. Particularly look for discoloured or rotting quartz where the quartz is stained black or green or other colours, clear quartz is not a good indicator and generally barren.

---
Mining Areas
---
Laterite and Calcrete Caps
Laterite caps and pisolitic material (gravel, ironstone and quartz) being shed from active mining area or dolerite areas.

---
Historical Evidence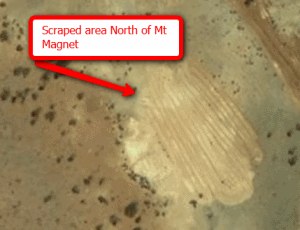 Signs of previous activity by prospectors such as;
Old Prospector camps and rubbish heaps
Old Gold Mining and Ghost Towns
Dry Blowing areas
Drill Holes.
Old detector holes and Chain marks
Machine scraping and pushing of the ground, costeans.
Old mining shafts and open cuts.
Here is a link to help you research gold prospecting locations
---
Geological signs
Iron Enrichment such as iron caps, iron pisolite area
Calcrete development.
Laterite caps and shed debris around the caps.
Areas of Anomolies in geochemistry data maps..
Major faults zones and fault zones and their associated contact zones.
Archaean Greenstone belts, basalts and dolerite sills.
"Change of Country" Where granite, basalt or other rocks have been intruded into each other prospect the Edges the change where weathering and intrusions of metals are more likely to have occured.

Want a link to Free Geological Maps ?
Understanding Geology by Dr R Fagan
---
Here is a link to our product review "Understanding Geology" "Geology for Non-Geologists" by Dr Robert Fagan. An excellent comprehensive course that  shows you how to understand geology in WA to target Gold and Other Minerals.
Return to home page from Where to Find Gold page.