Is it worth it?
by Jim aka Aussie Adventurer)
(Leonora Region)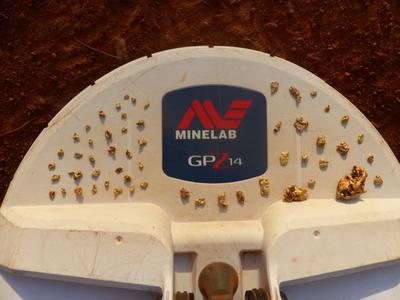 Smallest bit is 0.02 gram @ 2 inches- bigger bit is a 19 gram piece at just under 2 feet depth all found in iron rich ground
Hello everyone

I been detecting since 2006 and since the last 3 years I am a full-time Prospector, Detectorist, Operator, call me what you will.
I was using all of Minelab's GPX range of detectors since their release but I am now using the GPZ 7000 detector almost exclusively and on a daily basis since about April.

So, for what it's worth…..here is my opinion.

The Good:

1- YES, it finds gold and YES and it does so very well, no argument here.
2- Integration of the onboard GPS
3- "If" the GPS function is enabled and a waypoint created at your Camp/Vehicle etc. The onboard GPS can then act as a backup safety device
4- Wireless Speakers (which turns off by it self after about 15 minutes if detector is switched off).

The Bad:

1- It's design, weight, some of the material used for construction and the inferior and inadequate supply of included accessories.
2- One coil size only currently available


Stuff that get's under my skin for the price paid.......:

1- A cheap and poxy plastic (menu) screen that is very easily scratched
2- Hard to see the menu through that screen with polarised prescription sun glasses
3- Battery & Charger overheating issue
4- An almost useless "Online Only" PC Exchange Software ( Not Mac compatible) plus it can only be used via Minelab's website - (seriously?)
5- User has no direct option to export Waypoints / Find-points or Geo Trail data from the detector via USB to their own computer i.e.; to use in Google Earth
6- ONLY 100 Waypoints / 100 Findpoints seriously? Needs 10000 minimum
7- No ability to name (or assign a specific icon) to a Way or Find Point (very bad!)
8- NO User defined Grid setup option (very bad!)
9- NO "UTM" Coordinates (why not?)


Personally, I wish Minelab would have also included or at least made the provision for the end user to load something like the Garmin 25K TOPO Map's via a SD Card Slot with the included GPS function and include the ability to load / use cached Google Earth Sat imagery for a given location.

Don't get me wrong, I applaud Minelab for developing this GPZ and it's gold finding ability but I must question if they given much if any consideration for the end user's want's and needs especially here in Oz.
.

The Verdict:

If you are:
1- Financially not concerned or
2- Intend to spend many many weeks or month a year in the Goldfields- .
then my advise is, to go ahead and buy one.

When shelling out 11K for what should be 21st Century technology the screen resolution, user Interface & connectivity options in this day and age, is to say the least- a bad joke.

----------------------------------------------------------------------------------------------------
Additional Note:

Should you already have a GPX 4500 or GPX 5000 my advise is to keep it, if you can afford that luxury.

The bottom line is that the GPZ 7000 will find "some" targets deeper due to better technology and maybe therefore a bit more easily vs Minelab's GPX 4500 or 5000 detectors.

The good old saying that 10% of operators find 90% of the gold still holds true. A lot of luck, your knowledge and experience will determine the amount and size of gold found-but with the GPZ 7000 it is much simpler for you to find some gold too :-)

Is it value for money? Not for the 90% of average users.......


Best Regards and dig deep!