Different Types of Geological Maps
Different Types of Geological Maps can be used quickly to view the Geology of any area, as well as  where gold and other minerals have been found before.
Geological Maps are maps that just show the surface outcrops in the map area or interpretive maps that show the subsurface geology beneath the thin surface layers.
Finally the maps can be interactive so you can add extra layers to show just about anything you need to know about the Geology of a location.
Here is some examples of the  many  different types of Geological Maps of Western Australia that are available and they are usually downloadable free from the Department of Mines in WA (DMIRS).
How you do this is shown on the Download Free Geological Maps page or in other pages such as the Using Tengraph Web page that explains the use of Tengraph Web.
1:100000 and 1:250000 Factual Geological Maps 
Factual Geological Maps Western Australia - SANDSTONE 1:100000
These factual simple Geological Maps of WA are downloadable free as a PDF or can be bought as a Paper copy. See this page Free Geological Maps of Western Australia.
Interpretive Geological Maps 
This is and Interpretive Geological Map created using Geoviewer 1:500000 Geology Polygons over a Satellite view around Cue/Big Bell WA. Interpretive Geological Maps show the Interpreted Bedrock geology under the outcropping layers shown in a factual Geological Map.
Interpretive Geological Map View Cue Area
Interactive Geological Maps 
There are many products and mapping software provided by the Department of Mines (DMIRS) in WA that enables you to use a number of sources to obtain information that you can layer over maps  or configure maps to understand:
The surface outcrop geology of any location.
The rocks and structures where gold is being found.
Where the gold is being found, or found historically.
The land type useage including Pastoral Leases or Native Title Land.
The Mining Tenements in an area.
For example this next map which shows
1 500:000 Interpreted Geology Polygons.
Overlain as a layer on  GeoMap and the 1:250000 Surface Geological Map.
With Tenements shown. (Red = granted, Blue = Pending)
With Gold Occurrences shown. (Gold Stars) and
Scraping Detecting areas included (Gold Squares).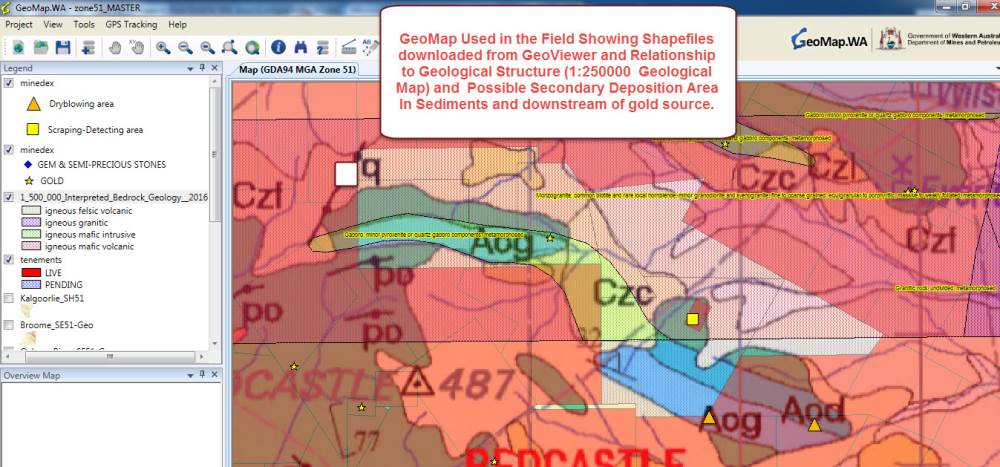 Interactive Geological Map - Geology polygons on 1:250000 geological Map with Gold Mines
Create Your Own Interactive Field Maps
Maps can be downloaded as tiled maps for complete mining areas such as Meekatharra Zone 50 1:100000 or 1:250000 maps and then data added and configured  to show what you want to see.
This can be done on GeoMap.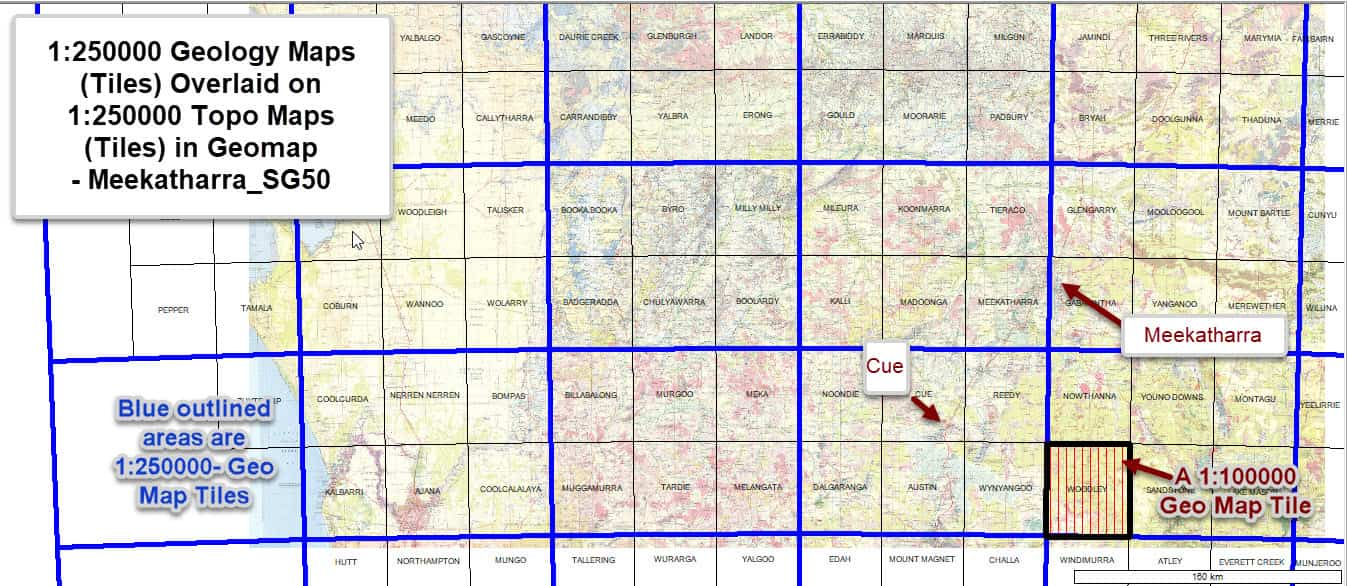 Geomap With Meekatharra Mining District Tiled Geological Maps overlay
This is a view of what a series of tiled Maps look like for the Meekatharra Mining District (shown in  GeoMap). 
In this view the tiled Geology map is overlaying a topographical map and then the 1:250000 and 1:100000 map boundaries are outlined over the top of them.
The difference between these maps that are joined together to get a seamless large maps used in the GeoMap software and the Factual Individual Geological map charts is the tiled maps do not include an Index or symbols legend.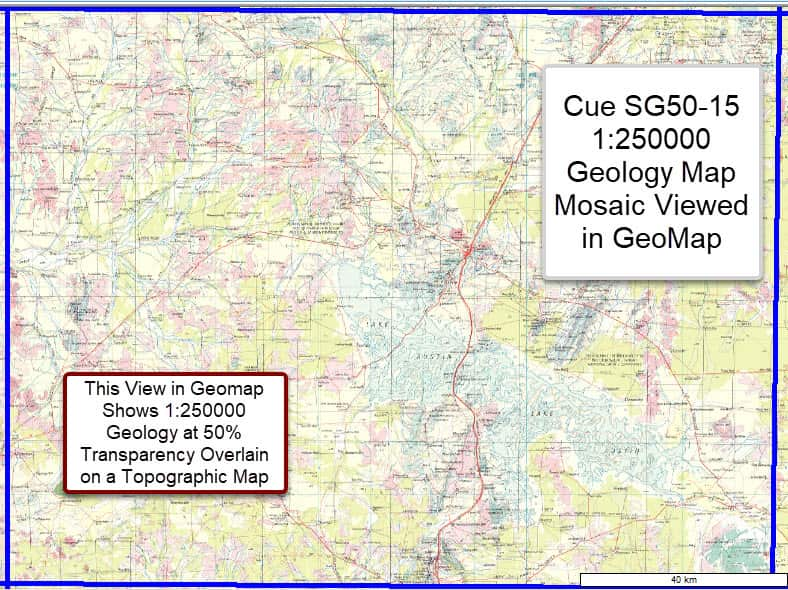 Cue SG50-15 (Geology layer is 50% Overlaying Topographic Map information)
A 1:250000 map tile in GeoMap  - Cue SG50-15 (Geology layer is 50% Overlaying Topographic Map information)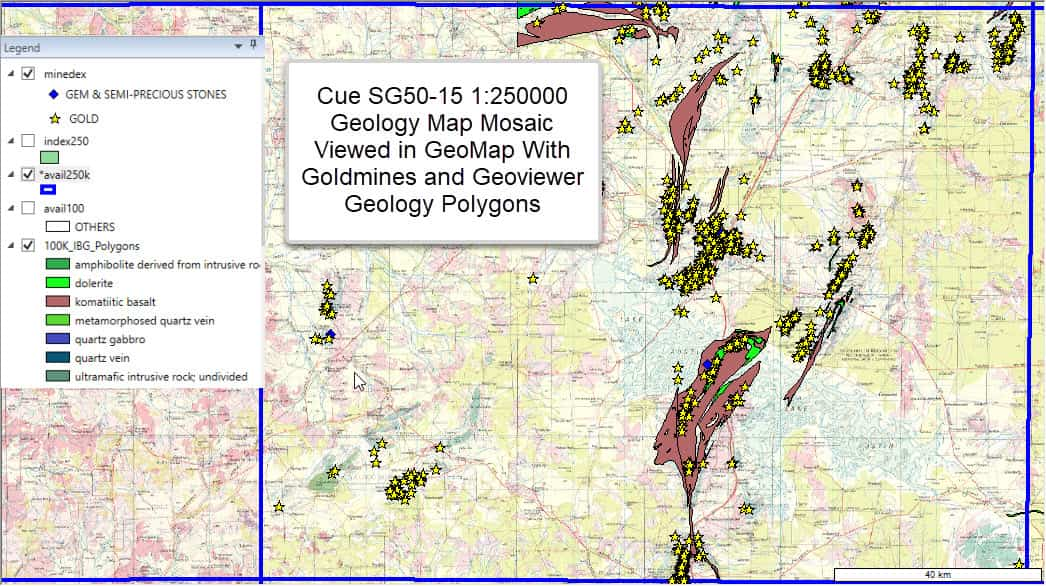 Cue SG50-15 with Geology Polygons and Gold Mines
The same 1:250000 map tile in GeoMap  - Cue SG50-15  with layers for Goldmine occurrences (gold stars) and a interpretive Geoviewer 1:500000 layer showing the subsurface geological rocks and structures.
Different Types of Geological Maps Can Be Viewed in GeoMap
With GeoMap you can create interactive maps with different types of Geological Maps and all the Geological Information you require in the field.
If you use GeoMap while you travel in the bush you can see exactly what geology you are passing over and where the gold has occurred or found in the past.
You can also see tenements so you know where you can go prospecting.
GeoMap is a DMIRS product that you use offline in the field.
How to user GeoMap is provided in our training at GeoMap Training WA website which has some free training as well - just sign up for the free training there.


Tengraph Web 
In Tengraph Web  you can add any layer that you want to view information. 
This includes; Topographical Maps, Geological Maps, Geological Polygons, Mines, Cadastre, Land use, Pastoral Stations, Native Title, Tenements, WAMEX exploration Reports - the list is almost endless. You can also interrogate that information.
The key point is that you can see the Geology where Gold occurs to they are effectively gold maps (link to page).
Tengraph Web is an Online DMIRS product this page explains more about Tengraph Web
Return to Geological Maps Page from different types of Geological Maps page